Report from Headquarters
---
Space Foundation Releases The Space Report 2009; Reveals Industry Growth to $257 Billion in Global Space Revenues
Written by: developer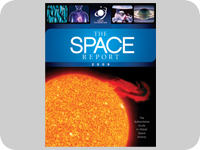 According to The Space Report 2009: The Authoritative Guide to Global Space Activity, released by the Space Foundation on the first day of the 25th National Space Symposium, overall worldwide space revenues grew nearly 2.5 percent in 2008, rising to $257 billion. This, despite a tough world economy
The definitive overview of the global space industry, The Space Report is a valuable resource for government and business leaders, educators, financial analysts, students, and space-related businesses. Copies may be purchased at www.TheSpaceReport.org.
The Space Report 2009 revealed that the global space economy rose by $6 billion to $257 billion in worldwide revenues. The largest segments were commercial infrastructure and commercial satellite services, which together totaled 67 percent, compared to about 32 percent for government space spending. The largest growth sectors were space products and services, which grew 10.4 percent from $82.4 billion to $91 billion. The majority is attributable to direct-to-home television services, which generated $69.8 billion in 2008. Fixed satellite services showed the strongest growth in the services sector, with revenue up 31 percent from $12.8 billion to $16.8 billion.
Space industry stocks suffered along with the world economy in 2008, declining 45 percent and erasing gains from three consecutive years of growth. Still, space investment and output remained strong in 2008 and continued to provide hundreds of thousands of highly compensated jobs.
"The space business remains a good business," said Marty Hauser, Space Foundation Vice President – Washington Operations, Research & Analysis and editor of The Space Report, "Although we haven't escaped the economic downturn, space businesses are out-performing many other sectors. We have challenges, but there's also advancement, innovation, and excitement about what's happening in space today."
Covering primarily 2008 data, The Space Report 2009 contains information on global space budgets and revenues, a yearly summary, and new features, including:
• A section on trends in education and their impact on the space industry
• Expanded data on international (non-U.S.) space activities
• A special report on astronomy and space science
• New information on spaceports and spaceport authorities/coalitions
The Space Report 2009 indicates that the long-term outlook for the global space industry is encouraging. "While the equity markets suffered, other measures of success – employment, payroll, output, manufacturing and launches – all grew and continue to improve year over year," said Hauser. "Importantly, we're seeing the real benefits of our space investments in the form of almost daily scientific and technological breakthroughs. And, the number of space-faring nations is growing almost as rapidly."
The Space Report 2009 is the result of extensive research by the Space Foundation and its team of independent research organizations. The methodology, which is refined every year, involves identifying, gathering, analyzing, and synthesizing data from publicly available sources, as well as industry publications and reports. The materials used within and the processes of printing The Space Report 2009 are certified as meeting the standards and requirements of the Forest Stewardship Council.
This article is part of Space Watch: April 2009 (Volume: 8, Issue: 4).
---
Posted in Report from Headquarters