Space Foundation News
---
Space Discovery Institute Classes Celebrate Moon Landing
Written by: developer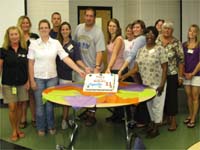 COLORADO SPRINGS, Colo. (Jul. 21, 2009) -- Three Space Foundation Space Discovery Institute classes paused briefly yesterday to celebrate the accomplishments of the Apollo 11 mission, which put the first man on the Moon 40 years ago yesterday. The events were part of the Space Foundation's recognition of the historic event, which also included posting of more than 200 recollections of the Moon landing from around the world.
The celebrations were historic in themselves in that they mark the first time the Space Foundation is conducting three simultaneous Space Discovery Institutes. A Rocketry: Space History class is being conducted through Friday at Regis University in Colorado Springs and both Biological and Physical Research: International Space Station Science & Space Law and Earth Systems Science: Planetary Geology are being taught in Charles County, Md. These classes are among 14 separate Space Discovery Institutes the Space Foundation is offering this summer in Colorado Springs, Colo., Omaha, Neb., and Charles County, Md. Enrollment in this summer's Space Discovery Institutes include more than 300 elementary-school-through-high-school teachers from Alaska, Arkansas, Colorado, Hawaii, Florida, Maryland, Missouri, Nebraska, New York, Texas, and Virginia.
The week-long programs cover six different topics. In addition to the classes offered this week, Space Discovery Institutes also cover:
• Astronomy Principles for the Classroom: Exploring our Universe/The Search for Life
• Space Technologies in the Classroom: Nanotechnology and Space Spinoffs
• Lunar/Mars Exploration and Base Construction
The teachers who attend learn hands-on, minds-on activities and develop lesson plans that they can take back to the classroom. They also gain access to Space Foundation-provided teaching aids and additional lesson plans. The classes can be applied to several master's degree programs through both Regis University and theUniversity of Colorado at Colorado Springs. The courses are developed and taught by Space Foundation educators, who are accredited teachers with additional space education credentials. The standards-based curriculum is designed to improve students' skills in science, technology, engineering, and mathematics (STEM) and to motivate them to continue to study STEM topics. For more information about Space Discovery Institutes, go to www.SpaceFoundation.org/Education/Content.
Apollo 11 Recollections: To read the Apollo 11 recollections the Space Foundation has been posting online for the past two weeks, cleck here. Although yesterday marked the BIG day in space history - the moment when Neil Armstrong put the first human footprint on the Moon - the historic mission continued until July 24. Today marks the anniversary of the Lunar Module's 1:54 p.m. EDT liftoff after spending more than 21 hours on the surface of the Moon.
Pictured: Teachers and Space Foundation instructors at the Charles County, Md., Space Discovery Institutes. To see the Colorado Springs photo, click here.

---
Posted in Space Foundation News