Report from Headquarters
---
Certified Space Technology Saves Manatees
Written by: developer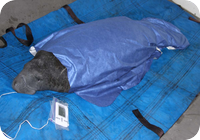 An invention that originally protected astronauts, spacecraft, and heat-sensitive equipment from the extreme temperatures in space is now being used to save an endangered sea mammal from excess cold.
AFMInc is donating Heatsheets® Silver Lining™ Blankets to the Save the Manatee Club in Maitland, Fla., to help in manatee rescues and to use when private and government agencies join together to assess the animals' health and tag them so they can be tracked and monitored.
AFMInc is a Lifetime Member of the Space Foundation Space Certification Program with exclusive in-category recognition for its application of reflective insulation technology for consumer benefit.
In water temperatures below 68°F, manatees can develop cold stress syndrome, which often leads to death. In the winter, the gentle creatures typically travel to warm water locations such as springs and power plant discharges where they will be safe. Sometimes, however, juvenile manatees fail to reach the warm areas before temperatures fall or they hunker down in areas that are inconsistently warm, running into trouble and necessitating rescue.
The extremely cold weather in Florida this winter caused a surge in manatee deaths and cold water rescues by Florida biologists. In early January, one 400-pound "baby" manatee found itself 2½ miles inland in a canal in St. Petersburg, Fla. After being lifted from the canal, the manatee was wrapped in a Heatsheets® Silver Lining™ Blanket and transported to a local zoo, where it will be treated before being released back into the wild. Video of the rescue by Florida Fish and Wildlife Commission biologists can be seen here.
From Marathon to Manatees
AFMinc's involvement with the Save the Manatee Club began in an unlikely place: the New York City Marathon. That's where Alice and Bill Wong, whose son Artie is a biologist for the Save the Manatee Club, have been handing out Heatsheets® Marathon Race Blankets for more than 20 years. The blankets, which use thermo-reflective technology to capture and maintain body heat, prevent runners from developing hypothermia when their bodies rapidly cool after completing the race.
When the senior Wongs helped their son during a routine "capture and release" manatee assessment, they noticed that the volunteers were using scraps of tattered Mylar to protect the manatees when the air temperature fell below the water temperature. During this procedure, the animals are generally out of the water for about an hour, during which they are in danger of becoming too cold.
Alice Wong sent an e-mail to David Deigan, CEO and Founder of AFMInc, asking if the company could donate the blankets she knew would do a better job of preserving precious body heat while the manatees awaited their assessment and tagging.
Deigan responded within five hours that AFMInc would donate as many Heatsheets® Silver Lining™ Blankets as Save the Manatee Club needed.
There's another "silver lining" to this story: Artie Wong ran last year's New York City Marathon and was wrapped in a Heatsheet at the finish line by his proud mom and dad. Deigan met him there and thanked him for allowing AFMInc to take part in the good work of Save the Manatee Club.
About Space Certification
The Space Foundation's Space Certification program recognizes products and services that were originally developed for a space-related endeavor and have now been adapted to improve life here on Earth. Space Certification, along with the Space Foundation's Space Technology Hall of Fame, communicate the impact of the space industry through beneficial spin-off technologies. For information and to see a list of certified products, click here.
About AFMInc:
AFMInc produces insulation films, fabrics, and consumer products that harness freely available energy sources such as body or solar heat. Products include Heatsheets® Silver Lining™ fabrics, blankets and bed liners; Heatsheets® Outdoor Rescue/Survival Blankets and Bivvy Sacks; and Heatsheets®-on-a-Roll™ Runners-Wrap Blankets for mass participation endurance sports such as full and half-marathons and triathlons. Silver Lining™ Travel Blankets and Bedding products are used as bed-warmers, or for airline or auto travel blankets, and as sleeping bags and shelters. Silver Lining™ fabrics, available in either waterproof or breathable configurations, are available as thin, efficient, reflective insulation lining for apparel manufacturers. For more information about Heatsheets®, contact AFMInc in Petaluma, Calif. at 707-658-4657 or via e-mail at [email protected].
About Save the Manatee Club
Established in 1981 by singer/songwriter Jimmy Buffett and former U.S. Senator and Florida Governor Bob Graham to protect endangered manatees and their aquatic habitat for future generations, the Save the Manatee Club is the world's leading manatee conservation organization. The membership-based, national nonprofit organization promotes public awareness and education; sponsors local and international scientific research and rescue, rehabilitation, and release efforts; and advocates for the conservation of manatees and their essential habitat based on the best available scientific data. To find out more about manatees or the Club's Adopt-A-Manatee® program, click here.
Pictured: A rescued baby manatee enjoys the heat generated by AFMInc's Heatsheets® Silver Lining™ Blanket 
This article is part of Space Watch: Februrary 2010 (Volume: 9, Issue: 2).
---
Posted in Report from Headquarters