Space Foundation News
---
Butler, James, and Webber to Discuss How Space and Cyberspace Connect and Complement Each Other
Written by: developer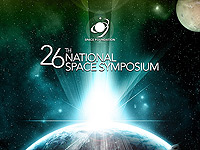 COLORADO SPRINGS, Colo. (Feb. 8, 2010) — Three experts in the cyberspace domain will bring the concept home to space professionals in a panel discussion, The Intersection of Space and Cyber, April 13 at the Space Foundation's four-day 26th National Space Symposium at The Broadmoor Hotel in Colorado Springs, Colo.
Robert J. Butler, Lt. Gen. Larry D. James, USAF, and Maj. Gen. Richard Webber, USAF, will discuss the growing importance of cyberspace within the space industry and within society in general, how the U.S. government is managing the domain, and how cyber issues impact space issues in a "must-see" panel that addresses one of the fastest changing factors in space, national security, and commerce today.
Butler is the deputy assistant secretary of defense for cyber and space policy; James is commander of the Joint Functional Component Command – Space of the United States Strategic Command and the commander of the 14th Air Force; and Webber is commander of the 24th Air Force, which manages cyberspace for the U.S. Air Force.
All three will also address cyberspace issues at Cyber 1.0, a new National Space Symposium event dedicated specifically to the growing realm of cyberspace.
About Cyberspace
Using electromagnetic energy, cyberspace integrates sensors, signals, connections, transmissions, processors, and controllers to create an interdependent network of information technology infrastructures and telecommunications networks for a wide range of communication and control system capabilities. From a military perspective, cyberspace is a domain for both strategic and tactical operations that uses electronics and the electromagnetic spectrum to store, modify, and exchange data via networked systems and physical infrastructures. This includes using communication and global positioning system satellites to support operations and defending or attacking computer networks. From a military point of view, cyberspace is not a mission; rather, it is a domain in which a mission can take place.
About Butler
Butler provides policy advice and support to the secretary of defense and senior Department of Defense (DOD) leaders through policies and strategies that improve the United States' cyber and space posture. Previously, he was an account executive with Computer Sciences Corporation (CSC), managing defense intelligence business with combatant commands and military services. He served on the Senior Executive Service, and was associate director of the Joint Information Operations Warfare Command (JIOWC) at Lackland Air Force Base, Texas, where he advised leadership on information operations issues and opportunities for providing support to combatant commands and the DoD. As an Air Force officer, Butler served in intelligence and communications-computer systems positions in the U.S. and Europe at the detachment, squadron, group, major command, unified command, Headquarters Air Force, and Office of the Secretary of Defense levels. He has a bachelor's degree in computer information systems from Manhattan College, Riverdale, N.Y., and a master's degree in business administration from the University of Maryland, College Park, Md. He is a distinguished graduate of the Air Command and Staff College, Maxwell AFB, Ala., and is a National Defense Fellow, Institute for the Study of Diplomacy, School of Foreign Service, Georgetown University, Washington, D.C.
About James
As the commander of both the 14th Air Force (Air Forces Strategic), Air Force Space Command, and the Joint Functional Component Command for Space, USSTRATCOM, James leads more than 20,500 personnel responsible for providing missile warning, space superiority, space situational awareness, satellite operations, space launch, and range operations. He directs all USSTRATCOM space forces, providing tailored, responsive, local and global space effects in support of national, USSTRATCOM, and combatant commander objectives. James earned a bachelor's degree in astronautical engineering from the United States Air Force Academy and a master's degree in astronautical engineering from the Massachusetts Institute of Technology. He is based at Vandenberg Air Force Base, Calif. A frequent speaker on how space assets affect operations, James will discuss What JFCC-Space Needs from Cyber at the April 12 Cyber 1.0 Conference.
About Webber
As commander of the 24th Air Force, Webber is responsible for providing combatant commanders with trained and ready cyber forces to plan and conduct cyberspace operations, and to extend, maintain, and defend the Air Force portion of the global information grid. Webber is a command space and missile operator with qualifications in the Minuteman II, Minuteman III, and Global Positioning Satellite and Counter Communications System weapon systems. Prior to his current assignment, he served as assistant deputy chief for air, space, and information operations, Plans and Requirements, Headquarters U.S. Air Force, Washington, D.C. Webber earned a bachelor's degree in management from the United States Air Force Academy, a master's degree in business administration and personnel management from the University of Missouri, Columbia, Mo., and a master's degree in national security and strategic studies from the College of Command and Staff, Naval War College, Newport, R.I. He is based at Lackland Air Force Base. Webber will discuss the 24th Air Force's mission at Cyber 1.0.
About the 26th National Space Symposium
The 26th National Space Symposium offers workshops, forums, panels, and presentations covering all aspects of space, a well as special dinners, luncheons, and receptions. The speaker roster includes global space leaders from government, civil, military, and commercial space organizations. The Symposium also includes engaging programs for selected teachers and students, the extensive AMERICOM Government Services (AGS) Exhibit Center, and programs for young, up-and-coming "new generation" space professionals.
The event combines serious discussion about the industry's biggest issues with high-level networking and extraordinary events, including the Opening Ceremony featuring Barrage and the final evening's Space Technology Hall of Fame® Dinner featuring actor and Douglas S. Morrow Public Outreach Award Recipient Leonard Nimoy.
Online registration and more information, including agenda, speakers, and exhibitors, are available at www.NationalSpaceSymposium.org.
26th National Space Symposium Sponsors
Sponsors of the 26th National Space Symposium include AMERICOM Government Services (AGS), ARES Corporation, Astrotech Space Operations, ATK, AVIATION WEEK, Ball Aerospace & Technologies Corp., Boeing, Booz Allen Hamilton, Cisco Systems, Inc., Cobham, CSC, General Dynamics, GMV, IBM, Intelsat General Corporation, International Space University, Lockheed Martin, Northrop Grumman, Orbital, Pratt & Whitney Rocketdyne, Raytheon, SAIC, Space News, Space Systems/Loral, Stellar Solutions, and United Space Alliance.
Additional sponsorship opportunities are available; interested companies should contact [email protected]. To be put on the waiting list for exhibit space, contact [email protected]. 
---
Posted in Space Foundation News