Report from Headquarters
---
AGI Missions Simulator Trains Students and Teachers
Written by: developer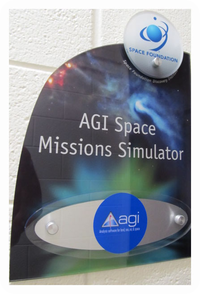 The Analytical Graphics, Inc. (AGI) Space Missions Simulator at the Space Foundation Discovery Institute in Colorado Springs, Colo., has gotten a workout during the past weeks. As well as serving as a platform for teaching Colorado Front Range students science and math principles by learning how to use the powerful modeling software, Satellite Tool Kit (STK), the lab is also used to reach other science, technology, engineering and mathematics (STEM) education areas.
In February, students from Colorado State University-Pueblo attended an introductory STK workshop conducted by Space Foundation Space Education Specialist Elias Molen. The workshop introduced students to the software and its capabilities to stimulate their interest in pursuing careers in the space industry and further training with STK software.
In March, a group of 24 teachers used the AGI lab to learn how to create podcasts and vodcasts for use in their classrooms. The course, conducted by NASA AESP (Aerospace Education Services Project) instructor Lisa Brown, showed the teachers how to create the podcasts/vodcasts and to upload them to their schools' websites. This allows their students to listen to or watch the lesson at home if they need extra help during homework time. This capability also provides support for students with special needs, students who need extra help or students who miss class by giving them multiple opportunities to watch or hear the lesson.
The workshop also showed the teachers how students could use the media to create presentations in the classroom, allowing them to be creative in their assignments and to share their work with students around the world.
Also in March, Space Foundation Director-Education Bryan DeBates and Space Education Specialist Jason DaLee provided two days of intensive robotics training to 14 teachers from 12 different schools along Colorado's Front Range. The training was funded by The Boeing Company through a sponsored robotics club seed grant. The purpose of the workshop was to give teachers intensive training building and programming LEGO MindStorms NXT robots. Each school then received two basic kits to start a robotics club. The culmination of the grant for the 2010-2011 school year will be a robot exhibition, to be held at the Space Foundation Discovery Institute. The exhibition will allow students to show what they learned during their club meetings. The students will also be able to view the new Robotics Lab and Mars Yard and Honeywell Mars Experience. Teachers will then continue to grow their robotics clubs during the 2011-2012 school year and beyond.
"This is the direction STEM education needs to go in the U.S.," said DeBates. "Activities such as these foster both STEM concepts and 21st century skills. Students in today's classrooms need creative outlets to show what they have learned, as well as programs that promote team work and problem solving." 
The AGI Space Missions Simulator opened in 2010 at the Space Foundation Discovery Institute, thanks to a multi-million dollar donation from AGI. Read more about the AGI Space Missions Simulator here.
Pictured: Space Foundation Director-Education Bryan DeBates instructing students in the AGI Space Missions Simulator at the Space Foundation Discovery Institute.
This article is part of Space Watch: April 2011 (Volume: 10, Issue: 4).
---
Posted in Report from Headquarters