Space Foundation Press Releases
---
Space Foundation and Colorado State University-Pueblo Sign Working Agreement
Written by: developer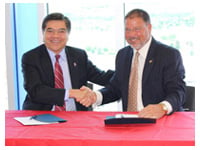 COLORADO SPRINGS, Colo. (Aug. 26, 2011) — The Space Foundation has signed an agreement with Colorado State University-Pueblo (CSU-Pueblo) that will provide significant benefits to the community and the University's teacher education program, including distance education, internships, pre-service and in-service instruction as well as collaborative research and service opportunities.
The two organizations formalized the agreement at a signing ceremony today at CSU-Pueblo. The following individuals represented the two organizations: CSU-Pueblo Interim President Dr. Julio Leon; Dean of Education, Engineering and Professional Studies Dr. Hector Carrasco; and Associate Dean of Teacher Education Dr. Victoria Marquesen; and Space Foundation CEO Elliot Pulham; Vice President – Education Iain Probert; Vice President – Marketing & Communications Janet Stevens; and Manager -Development & Education Partnerships Margo Hatton.
Through the cooperative agreement, the two organizations will explore new and innovative approaches to enhance the quality of teaching at PreK-12 education levels, to improve effectiveness of education in Colorado and beyond and to increase space awareness.
"This agreement with CSU-Pueblo is another important step in our mission to train future generations of space professionals," said Probert. "We must focus now on educating the people who will take leadership roles in our country's future."
An internationally recognized advocate for space and education, the Space Foundation offers a wide variety of programs focused on science, technology, engineering and mathematics (STEM). Its flagship program is a series of graduate-level Space Across the Curriculum courses that provide PreK-12 educators nationwide with standards-based concepts, teaching tools and hands-on lessons ready for the classroom.
Through the CSU-Pueblo agreement, the Space Foundation will deliver Space Across the Curriculum courses to pre-service and in-service teachers – part of a program of continuous and extended exposure to field experiences that will help increase educators' effectiveness as they enter the field of teaching. The agreement also includes establishing short- and long-term Space Foundation intern experiences for students enrolled at CSU-Pueblo.
The offerings will primarily focus on PreK-12 teachers who wish to improve their science teaching skills, become leaders in science and space education or learn more about applying contemporary science teaching strategies in their schools. As a result, CSU-Pueblo will create an emphasis on space studies through both the School of Education's Master of Education program and its Continuing Education programs.
CSU-Pueblo's Continuing Education program will help the Space Foundation develop and deliver Space Across the Curriculum in both real-time and delayed-time interactive programs to educators nationwide.
The Space Foundation and CSU-Pueblo will establish cooperative research agendas, including short-term (within one year) and long-term (one-to-five years) research objectives that will result in submission of a variety of external funding requests. They also will develop collaborative service projects that may include, but are not limited to, teacher workshops and public outreach programs.

About Colorado State University – Pueblo
Colorado State University – Pueblo is a regional, comprehensive university emphasizing professional, career-oriented and applied programs. Displaying excellence in teaching, celebrating diversity and engaging in service and outreach, CSU-Pueblo is distinguished by access, opportunity and the overall quality of services provided to its students.
About the Space Foundation
The Space Foundation is an international organization and the foremost advocate for all sectors of the space industry – civil, commercial, military and intelligence. Founded in 1983, the nonprofit organization is a leader in space awareness activities, educational programs that bring space into the classroom and major industry events, including the National Space Symposium, all in support of its mission "to advance space-related endeavours to inspire, enable and propel humanity." An expert in all aspects of the global space industry, the Space Foundation publishes The Space Report: The Authoritative Guide to Global Space Activity and provides three indices that track daily performance of the space industry. Through its Space Certification and Space Technology Hall of Fame® programs, the Space Foundation recognizes space-based technologies and innovations that have been adapted to improve life on Earth. Headquartered in Colorado Springs, the Space Foundation conducts research and analysis and government affairs activities from its Washington, D.C., office and has field representatives in Houston, Texas, and Cape Canaveral, Fla. For more information, visit www.SpaceFoundation.org. Follow us on Twitter, Facebook, and LinkedIn, and read about the latest space news and Space Foundation activities in Space Watch.
Pictured: CSU-Pueblo Interim President Dr. Julio Leon and Space Foundation CEO Elliot Pulham at Aug. 26 signing
---
Posted in Space Foundation Press Releases