Space Foundation News
---
Space Foundation Survey Reveals How People Learn and are Inspired to Learn about Space
Written by: developer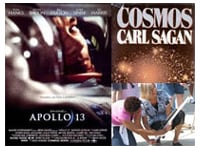 COLORADO SPRINGS, Colo. (Oct. 7, 2011) — To learn about space, people go out; to be inspired, they go to the movies. Participants in a Space Foundation survey gave a clear picture of how popular culture – including books, movies and television – play a large role in how we learn and get inspired to learn about the wonders and mysteries of space.
The survey, which concluded at the beginning of World Space Week, Oct. 4, showed that when people really want an education, they like to go to museums or participate in targeted space education programs. Destinations are considered the most effective at space education, followed by organized programs, publications and television:
47 percent named venues as great places to learn about space, including the Smithsonian National Air and Space Museum (20 percent), Kennedy Space Center, the Denver Museum of Nature and Science, the Hayden Planetarium and the U.S. Air Force Museum, among others
25 percent named organizations that offer education programs, including the Space Foundation, NASA, Discovery Education and the Star Fleet Academy (a branch of the International Star Trek Fan Association)
The rest cited books, magazines, television science shows, websites and tools, such as model rockets and NOAA's Science On a Sphere®
When asked what inspires them to learn about space, respondents overwhelming cited popular entertainment media, followed by real-life events:
43 percent mentioned films, including Apollo 13 (13 percent), Star Wars, The Right Stuff and many more
30 percent cited television programs, with a mix of science fiction and just plain science; the most-mentioned were Star Trek, NOVA and Discovery Channel programming
13 percent said they were inspired by real events, including NASA Space Shuttle missions, the entire history of space travel and simply looking at the night sky
The remaining responses ran the gamut from LEGO® robots to books to the Space Foundation's National Space Symposium
"We asked these questions in the time leading up to World Space Week because we wanted to get a picture of how to better inspire people to learn about space and how space exploration improves their lives," said Space Foundation Vice President — Marketing and Communications Janet Stevens. "It validated that much of what we do at the Space Foundation is right on target."
How the Space Foundation Educates and Inspires
The foremost advocate for all sectors of the space industry and an expert in all aspects of space, the Space Foundation is a global, nonprofit leader in space awareness activities, educational programs that bring space into the classroom and major industry events, including the National Space Symposium, all in support of its mission "to advance space-related endeavors to inspire, enable and propel humanity." The Space Foundation publishes The Space Report: The Authoritative Guide to Global Space Activity and provides three indices that track daily performance of the space industry. Through its Space Certification and Space Technology Hall of Fame® programs, the Space Foundation recognizes space-based technologies and innovations that have been adapted to improve life on Earth.
To further educate and inspire, the Space Foundation annually honors outstanding individuals and organizations for achievements in space exploration, advocacy, education, innovation and accomplishment with five prestigious awards, including the General James E. Hill Lifetime Space Achievement Award, the Alan Shepard Technology in Education Award, the Space Achievement Award, the John L. "Jack" Swigert Award for Space Exploration and the Douglas S. Morrow Public Outreach Award. The Morrow award has recognized a number of sources of inspiration cited in the survey, including Star Trek actor Leonard Nimoy; Hayden Planetarium Director Dr. Neil deGrasse Tyson; former Space Shuttle Commander Col. Eileen M. Collins, USAF (Retired); Apollo 13 star and From the Earth to the Moon co-producer Tom Hanks; Star Trek creators Gene and Majel Barrett Roddenberry; the crew of the Space Shuttle Mission STS-95; the Apollo 13 movie team; and Discovery Communication, Inc.
Headquartered in Colorado Springs, the Space Foundation conducts research and analysis and government affairs activities from its Washington, D.C., office and a field office in Houston, Texas. For more information, visit www.SpaceFoundation.org. Follow us on Twitter, Facebook, and LinkedIn, and read about the latest space news and Space Foundation activities in Space Watch.
About World Space Week
Billed as the largest public space event on Earth and celebrated in more than 55 nations, World Space Week is held every October 4-10, dates chosen to recognize the launch of Sputnik 1 on October 4, 1957, and the signing of the Outer Space Treaty on October 10, 1967. World Space Week was established by the United Nations General Assembly to be an international celebration of science and technology and is coordinated by the United Nations Office for Outer Space Affairs with the support of World Space Week Association. The 2011 theme is "50 Years of Human Spaceflight" and emphasizes that international collaboration has been key to the success of humans in space. According to the World Space Week Association, as of 2010, human spaceflight missions have been conducted by the former Soviet Union, Russia, the United States, the People's Republic of China and by the private space flight company Scaled Composites. Several other countries and space agencies have announced and begun human spaceflight programs by their own technology, including India (ISRO), Ecuador (EXA), Japan (JAXA), Iran (ISA) and Malaysia (MNSA). See more about World Space Week at www.worldspaceweek.org/.
 
---
Posted in Space Foundation News