Education
---
Space Foundation Selects 20 New Teacher Liaisons
Written by: developer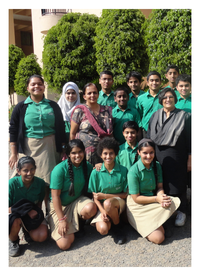 The Space Foundation has selected 20 outstanding educators for its 2012 Flight of Teacher Liaisons and for the first time in the program's ten-year history, an international teacher from India has been chosen for the elite program. Vandana Suryawanshi of Vidya Valley School in Maharashtra is a middle school educator who has been teaching biology, earth science and general science for 20 years.
She joins the 19 other new Teacher Liaisons who were selected for their active promotion of space and science education. The new flight of Teacher Liaisons will serve as advocates for space-themed education across the curriculum and will use Space Foundation-provided training and resources to further integrate space principles into the classroom. The highly regarded Space Foundation Teacher Liaison program has more than 270 active participants, including the 2012 flight. The teachers are selected by a panel comprising experienced Teacher Liaisons and representatives from the space industry and the military.
The 2012 Teacher Liaisons will be publicly recognized at the Space Foundation's 28th National Space Symposium, which is being held April 16-19 at The Broadmoor Hotel in Colorado Springs, Colo.
In addition to the recognition activities, the 2012 Teacher Liaisons will participate in workshops and education programs at the 28th National Space Symposium. Following the Symposium, Teacher Liaisons can take advantage of specialized training and instruction at Space Foundation and NASA workshops with optional graduate-level credit; exclusive science, technology, engineering and math (STEM) professional development experiences with optional continuing education credit; and special space-oriented student programs created just for Teacher Liaisons.
The 2012 Flight of Teacher Liaisons includes:
Colorado

Noah Albrecht, Bromley East Charter School, Thornton
Cami DeBise, Jack Swigert Aerospace Academy, Colorado Springs
Shelly Grandell, Horizon Middle School, Aurora
Amber Izzo, Antelope Trails Elementary, Colorado Springs
Bret Murray, STAR Academy, Colorado Springs
Neva Nardone, Lewis-Palmer Elementary School, Monument
Jessika Reynolds, GLOBE Charter School, Colorado Springs
Florida

Robin Little, Safety Harbor Elementary School, Safety Harbor*
Illinois
Lynne Zielinski, Glenbrook North High School, Northbrook
Maryland
Autumn Britt, Benjamin Stoddert Middle School, Waldorf
Karlyn Long, Benjamin Stoddert Middle School, Waldorf
Minnesota

Angela Voves-Anderson, University Avenue Elementary School, Blaine
Ohio
Kim Moore, Gilmour Academy, Gates Mills
Jennifer Stormer, O.R. Edgington Elementary School, Englewood
Pennsylvania
James Johnson, Childrens Center for Treatment and Education, Custer City
Tennessee

Billy Hix, Motlow State Community College, Lynchburg
Texas
George Hademenos, Richardson High School, Richardson
Washington, D.C.

Trish Pride, Jefferson Middle School
Wyoming

Michele Wistisen, Casper Planetarium, Casper
Maharashtra, India
Vandana Suryawanshi, Vidya Valley School, Pune
To learn more about the Space Foundation Teacher Liaison program and the application process, visit  www.SpaceFoundation.org/education/educators.
Pictured: New Space Foundation Teacher Liaison Vandana Suryawanshi (in middle, second from left) with her students and principal

This article is part of Space Watch: February 2012 (Volume: 11, Issue: 2).
---
Posted in Education