Partner News
---
NASA Awards Dynetics Contract for Space Launch System Advanced Booster
Written by: developer

HUNTSVILLE, Ala. (Oct. 1, 2012) – NASA has awarded Dynetics a contract to improve the affordability, reliability and performance of an advanced booster for the Space Launch System (SLS). Dynetics will demonstrate the use of modern manufacturing techniques to produce and test several primary components of the F-1 rocket engine originally developed for the Apollo Program, including an integrated powerpack, the primary rotating machinery of the engine. Additionally, the contract will demonstrate innovative fabrication techniques for metallic cryogenic tanks. The F-1 engine, originally developed for the Apollo Program, was produced by Pratt & Whitney Rocketdyne (PWR).
In July, NASA announced that six proposals were selected for contract negotiations on the Advanced Booster Engineering Demonstration and/or Risk Reduction project. Dynetics was selected to negotiate three of the six tasks, risk reduction for the F-1 Engine, Main Propulsion System and Structures. NASA announced today the official awarding of a contract to Dynetics to perform the F-1 Engine and Structures risk reduction tasks. According to NASA, additional contracts may be selected following successful negotiation of other proposals previously received for this NASA Research Announcement.
Dynetics formed an exclusive partnership with PWR to compete for this procurement with respect to use of the proven Saturn V F-1 rocket engine technology. Dynetics and PWR have also agreed to team exclusively together on future procurements for development and production of advanced boosters using the F-1 derived engine.
Dynetics has selected Kimberly Doering as program manager for this effort and Andy Crocker as deputy program manager. Doering said, "Dynetics and PWR have put together a team for the advanced booster risk reduction effort that can balance affordability, innovation and experience throughout the life cycle of the project. We are confident we can help NASA achieve its goals."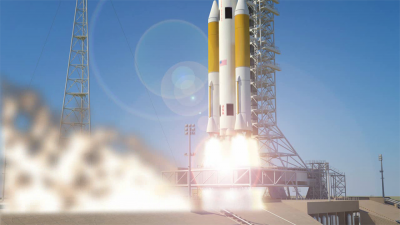 The team takes advantage of the flight-proven Apollo Saturn F-1, the most powerful U.S. liquid rocket engine ever flown. PWR took the J-2X, which was derived from the Saturn-era J-2 engine, and improved it through incorporation of current design standards and manufacturing technology.
Doering said the F-1 is well suited to the advanced booster because it provides an ideal combination of performance and affordability. Because the high-cost non-recurring engineering work associated with engine development took place during the Apollo-Saturn Program and significant risks were eliminated, the Dynetics team is able to focus on affordability rather than technical risks.
Dynetics has demonstrated affordable innovation on such space programs as Paul Allen's Stratolaunch Systems and the FASTSAT microsatellite, and will use proven approaches on the SLS program. PWR's approach to engine manufacturing enables affordability with low production rates. In addition to being the original F-1 designer and producer, PWR is the only U.S. company to develop and manufacture cryogenic engines with over 100,000 lbf of thrust and has successfully developed the RS-68 commercially.
David King, Dynetics executive vice president, said, "We are confident our team will produce an affordable and effective engineering demonstration and risk-reduction effort for NASA. With proven leadership, relevant experience, and innovative and affordable systems in place, we are prepared to take on the challenge and appreciate NASA's confidence in our ability to do so.
For more information about SLS, visit www.nasa.gov/sls.
About Dynetics
Dynetics delivers the "Power of Solutions" to government and commercial customers in the areas of intelligence, missiles, aviation, cyber and space. Based in Huntsville, Ala., with offices throughout the United States, Dynetics is a mid-tier company that provides complete lifecycle analysis, engineering and hardware solutions to support customer missions. For more information visit www.dynetics.com.
About Pratt & Whitney Rocketdyne
Pratt & Whitney Rocketdyne, a part of Pratt & Whitney, is a preferred provider of high-value propulsion, power, energy and innovative system solutions used in a wide variety of government and commercial applications, including engines for launch vehicles, missile defense systems and advanced hypersonic engines. Behind its successful designs, manufacturing processes, and hardware are Pratt & Whitney Rocketdyne's research and development engineers, who solve tough problems in extreme environments. For more information, go to www.PrattWhitneyRocketdyne.com. Follow us at www.Twitter.com/PWRocketdyne and www.Facebook.com/PWRocketdyne.
Pratt & Whitney is a world leader in the design, manufacture and service of aircraft engines, space propulsion systems and industrial gas turbines. United Technologies, based in Hartford, Conn., is a diversified company providing high technology products and services to the global aerospace and commercial building industries.
# # #
For more information contact:
Janet Felts
Dynetics Inc.
256-713-5439
256-417-1985
[email protected]
---
Posted in Partner News