Space Foundation News
---
Chiao Talks with CNN about Potential Beyond-Moon Station
Written by: developer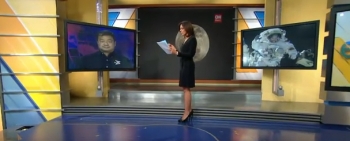 Space Foundation Special Advisor – Human Spaceflight and former NASA astronaut Dr. Leroy Chiao spoke with CNN this morning about the prospects of building an outpost in the Earth-Moon libration point (E-M-l-2) 38,000 miles beyond the Moon – or, his preferred option, of building a station on the Moon where he says, "you could do so much more."
According to Chiao, the challenges in having a base beyond the Moon are biomedical and figuring out how do you keep astronauts healthy in that potentially "acutely lethal" environment.
"A station like that would help you to study that, but you'd also get the same effect on the Moon," Chiao said. "If you build a crew-tended base on the Moon, you could also test other operational things. You could test your hardware, your habitats, your space suits, your rovers, operations concepts."
See the report here.
Pictured: CNN Reporter Zorada Sambolin interviews Chiao remotely from the studio.
---
Posted in Space Foundation News