Space Foundation News
---
Pulham Underscores Need for NASA Purpose in Subcommittee on Space Testimony
Written by: developer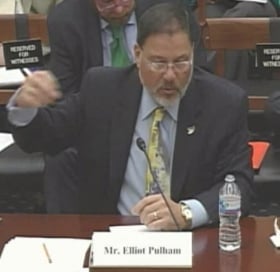 Space Foundation Chief Executive Officer Elliot Pulham heavily cited the Space Foundation's recent publication, PIONEERING: Sustaining U.S. Leadership in Space, when he testified before the Subcommittee on Space today in Washington, D.C.
The Subcommittee, which is part of the U.S. House Committee on Science, Space and Technology, held the hearing to review The Space Leadership Preservation Act of 2013 (SPLA), a bill introduced in the 112th Congress by Rep. John Culberson (R-TX) and Rep. Frank Wolf (R-VA) that is intended to depoliticize NASA by making the NASA administrator a six-year appointed position and by creating a board of directors similar to the National Science Board that governs the National Science Foundation (NSF).
Other witnesses included:
The Honorable Frank R. Wolf, chairman, House Appropriations Subcommittee on Commerce, Science, Justice and Related Agencies
The Honorable John Culberson, member, House Appropriations Committee
A. Thomas Young, retired executive vice president, Lockheed Martin Corporation
View the webcast here.
Pulham's Testimony Addresses Pioneering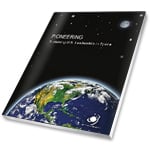 Pulham spoke about the origins and processes associated with developing the PIONEERING report and how the report intersects with ideas in the SPLA. Among the points he made were:
Pervasive, systemic problems have created serious challenges for NASA since the end of the Apollo missions
NASA should leverage its core strengths by adopting pioneering - being among those who first enter a region to open it for use and development by others - as its single organizational purpose that consistently and clearly guides decision-making about America's civil space program
Adopting a single purpose leads to a solid, sustainable, repeatable process that stimulates jobs, technology and innovation, strengthens our industrial base, projects soft power abroad and stimulates a culture at home that once again values science, technology, engineering and mathematics
Pulham explained that the Space Foundation's Pioneering Doctrine process can be broken into four steps:
Access - identifying target destinations and developing the ability to get to and from those destinations
Exploration - learning about those destinations in order to plan for subsequent missions.
Utilization - turning theoretical and practical knowledge into technology and systems that enable continued, longer-term activity at the destinations.
Transition - handing off the developed knowledge and capabilities to other government organizations, academia or the private sector for further long-term exploration, utilization and, in the best sense of the word, exploitation.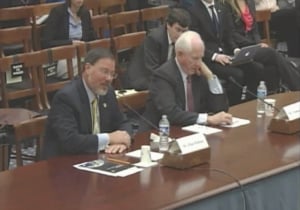 "Expanding the U.S. national civil space enterprise is a matter of expanding human reach and activity in space. This is not limited to supporting human spaceflight for its own sake, or supporting only government activities, but includes the many different means by which human reach is extended," Pulham said in his written testimony. "Our report does not advocate for any particular space destination or settlement; rather, it is focused on expanding the human sphere of influence throughout our solar system."
Pictured: Pulham, left, and Young
Pulham also detailed some of the Space Foundation's specific recommendations to the committee, including:
De-politicizing NASA by establishing a renewable term for the administrator
Establishing a formal short- and long-term planning and guidance framework for the agency
Deploying financing, appropriation and procurement tools found in other parts of government to permit NASA the flexibility it needs to succeed
Conducting a bottoms-up review of NASA infrastructure to maximize capability
Streamlining the Space Act to focus NASA on its purpose and eliminate non-mission-essential responsibilities
In his written testimony, he commented on areas where the Space Foundation and the SPLA agree and disagree.
"Our report and the proposed legislation agree that, due to continuously shifting direction to NASA leadership, programmatic changes have occurred so often that NASA is seldom able to see major initiatives through to completion," said Pulham "This turbulence causes frequent cancellation, redirection and re-scoping of projects, leading to waste and the perception of incompetence or indecision. It leads to demoralization of a highly technical, highly motivated workforce.
"But, The Space Leadership Act appears to presume that the purpose or role of NASA is known and understood - a perspective not shared by our report, which argues that the lack of consensus about NASA's core purpose causes many of the problems the agency faces," said Pulham.
Pulham's written testimony concludes by saying, "It is our desire at the Space Foundation to see a strong, vibrant NASA so current and future generations can take those next 'giant leaps.' It is our hope that PIONEERING: Sustaining U.S. Leadership in Space can help contribute to that future."
Read the testimony here.
Responses to Questions Touch on Inspiration, STEM Proficiency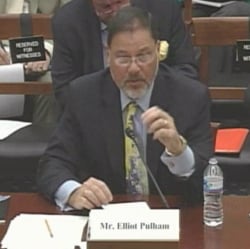 During follow-on questioning, Pulham spoke on NASA's critical role as an inspiration to the nation, saying that no other agency has as strong an ability to "lift our nation" as NASA. He also spoke about how NASA achievement tracks closely with science, technology, engineering and mathematics (STEM) proficiency and interest among young people.
When asked about the concept of creating an oversight board, Pulham commented that a board could minimize the "damage done to NASA between administrations" by providing  independent, outside analysis to ensure that NASA's activities and strategies stay on track.
About the Subcommittee on Space
The Subcommittee on Space has legislative jurisdiction and general oversight and investigative authority on all matters relating to astronautical and aeronautical research and development including: national space policy, including access to space; sub-orbital access and applications; NASA and its contractor and government-operated labs; space commercialization, including commercial space activities relating to the Departments of Transportation and Commerce; exploration and use of outer space; international space cooperation; the National Space Council; space applications, space communications and related matters; earth remote sensing policy; civil aviation and Federal Aviation Administration research, development and demonstration; and space law.
Committee Membership
Republican Members
Democratic Members
Steven Palazzo (R-Miss.), Chairman
Ralph Hall (R-Texas)
Dana Rohrabacher (R-Calif.)
Frank D. Lucas (R-Okla.)
Michael McCaul (R-Texas)
Mo Brooks (R-Ala.)
Larry Bucshon (R-Ind.)
Steve Stockman (R-Texas)
Bill Posey (R-Fla.)
David Schweikert (R-Ariz.)
Jim Bridenstine (R-Okla.)
Chris Stewart (R-Utah)
Donna F. Edwards (D-Md.), Ranking Member
Suzanne Bonamici (D-Ore.)
Dan Maffei (D-New York)
Joe Kennedy III (D-Mass.)
Derek Kilmer (D-Wash.)
Ami Bera (D-Calif.)
Marc Veasey (D-Texas)
Julie Brownley (D-Calif.)
Frederica Wilson (D-Fla.)
---
Posted in Space Foundation News