Space Foundation News
---
Panel Talks About Detecting, Thwarting Cyber Attack
Written by: developer
Can the U.S. detect, thwart and respond to a cyber offensive that would leave our nation vulnerable to other, possibly more conventional, offensive efforts? Visions of a "Cyber Pearl Harbor" are forcing decision makers to take steps to avoid such a calamity.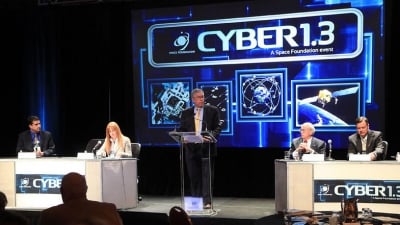 This was one of many timely topics for discussion at the Space Foundation's Cyber 1.3 conference, held April 8 at The Broadmoor Hotel in Colorado Springs, Colo.
The panel Cyber Pearl Harbor: Who-What-How? was moderated by Henry (Trey) A. Obering, III, senior vice president, Booz Allen Hamilton. The panel comprised:
James E. Armstrong, Jr., Ph.D., chief information officer, Missile Defense Agency Space Systems Company
Elizabeth Wilems Clark, vice president, IT & chief information officer, Lockheed Martin Space Systems Company
John Gilligan, president, Gilligan Group
Steve Winterfeld, chief technology officer, TASC Inc.
Obering opened by saying, "We need to maintain cyber situational awareness and recognize it as its own domain; 9/11 changed the idea of a cyber threat."
Gilligan said that previously the concern was with insider threats but, "…threats have evolved dramatically. There has been exponential growth in sophisticated threats."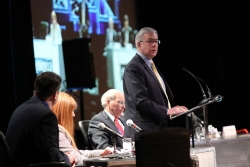 He also said we're beginning to see terrorists use cyber weapons as a preferred method. "Any future war in any civilized environment will be started by a cyber attack," he said.
Clark said adversaries are trying to steal data or disrupt operations. "Adversaries are going after smaller suppliers without robust network protection." She emphasized the need to "…look at where risks are and how much you're willing to put into protecting systems."
She said every employee must be educated about cyber resiliency. "Who has your critical information and how are they protecting it?"
Winterfeld said, "… most systems are perimeter based in a day when information security is 'on your thumb.' It is difficult to find threat in the inundation of cyber activity."
"There are 'Weapons of Mass Disruption' that cause huge economic impacts," he continued. "Cyber threats are a cost of doing business."
See More
See a video of the presentation here.
See photos here.
---
Posted in Space Foundation News