Space Foundation News
---
Gen. William Shelton Gives AFSPC Perspective
Written by: developer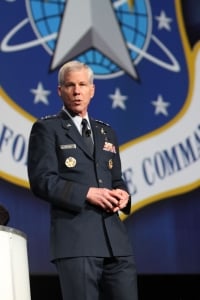 Gen. William L. Shelton, USAF, commander, Air Force Space Command (AFSPC), set the stage for the 29th National Space Symposium with remarks Tuesday morning. He highlighted potential hurdles in a budget-constraint environment and offered a way ahead.
"There are people who believe that the status quo is adequate," he said. "I certainly don't know what intelligence they're looking at. I certainly don't understand what operating environment they think we're in. I certainly don't understand what budget climate they think we're in. But the status quo to me just doesn't seem to be reasonable for our future.
"The die is cast on many of these programs through the mid-2020s and in some cases a little bit beyond that. So we've got a ... period of time when we can look at what our architectural options are for the future and what we should pursue," he said.
See More
See the video here.
See more photos here.
Full text of his speech can be seen here.
Following his remarks, he also conducted a media briefing with reporters attending the Space Symposium.
Shelton is pictured addressing the full audience, above left, and talking with reporters, right.
---
Posted in Space Foundation News