Space Foundation News
---
Mowry Sees "Exciting Times" for Launch Providers
Written by: developer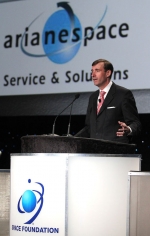 Clayton Mowry, president, Arianespace, Inc., gave a brief overview of the launch business on April 9 at the 29th National Space Symposium.
Mowry said that Arianespace has had 100 percent mission success over the last 10 years and now handles "almost half" of all satellites launched today."
Saying that,"these are exciting times for us in the launch provider business," Mowry noted that more than 80 percent of communication satellite needs for the Pentagon are provided by commercial companies. He said that hosted payloads provide "great potential" for satellite operators and that Arianespace has effectively demonstrated this concept.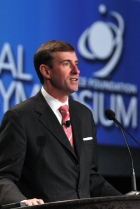 "We are launching payloads twice the weight we launched 11 years ago," said Mowry, "and, we are constantly trying to bring in new generations of young professionals. But, Mowry added, "Arianespace does not plan on any human space flight missions."
See More
To watch the video, click here.
To see photos, click here.
---
Posted in Space Foundation News