Space Foundation News
---
Inoue Gives Japanese Space Perspective
Written by: developer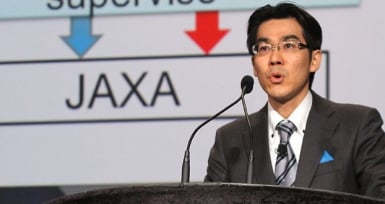 Tomotaka Inoue, counsellor for the Office of National Space Policy in the Cabinet Office of Japan, provided insight into Japan's space program at the 29th National Space Symposium.
After giving a brief history of space system restrictions in Japan, Inoue said that changes in Japanese space policy made in 2008 now allow practical use of satellite systems. As he outlined Japanese space policy, he said that relevant space ministries were restructured in 2012 under the Space Amendment Act.
According to Inoue, the current Japanese Aerospace Exploration Agency (JAXA) budget for space development is set to $3.3 billion and that the agency's priorities include:
New positioning, navigation and timing (PNT) applications
Remote sensing research and development
Infrastructure for communication and broadcast satellites
Continued improvement of current space launch assets
Inoue also acknowledged that mounting tension with North Korea creates concerns.
See More
To see a video of his remarks, click here.
To see photos, click here.
---
Posted in Space Foundation News