Space Foundation News
---
Slazer Talks about ITAR Reform
Written by: developer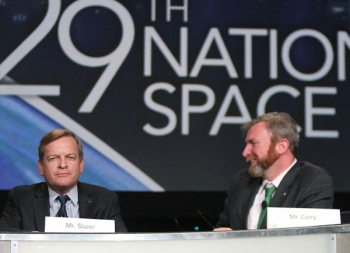 Frank Slazer, vice president - space systems, Aerospace Industries Association (AIA), had a timely onstage discussion of International Traffic in Arms Regulations (ITAR) with  Brendan Curry, vice president - Washington operations, Space Foundation, at the Space Foundation's 29th National Space Symposium.
Slazer said that now that there has been meaningful ITAR reform, the industry must maintain compliance, begin preparing for public comment and continue monitoring the implementation process. He said that it is "likely by this time next year, that satellites will be on the commerce list," and that increased satellite-related exports can help "sustain the investment base as well as create good jobs."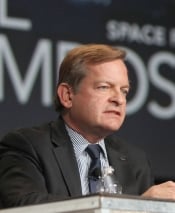 According to Slazer, in a 2011 AIA survey, 100 percent of member firms indicated that export control adversely affected their businesses and that ITAR is being relaxed now because "the globalization of space has made satellite export more mainstream."
See More
See video of the discussion here.
See photos of this, and other Wednesday afternoon panels, here.
---
Posted in Space Foundation News