Space Foundation News
---
Space Symposium Panel Reviews Mission Assurance in a Budget-Constrained Environment
Written by: developer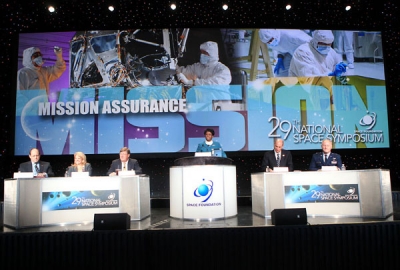 The subject of mission assurance in a budget-constrained environment was a topic of discussion for one panel at the Space Foundation's 29th National Space Symposium on April 10. The panel was moderated by Wanda M. Austin, Ph.D., president and chief executive officer, The Aerospace Corporation, and a Space Foundation board member.
The panel comprised:
Michael C. Gass, president and chief executive officer, United Launch Alliance (ULA)
Gwynne Shotwell, president Space X
Robert D. Strain, president, Ball Aerospace & Technologies Corp.
Brig. Gen. Roger W. Teague, USAF, director, strategic plans, programs and analyses, Air Force Space Command
James W. Wade, Ph.D., vice president, corporate mission assurance, Raytheon Company
Austin launched the discussion, saying, "No matter where you pose the question, space systems are essential to our way of life. We can't do without them."
Teague said that government will continue to be a demanding customer, but is open to exploring unique opportunities and innovations.
Gass said that lessons learned should not be lost for future missions, "For mission assurance, we have to remember the end effects, and recognize where is launch in the equation. EELV one of most successful programs in recent decades."
Said Strain, "We ought to look at best practices of space customers. Similar missions are being done very differently."
Speaking for her company, Shotwell said that SpaceX values fixed price contracts.
Teague concluded, "It's about attitude and a culture of leadership incumbent upon to collectively balance risk and not be tempted by shortcuts."
See More
See video here.
See photos here.
---
Posted in Space Foundation News