Space Foundation News
---
Meet Sara Summers at the Discovery Center June 7
Written by: developer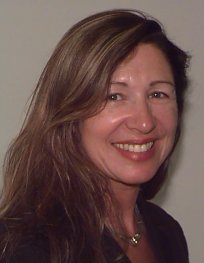 Sara Summers, National Oceanic and Atmospheric Administration (NOAA) meteorologist and European manager for Science On a Sphere®, will give four presentations at the Space Foundation Discovery Center on Friday, June 7, part of the Space Foundation's week-long Summer of Discovery theme "Oceans of the Universe."
Summers' presentations will be offered at 11:00 a.m., 12:00 noon, 2:00 p.m. and 3:00 p.m., and are included in the price of daily admission to the Discovery Center.
Daily admission is $9 for adults, $7 for seniors (age 65+), $7 for college students with I.D., $3 for children ages 4-17. Admission is free with military I.D., to children age three years and younger and to holders of the Colorado Springs Together Card.
About Science On a Sphere®
Science On a Sphere® (SOS), the centerpiece of the Space Foundation's Northrop Grumman Science Center, was developed by the NOAA. SOS uses special software, satellite imagery and four projectors to render images onto the global surface that provide dramatic, full-motion views of the Earth, Sun, moons and planets in space.
The more than 360 datasets available for classes and public viewing range from simple image projection to programs featuring images combined with multiple layers of data. The subjects include graphic depictions of ocean currents and temperatures, volcanic and tectonic activity, hurricanes and tsunamis, polar ice, air traffic patterns and a wide variety of natural and manmade phenomena.
The brainchild of Dr. Alexander (Sandy) McDonald, director of the NOAA Forecast Systems Laboratory in Boulder, Colo., SOS is a six-foot-diameter free-hanging carbon-reinforced plastic ball that uses off-the-shelf high-speed computers, projectors and advanced imaging techniques to create the illusion of the Sun, planets, moons or any other celestial body. The 50 lb. sphere hangs from the ceiling by a three-point stationary suspension system; although it appears the sphere is moving - it is not; the movement affect is created by software and projected images.
Discovery Center Activities for Saturday, June 8
"Oceans of the Universe" activities celebrating World Oceans Day on Saturday, June 8, are included in the price of Saturday admission and include:
Science On a Sphere® demonstrations
Underwater robotic activities with remotely operated vehicles (ROVs) similar to the ones used to train astronauts
Squid dissection activity, "You've Got Guts." See for yourself what's inside these small ocean creatures!
"Fossils of the Deep," children will enjoy digging for fossils and shells
An interactive exhibit comparing SCUBA equipment with astronaut EMU suits (extravehicular mobility unit)
For young children, the June 8 activities will include crafts, balloon art, face painting and story time with local personalities reading popular children's books aloud in the Small Fry Reading Corner.
Small Fry Reading Corner
Young children can learn about oceans in the Small Fry Reading Corner, with guest readings at the following times on June 8:
10:00 a.m. - Laura Neumann, chief of staff, City of Colorado Springs
10:30 a.m. - Brian Burnett, vice chancellor for administration and finance, University of Colorado at Colorado Springs, reading A House for Hermit Crab
11:00 a.m. - Dianne Derby, news anchor, KKTV, reading Danny & Daisy-A Tale of a Dolphin Duo
11:30 a.m. - Sherryl Dillon, board of education vice president, Cheyenne Mountain School District 12, reading Harry Horseshoe Crab - A Tale of Crawly Creatures
12:00 p.m. - Karla Probert, Space Foundation volunteer, Colorado Springs, reading Manfish
12:30 p.m. - Col. Robert J. Kraus, chief scientist and director of research, USAFA, reading One fish, two fish, red fish, blue fish
1:30 p.m. - Col. Robert J. Kraus, reading Mary Manatee-A Tale of Sea Cows
2:00 p.m. - Karla Probert, reading Manfish
2:30 p.m. - Col. Robert J. Kraus, reading Sea Creatures Pop-Up
3:30 p.m. - Julie Howell, marketing project manager, Space Foundation, reading Big Sharks!
4:00 p.m. - Cheryl Ledford, education programs assistant, Space Foundation, reading The Whales Go By
4:30 p.m. - Chrys Rheinbolt, education programs coordinator, Space Foundation, reading Humphrey The Lost Whale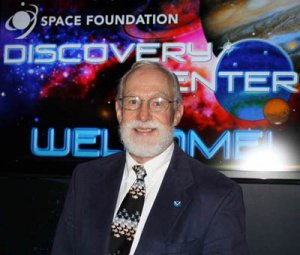 Earlier This Week
June 5 at the Discovery Center featured four ocean-related presentations by retired NOAA presenter George Sharman (pictured right). Sharman's Science On a Sphere program brought to life the formation and evolution of the oceans, the driving forces and results, the integrative and interdisciplinary nature of the oceans and highlighted a few of the more spectacular recent events, such as the Tohoku Tsunami and the variation of the Boreal Ice Cap.
Next Week at the Discovery Center
The Space Foundation Discovery Center is the region's only space, science and technology attraction, and is located off Garden of the Gods Road at 4425 Arrowswest Drive, Colorado Springs, Colo. The Discovery Center is open to the public from 10:00 a.m. to 5:00 p.m., Tuesdays through Saturdays, June 4 - Aug. 10.
During Summer of Discovery, each week will focus on a specific theme, culminating with a full day of special activities each Saturday, included in the price of the Saturday admission. Coming up next week at the Discovery Center, "Mars, Rovers and Robots," June 11-15.
See the full schedule of June 8 activities at www.spacefoundation.org/events/summer-discovery. Activities are subject to change.
---
Posted in Space Foundation News