Space Foundation News
---
Certified Space Technology Used to Detect and Deter Wildfires
Written by: developer
The Space Foundation hosted a special community event Aug. 12 that featured a reception and a presentation by FireWatch CEO Joseph R. Turnham. FireWatch America, LLC, the exclusive U.S. distributor for the patented FireWatch system, currently has a proposal before the City of Colorado Springs. Attendees included representatives from local fire mitigation, military, business and citizen's groups.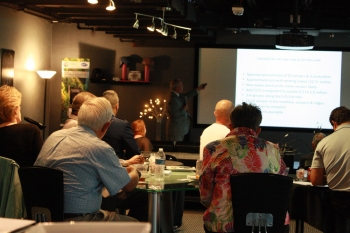 Work led by the German space agency (DLR) -in support of ESA's Rosetta Mission to a comet - resulted in a commercial system for early detection of smoke in virtually any weather, day and night. Now technology originally used to analyze a comet's tail is used for early fire-detection. High-resolution optical sensors and communications systems monitor, detect and alert first responders to potential fires. FireWatch technology is currently deployed in locations throughout Europe, Australia and Mexico and has reduced acreage burned by over 45%.
FireWatch is a Space Foundation Certified Space Technology and Space Technology Hall of Fame® inductee.
Pictured: FireWatch America, LLC CEO Joseph R. Turnham answers questions from the audience during a special community presentation at Space Foundation world headquarters. 
---
Posted in Space Foundation News