Partner News
---
Dynetics Reports "Outstanding" Progress in First 10 Months of Advanced Booster Contract
Written by: developer

HUNTSVILLE, Ala. (Aug. 13, 2013) – Dynetics officials today reported successful progress on the company's hardware build and test tasks in support of advanced development for NASA's Space Launch System (SLS). This announcement comes at the end of the third quarter of the contract NASA awarded last fall to a team made up of Dynetics and Aerojet Rocketdyne to reduce risks for Advanced Boosters that could help meet SLS's future capability needs.
The team plans to perform a wide-ranging set of full-scale, system-level demonstrations on key Advanced Booster systems through early 2015.
"Progress during the first 10 months of the contract has been outstanding," said Kim Doering, Dynetics program manager.
Dynetics, the prime contractor, is designing and fabricating a full-scale cryogenic tank that it will test to verify the structural design of the affordable booster concept," Doering said. "We've successfully manufactured our first two full-scale, 18-foot diameter cryotank barrels, including friction stir welding them on Marshall Space Flight Center tools. Taking the flight-weight tank barrels all the way from design through successful manufacturing in less than 10 months demonstrates that Dynetics' affordable booster structures approach is credible."
Aerojet Rocketdyne is applying state-of-the-art manufacturing techniques to the Apollo-era F-1 rocket engine to arrive at a proven, high-powered engine that is much less expensive than competitive options, both to develop and to build. The team calls this engine the "F-1B" to reflect both its heritage and its unique benefits.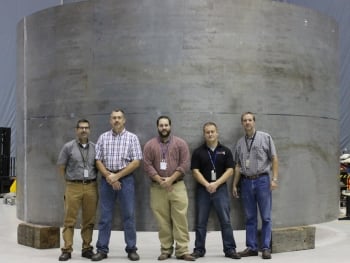 Andy Crocker, Dynetics deputy program manager, said, "We've got great partnerships, both with Aerojet Rocketdyne and with NASA." Those two partners worked together to complete hot-fire testing of the F-1 gas generator at F-1B conditions. We completed all 10 tests and 235 seconds of hot-fire time even faster than expected, and all test objectives and success criteria were met."
Pictured, right: Dynetics' friction stir weld team (left to right: John Meyer, Greg Neal, Taylor Murphy, Todd Renz, Andre' Paseur) in front of the first Dynetics SLS advanced booster demonstration cryo tank barrel, successfully welded using the Marshall Space Flight Center Vertical Weld Tool.
Aerojet Rocketdyne engineers completed a design review for an F-1B gas generator injector and started manufacturing the part using selective laser melting, a state-of-the-art fabrication method that offers potentially significant cost reductions. They also conducted design reviews for the turbine manifold and first stage turbine blade and made successful initial castings of key parts. Finally, they completed preliminary design reviews of the powerpack assembly and main combustion chamber.
"We're proud to be playing a role in our nation's human space exploration program," said Steve Cook, Dynetics director of Space Technologies. "Completing these risk reduction activities will give NASA the confidence it needs to proceed with a near-term Advanced Booster competition. We look forward to that opportunity."
Dynetics released this news during the 2013 Space & Missile Defense Symposium being held here at the Von Braun Center Aug. 12-15. For more information, visit http://smdsymposium.org/.
About Dynetics
Dynetics delivers the "Power of Solutions" to government and commercial customers in the areas of intelligence, missiles, aviation, cyber and space. Based in Huntsville, Ala., with offices throughout the United States, Dynetics is a mid-tier company that provides complete lifecycle analysis, engineering and hardware solutions to support customer missions. For more information, visit www.dynetics.com.
Dynetics and the Dynetics logo are registered trademarks of Dynetics Inc. Other brands and product names are trademarks of their respective owners.
# # #
For more information contact:
Janet Felts
Dynetics Inc.
256-713-5439
256-417-1985
[email protected]
---
Posted in Partner News