Second View
---
This Spaceship Could Use Some STEAM
Written by: developer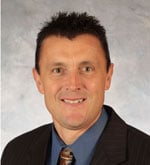 By Iain Probert, Space Foundation Vice President Education & Discovery
The Space Foundation has just announced the winners of the 2014 International Student Art Contest. I think that when most people see the artwork, they will be impressed by the quality and breadth of expression and medium. When viewing the art, it is incredible to remember that these are works created by young people, some of them very young. (The contest is open to students aged three through 18.)
Another amazing fact is the sheer volume of quality art received. More than 7,000 students submitted their interpretations of the theme, "My Spaceship Looks Like…" I feel for the panel of judges that had the unenviable task of picking just 25 winners from all the wonderful entries.
This has been a truly international endeavor. Not only was it an international panel of judges, but also consider this, the 7,000+ art entries represent 54 countries, including with 43 U.S. states. Just to put this in perspective, when the Space Foundation first launched this contest in 2011, there were a total of 150 entries from 13 U.S. States. No other countries had entries at all. And now, not only have we received entries from nearly all of the U.S. states, but our International Student Art Contest has gone truly global with entries from virtually every continent.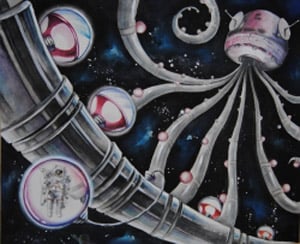 Just by way of illustration, the other countries with the most entries this year are India, Turkey, Hong Kong, China, Venezuela, Belgium and Iran. Very impressive, I'd say! Clearly, space has captured the imagination of young artists around the world.
This brings to mind another art contest that has recently been held, this time for record cover artwork. Perhaps you've also read about this. I happened to stumble across an article on the BBC's website entitled, "White Lies astronaut wins record cover art prize". After describing the "White Lies" Big TV record cover, the article goes on to mention another recent space-based album cover, that won favor with the public, and that being a cat depicted in an astronaut suit. A rather cool cat, I might add. But really there are no huge surprises here, especially when one considers the fact that throughout time, space has informed the arts in big ways; consider Gustav Holst's orchestral suite The Planets, Op. 32; Arthur C. Clarke's Space Odyssey series (film and novels); or astronomical art, to name just a few examples from the modern world.
The global and timeless fascination with space provides a perfect platform for blending the arts and sciences, and creates some exciting opportunities. I'm personally curious and excited to see what the Space Foundation's 2015 International Student Art contest will bring. The theme has already been set and it is "The View From My Spaceship." If you know of a budding young artist, please tell them they can submit their entry beginning Aug. 1, 2014.
This opportunity is not just limited to young artists. Individuals, organizations, entities and groups can also capitalize on the international exposure to young people while simultaneously promoting the arts and sciences with a healthy dose of space. Interested parties can contact my colleague Gina Taranto for further details. Who knows the people and places that this contest could reach when given an extra boost by a co-sponsor and supporter? The sky … and beyond… is the limit!
The view from my spaceship is that the current Science, Technology, Engineering and Mathematics (STEM) trajectory, particularly in the USA, needs a boost from the arts to help it along the way. The Space Foundation is very proud to promote the inclusion of the "A's" into STEM, which will ultimately add more and more STEAM to this thing that we believe in and love, affectionately and inspirationally known to everyone as SPACE.
As vice president – education and discovery for the Space Foundation, Probert is responsible for the Space Foundation's space-themed science, technology, engineering and mathematics (S-STEM) education endeavors, including curriculum development and course delivery for PreK-20 students; educator professional development and liaison programs; school, youth group and community space education programs; career and workforce development; and partnerships with educational organizations and institutions. He earned a Bachelor of Science degree in electronic and computer engineering from Thames University, U.K., and a Master of Business Administration from the International Space University, Strasbourg, France.
This article is part of Space Watch: February 2014 (Volume: 13, Issue: 2).
---
Posted in Second View