Space Foundation News
---
Space Foundation Hosts Innovate Colorado Springs Program "Innovation in K-12"
Written by: developer
On April 15, the Space Foundation hosted the STEM education session of the Innovate Colorado Springs program, a community initiative created to serve as a catalyst for innovation and entrepreneurship in Colorado's Pikes Peak region.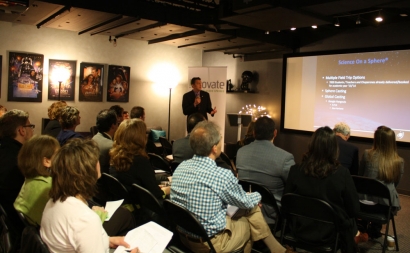 "Innovation in K-12" session, was one of 15 community events supporting partner locations during Innovate Colorado Springs' launch week, and was held at the Space Foundation Discovery Center in Colorado Springs, 4425 Arrowswest Drive. The Discovery Center is the region's only public space, science and technology attraction.
The discussion focused on how innovation and entrepreneurship is being developed locally in grades K-12, and included representatives of: Space Foundation, CodeBaby, Cool Science, Conspire, EleSTEMary, Colorado Consortium for Earth and Space Science Education, LAUNCH High School, Care & Share, Harrison School District 2, National Museum of WWII Aviation, US Air Force Academy's STEM Outreach Program, k2i STEM Consortium, D11 Career and Technical Education, Youth Zone of Pikes Peak Workforce Center, Leadership Pikes Peak, Junior Achievement of Southern Colorado, See The Change USA, Pikes Peak Community College – Manufacturing, UCCS CSTEME, Bourbon Street Productions, Student, Parent.
Read more about Innovate Colorado Springs here.
Pictured: Space Foundation Vice President – Education and Discovery Iain Probert discusses Space Foundation STEM education outreach during "Innovation in K-12" at the Space Foundation Discovery Center
---
Posted in Space Foundation News