Space Symposium
---
Two Life-Saving Technologies are Space Technology Hall of Fame Inductees
Written by: developer
A global satellite-based search-and-rescue system, and an image-guided surgical robot will be the 2014 inductees into the Space Foundation's Space Technology Hall of Fame®, which recognizes technologies originally developed for space applications that now improve life on Earth. The induction will take place on May 22 during the 30th Space Symposium at The Broadmoor Hotel in Colorado Springs, Colo., USA.
The inductees are:
Cospas-Sarsat Global Satellite System, a global, satellite-based search-and-rescue system that is operated and managed by more than 40 countries
NeuroArm technologies, an image-guided MR-compatible robot for microsurgery that combines precision robotics with the capacity of the human mind
Three events at the Space Symposium will honor the inductees:
The Space Technology Hall of Fame Private Induction Ceremony, co-sponsored by AGI
The Space Technology Hall of Fame Cocktail Reception, co-sponsored by EaglePicher Technologies, LLC
The Space Technology Hall of Fame Dinner, co-sponsored by SpaceX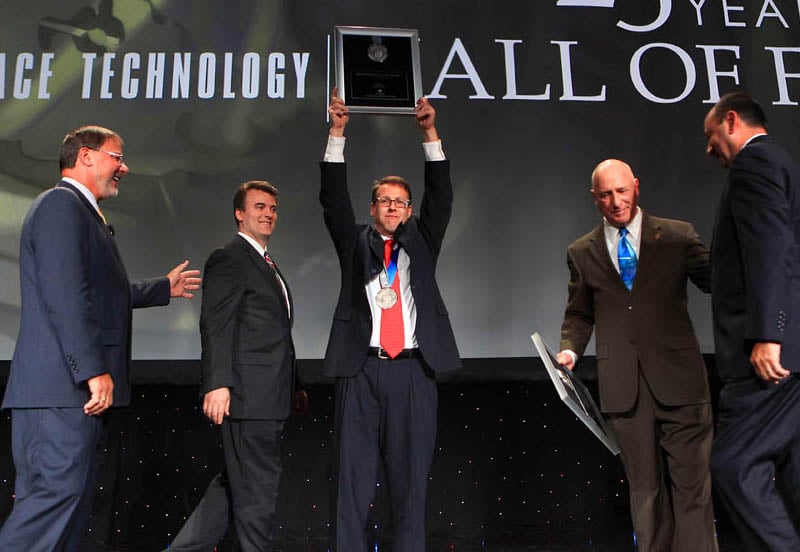 The private induction ceremony is by invitation only. The reception is open to all Space Symposium attendees. Tickets for the dinner are available for purchase.
Cospas-Sarsat Global Satellite System
In 1979, four countries came together to develop global approach to satellite based search-and-rescue. The United States, France, Canada and the Soviet Union agreed to jointly develop a worldwide system. By 1985, that global system known as Cospas-Sarsat was fully operational. Since its inception, this satellite based system has rescued more than 32,000 people.
The first generation used low-Earth orbits satellites to detect emergency signals and repeat them to ground stations where Doppler processing provided the signal location.
To further improve signal location accuracy, NASA led an effort to create what became the Distress Alerting Satellite System which incorporates search and rescue instruments on GPS satellites in mid-Earth orbit. This new system embedded the GPS location in the signal itself, eliminating Doppler calculation for faster identification and rescue.
When a distress beacon signal is relayed by multiple MEO satellites to a ground station, time and frequency measurements calculate beacon location. Each beacon data burst is sufficient to provide an accurate location. Each additional data burst further refines location to improve rescue response time.
With each generation of Cospas-Sarsat technology, commercial partners have contributed hardware and technology to support development and ongoing operations.
Today, 41 countries participate in the operation and management of Cospas-Sarsat. This is a truly international effort with new ground stations and satellites continuously being added to provide a dependable redundancy and improved response to the over 1 million beacons in use worldwide.
NeuroArm
In 1969, NASA invited Canada to participate in the space shuttle program. A request for proposals for a Shuttle Remote Manipulator System (SRMS) resulted in a proposal led by Spar Aerospace – now MacDonald, Dettwiler and Associates (MDA) and which included CAE Electronics, RCA Canada and Dilworth, Secord, Meagher and Associates.
With Canadian government support, the National Research Council of Canada began studies on a manipulator system and in 1975, Canada and NASA launched a $110 million development program.
The first SRMS, or Canadarm system, was donated to NASA and was followed by four additional systems accomplishing over 90 robotic missions. Redesign and improvement efforts led to the next generation Canadarm2, purpose built to construct the International Space Station.
In 2001, Endeavour delivered Canadarm2 to ISS, starting a legacy that to date has moved hundreds of tons of supplies, equipment and astronauts in support of nearly 100 spacewalks. This was followed by the advanced two armed Special Purpose Dexterous Manipulator – 'Dextre' which performs maintenance, repairs and serves as a robotics concept test bed.
Following this success, MDA was approached by Dr. Garnette Sutherland of the University of Calgary and Alberta Health Services in search of partners to help develop NeuroArm, an image-guided MR-compatible robot for microsurgery and stereotaxy. The result was a space robotics spinoff combining precision robotics with the capacity of the human mind, providing surgeons with near real time visibility of the brain and the surgical tools in relationship.
On May 12, 2008, a Foothills Medical Centre team completed the first image-guided neurosurgical procedure performed with a robot with the neurosurgeon manipulating NeuroArm from an adjacent control room.
Today, IMRIS is creating the next generation of NeuroArm known as Symbis and another inspiring chapter of Space Technology benefitting life on Earth.
2014 Individual Inductees
The following individuals are being inducted into the Space Technology Hall of Fame:
Cospas-Sarsat
Steve Lett, Head of the Secretariat, International Cospas-Sarsat Programme
NeuroArm
Garnette Sutherland, M.D., Professor of Neurosurgery, University of Calgary
2014 Organizational Inductees
International Cospas-Sarsat Programme
University of Calgary, Faculty of Medicine (Project NeuroArm)
Canadian Space Agency
MacDonald, Dettwiler and Associates Ltd. (MDA)
IMRIS
About the Judges
The panel of judges who selected the 2014 Space Technology Hall of Fame inductees comprised:
Lt. Gen. Larry D. James, USAF, (Ret.), Deputy Director, Jet Propulsion Laboratory
Shogo Kitahara, President, Japan Space Forum
Dr. Ekkehard Kührt, Department Head, German Aerospace Center, Institute of Planetary Research
Joe Sheehan, President, Analytical Graphics, Inc.
Kirk A. Shireman, Deputy Director, NASA Johnson Space Center
Dr. Anthony J. Tether, Senior Strategic Advisor, Zero Gravity Solutions
Christopher Vasko, Co-Chairperson, Space Generation Advisory Council
Nominations for 2015 Induction
The deadline to submit nominations for induction during 2015 will be Aug. 22, 2014. Anyone may submit a nomination of a technology that was developed anywhere in the world for use in space and then modified or adopted for use on Earth. Nomination information, including online and downloadable nomination forms, is available at www.SpaceTechHallofFame.org.
Space Symposium Registration
Space Technology Hall of Fame award ceremonies for the 2014 inductees and honorees are part of the 30th Space Symposium, which will be held at The Broadmoor Hotel in Colorado Springs, Colo., May 19-22. For information about package pricing, military rates and secure online registration go to www.spacesymposium.org/register.
Pictured: The 2013 Space Technology Hallof Fame inductees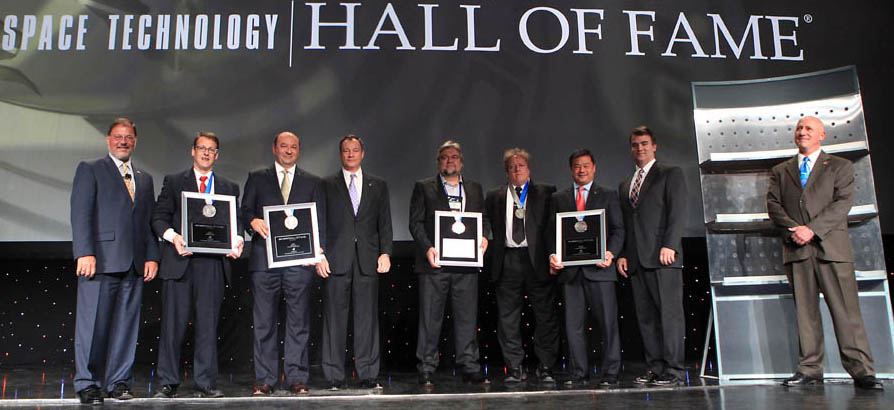 This article is part of Space Watch: May 2014 (Volume: 13, Issue: 5).
---
Posted in Space Symposium