Second View
---
30th Space Symposium Helps Educators Inspire the Next Generation of Space Leaders
Written by: developer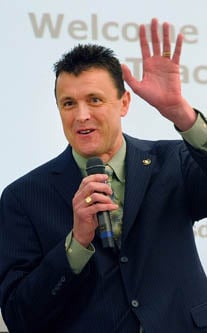 By Iain Probert, Space Foundation Vice President - Education & Discovery
It will be amazing to see some of the best Space, Science, Technology, Engineering and Mathematics (S-STEM) education programs, practitioners and facilities in the world gathered together at the 30th Space Symposium later this month.
The Symposium's not-to-be-missed spectacular Opening Ceremony on Monday, May 19, will feature the bestowing of the 2014 Alan Shepard Technology in Education Award. The winner, Lynne Zielinski, is a recently-retired high school teacher who, for 22 years, ran a program she initially developed to enable students to design and conduct microgravity experiments, initiate and direct aerospace and engineering research, develop spaceflight hardware, and design space settlements. The Space Foundation, in conjunction with the Astronauts Memorial Foundation (AMF) and the National Aeronautics and Space Administration (NASA), annually presents the Alan Shepard Technology in Education Award to recognize outstanding contributions to creative and innovative use of technology in education by K-12 educators or district-level education personnel.
A further 60+ Space Foundation Teacher Liaisons representing 10 U.S. states will be joining Zielinski at the Opening Ceremony as well as the four-day Space Symposium that follows. Adding a global flair, an additional four Teacher Liaisons will be travelling from India to take part in the robust education programs offered at this year's Symposium. Activities have been specifically designed for the members in attendance of this internationally recognized program that provides an honored few with the benefits and privileges that improve teaching skills, strengthens resumes and influences space and science education at a world level. One of the activities will be a presentation in the style of the long-running "Tonight Show," which will feature six former astronauts being interviewed in front of the live Teacher Liaison audience.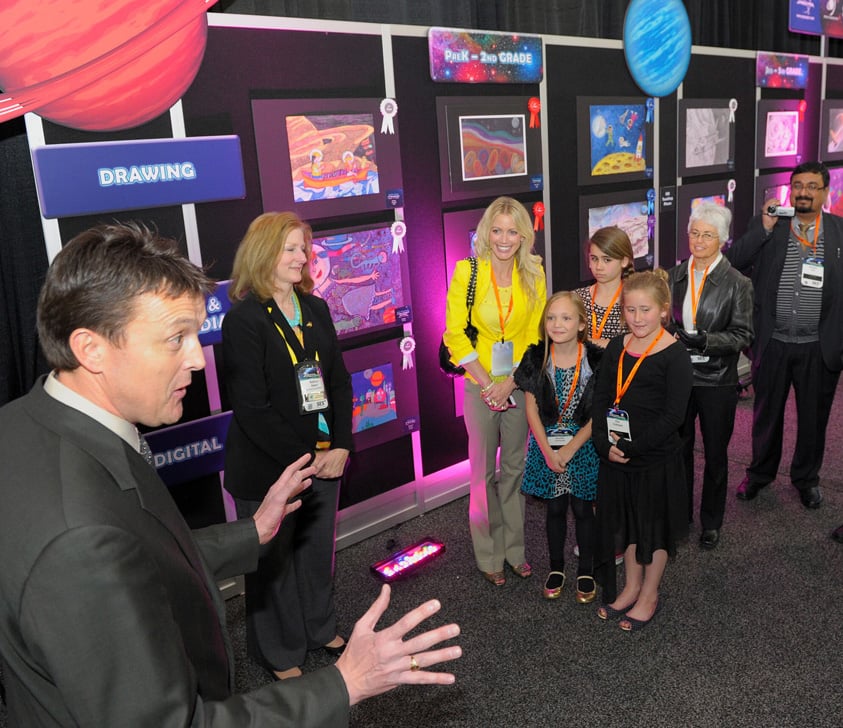 The Symposium's education programs are not limited to teachers. The ever-popular tours of the Boeing Exhibit Center will be available to fascinate students and teachers alike with the wonders of space technology. The Space Foundation strongly advocates infusing space across all curricula. In this light, creative young artists from across the globe, winners of the 2014 Space Foundation International Student Art Contest based on the theme "My Spaceship Looks Like...," will be honored in a ceremony during the Symposium on May 21 that features their works on prominent display in the Boeing Exhibit Center Pavilion.
Prior to, or after, the 30th Space Symposium, participants will be able to visit the Space Foundation Discovery Center, which is the Pikes Peak region's first and only space, science and technology attraction. It is an interactive, museum-quality destination that advances S-STEM in the exciting context of space exploration, development and utilization. On view in the El Pomar Space Gallery is a wide variety of space artifacts and exhibits including: Soviet Lunar Exploration, Lunar Module, Current Moon Exploration, Space Food, Historic Soviet Union and U.S. Space Suits, Scale Model Rockets, Scott Carpenter Station, Mars Viking Lander, Aurora TLV, and Huygens Probe.
The Space Foundation Discovery Center also features the AGI Space Missions Simulation Laboratory, Northrop Grumman Science Center featuring Science On a Sphere® (SOS) and Mars Robotics Laboratory, which are used extensively for in-person and virtual field trips by K-12 students from across the globe. And all lovers of space should not pass up the opportunity to browse the Discovery Center Store, for irresistible space gifts. See details about visiting the Discovery Center in Colorado Springs here.
The Space Foundation strives to develop the next generation of space professionals through programs that stimulate students' interest and skills in S-STEM. These education programs, and the goal of inspiring students and educators, are just some of the many AMAZING reasons to register today to attend the 30th Space Symposium.
This article is part of Space Watch: May 2014 Special Edition - 30th Space Symposium (Volume: 13, Issue: 5.1).
---
Posted in Second View