Education
---
Space Foundation Announces 2015 Teacher Liaisons
Written by: developer
Since its inception in 2002, the Space Foundation's elite Teacher Liaison program has expanded worldwide, and with the addition of 34 educators for 2015, including 13 from India, has grown to 20 international representatives and 150 active participants.
The 34 new Teacher Liaisons will serve as advocates for space-themed education, and will use Space Foundation-provided training and resources to further integrate space principles into the classroom.
Each January, Teacher Liaison applications are reviewed by a panel of experienced Teacher Liaisons and representatives from the space industry and the military. A criterion for selection is active promotion of space and science education.
The program helps teachers with a passion for space education to connect with other like-minded educators around the globe to share ideas for bringing space themes into the classroom. The program welcomes public, private and homeschool teachers, as well as school administrators, including principals, specialists, curriculum and instruction developers, and others who deliver education to students.
The new 2015 Teacher Liaisons are: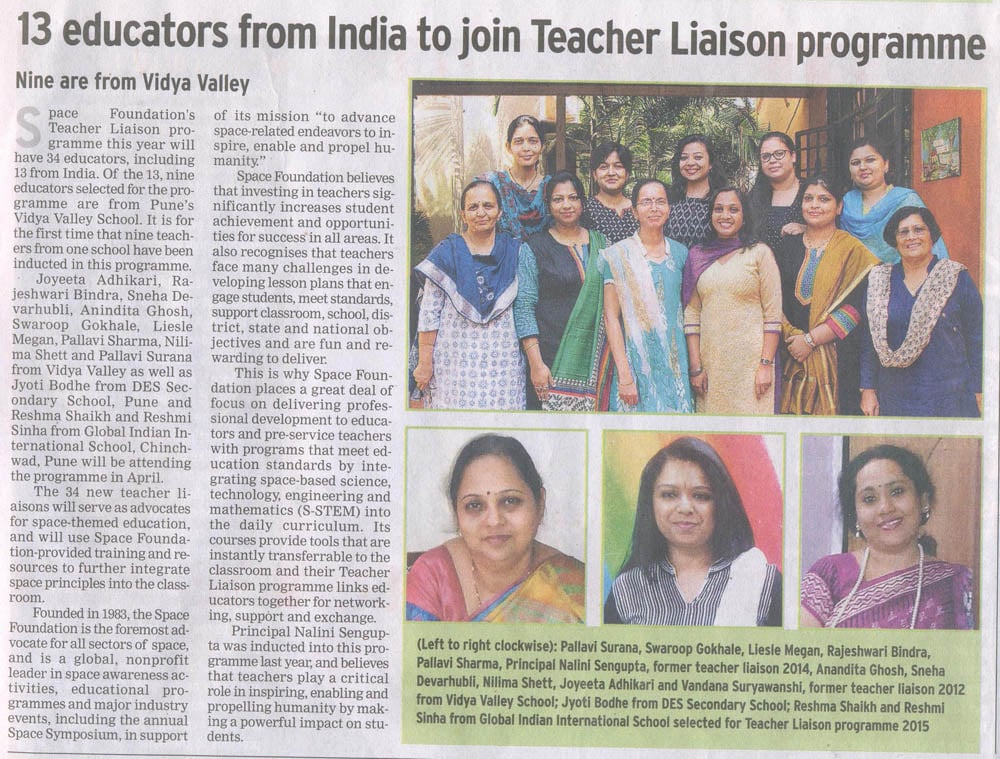 Maharashtra, India
Joyeeta Adhikari, Vidya Valley School, Pune
Rajeshwari Bindra Vidya Valley School, Pune
Jyoti Bodhe, DES Secondary School, Pune
Sneha Devarhubli, Vidya Valley School, Pune
Anindita Ghosh, Vidya Valley School, Pune
Swaroop Gokhale, Vidya Valley School, Pune
Nidhi Jain, Dolphins International School, Pune
Liesle Megan, Vidya Valley School, Pune
Reshma Shaikh, Global Indian International School, Pune
Pallavi Sharma, Vidya Valley School, Pune
Nilima Shett, Vidya Valley School, Pune
Reshmi Sinha, Global Indian International School, Chinchwad, Pune
Pallavi Surana, Vidya Valley School, Pune
USA
Alaska
T. Jerome Baxter, Pearl Creek Elementary, Fairbanks
Arizona
Rebekah Kienenberger, Arete Preparatory Academy, Gold Canyon
Colorado
Jennie Anderson, Rocky Mountain Classical Academy, Colorado Springs
Mary Gordan, Rocky Mountain Academy of Evergreen, Evergreen
Nicole McWright, STEM Launch, Thornton
Debby Penny, Skyview Middle School, Colorado Springs
Heidi Ragsdale, West Middle School, Grand Junction
Sandi Smith, STAR Academy, Colorado Springs
Connecticut
Christina Messner, Hamden Public Schools, North Haven
Kentucky
Shawn Boggs, Bardstown High School, Cox's Creek
Heather Ribblett, Kentucky Country Day, Louisville
Massachusetts
Nancy Gifford, Monomoy Regional Middle School, Harwich
Maryland
Nancy Belle, Charles County Public Schools, LaPlata
Dorain Janney, NASA Goddard Space Flight Center, Greenbelt
Asante Johnson, Wheatley Education Campus, Accokeek
Holly Walsh, Mt Hope/Nanjemoy Elementary School, Waldorf
Nebraska
Jay Hentzen, Mercy High School, Omaha
New Jersey
Suzanne Burnetta, Hamilton School, Ocean View
Denise Kuehner, Oradell Public School, Old Tappan
New Mexico
Margaret Bohlin, Valley View Elementary School, Roswell
Wyoming
Colleen Zeglin, Casper Planetarium, Casper
The 2015 Teacher Liaisons will be publicly recognized at the Space Foundation's 31st Space Symposium, which is being held April 13-16 at The Broadmoor in Colorado Springs, Colo., USA.
Learn more about Teacher Liaisons and Space Foundation education programs by visiting www.spacefoundation.org/education.
This article is part of Space Watch: March 2015 (Volume: 14, Issue: 3).
---
Posted in Education