Space Foundation Press Releases
---
Space Foundation Issues Statement on the Passing of Chris Kraft, 2018 Recipient, General James E. Hill Lifetime Space Achievement Award
Written by: Space Foundation Editorial Team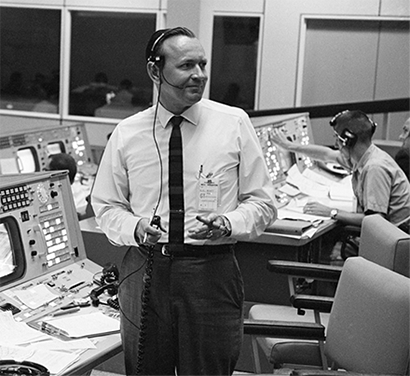 COLORADO SPRINGS, Colo. (July 23, 2019) — Today, the Space Foundation commented on the passing of Christopher Columbus "Chris" Kraft, Jr., the first U.S. human space mission flight director, credited with establishing NASA's Mission Control operations.
Space Foundation Board Chairman Gen. William Shelton, USAF, (Ret.) issued this statement:
"Chris Kraft was the recognized father of human spaceflight mission control," said Shelton. "As a space shuttle flight controller in the early 1980s, I knew we were working under the disciplines developed by him. His legacy is one of excellence and mission success while facing overwhelming odds."
Chris Kraft's leadership, discipline and acumen were the bedrock foundation upon which our first and most challenging steps in human spaceflight were built. From his enduring example and steadfast leadership, our greatest achievements in human spaceflight were realized and new generations of talent and missions were forged to carry us to even greater pursuits.
His impressive life and professional example are the permanent metric by which every Flight Director is measured and will forever strive to achieve. The entire space community lost a legend with his passing but will forever have the shadow of his life as a model of the character, fortitude, discipline and focus that make every space mission a success. We extend our deepest sympathies to his family, friends and colleagues on his passing.
The Space Foundation honored Kraft in 2018 with its highest honor, the General James E. Hill Lifetime Space Achievement Award, presented at the 34th Space Symposium in Colorado Springs. See the video about Kraft produced for the Hill Award presentation here.
About Chris Kraft
Chris Kraft compared his role as flight director to conducting an orchestra, not necessarily knowing how to play each instrument, but knowing how to bring them together to create music. He had a childhood interest in music and played bugle in an American Legion drum-and-bugle corps, later becoming the Virginia state champion bugler.
He also had an early interest in baseball and played in college at Virginia Polytechnic Institute and State University (now Virginia Tech). Initially, he studied mechanical engineering, but on the encouragement of a professor, he graduated in 1944 with one of the first aeronautical engineering degrees conferred by the Institute.
In 1945, he was hired by the Langley Aeronautical Laboratory of the National Advisory Committee for Aeronautics (NACA), the predecessor to the National Aeronautics and Space Administration (NASA). In 1958, Kraft was selected as one of the original members of the Project Mercury Space Task Group.
From 1961 to 1966, Kraft was flight director for the Mercury missions and many of the Gemini missions. He was the director of flight operations for the Apollo program until 1970, when he became the Manned Spacecraft Center deputy director.
Kraft established manned spaceflight rules that controlled every aspect of the mission, dictating that the astronauts obey the direction of mission control, and allowing the flight director "…to take any necessary action required for the successful completion of the mission."
He served as director of the Johnson Space Center from 1972 until his retirement in 1982. He remained active as an aerospace consultant, and his autobiography — Flight: My Life in Mission Control — was published in 2001.
About the Space Foundation
Founded in 1983, the Space Foundation is a 501(c)(3) and the world's premier organization to inspire, educate, connect, and advocate on behalf of the global space community. It is a nonprofit leader in space awareness activities, educational programs, and major industry events, including the annual Space Symposium. Space Foundation headquarters is in Colorado Springs, Colo., USA, and has a public Discovery Center, including El Pomar Space Gallery, Northrop Grumman Science Center featuring Science On a Sphere® and the Lockheed Martin Space Education Center. The Space Foundation has a Washington, D.C., office and field representatives in Houston and the Florida Space Coast. It publishes The Space Report: The Authoritative Guide to Global Space Activity, and through its Space CertificationTM and Space Technology Hall of Fame® programs, recognizes space-based innovations that have been adapted to improve life on Earth. Visit both of our websites www.SpaceFoundation.org and DiscoverSpace.org – and follow us on Facebook, Twitter, Instagram, LinkedIn and YouTube.
# # #
Tuesday, July 23, 2019
---
Posted in Space Foundation Press Releases