Public Policy and Government Affairs
---
Washington, D.C. Space Activity Updates
Written by: Space Foundation Editorial Team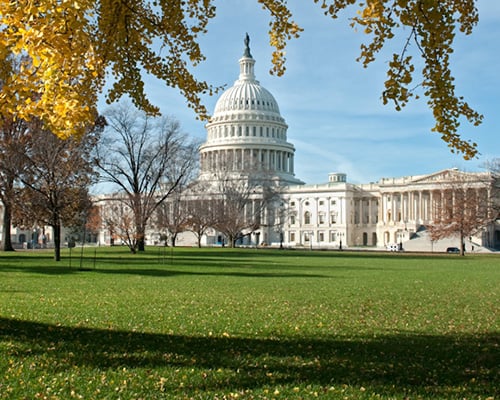 The Space Foundation's Washington, D.C., team prepares this weekly report of space activity on the Hill. It is published each Monday on the Space Foundation homepage.
Space Industry Updates
Friday, Oct. 4, marked the beginning of World Space Week, a global celebration of space activity. Twenty years ago, the United Nations declared that World Space Week be celebrated Oct. 4 through 10 each year, commemorating the date of the Sputnik launch (Oct. 4) and the signing of the Outer Space Treaty (Oct. 10).
This year on Oct. 10, the U.S. Air Force announced the winners of the Orbital Services Program-4. A nine-year launch services procurement of $986 million will be awarded to SpaceX, United Launch Alliance, Aevum, Vox Space, Rocket Lab, Northrop Grumman, Firefly Aerospace, and X-Bow Launch Systems.
Capitol Hill Updates
Congress is still in the second week of recess, but the Space Foundation team remained active in engagement efforts by attending briefings on the Hill and met with staffers working on key space and education issues.
Washington, D.C., and Capitol Hill Updates (Sept. 30 – Oct. 11)
Sept. 30
Atlantic Council Briefing: "Reenergizing Transatlantic Space Cooperation in Security and Beyond"
The Space Foundation attended a security briefing on transatlantic space cooperation and discussion of a paper recently released by Stephen Ganote (Avascent). Speakers at the event were Scott Pace (National Security Council), Stephen Kitay (Department of Defense), Jean-Luc Bald (European Union), Laurent Jaffart (Airbus), Stephen Ganote (Avascent), and Robert Canty (Raytheon).
The panelists discussed national security threats from international actors such as China, urged potential reforms in ITAR requirements, and expressed their commitment to strengthen national security through international collaborations.
Oct. 2
Congressman Tim Ryan (D-OH) mentions Space Foundation hosting Youngstown Space Commerce Workshop
Congressman Tim Ryan (D – OH-13) published a press release, mentioning the Space Foundation and the Space Commerce Workshop in Youngstown.
The Congressman remarked, "I want to thank the Space Foundation, YBI, and YSU for bringing this workshop to Youngstown. It's a testament to our community's success, creativity, and innovative spirit."
Corey Patrick (Youngstown Business Incubator) said, "The Youngstown Business Incubator (YBI) is excited to partner with the Space Foundation on a program that hits so many of our targets: developing technology-based businesses, diversifying the supply chain, and engaging with university students. While this will be a great one-day event, we hope that this is the start of a long-term engagement between the Space Foundation, YBI, and our community."
Oct. 8
International Student Art Contest Reception at the Canadian Embassy
The Space Foundation was hosted by the Canadian Embassy in Washington, D.C., to celebrate World Space Week and the Space Foundation's International Student Art Contest. The event was well attended by many representatives from various embassies and corporate members in Washington, D.C.
Shelli Brunswick (Space Foundation) and Alain Ouellet (Canadian Space Agency) both described the international collaboration between Canada and the United States in education and for the Gateway project, mentioning, "we could not ask for a better neighbor on Earth or partner in space."
Oct. 9
Space Breakfast with Brig. Gen. Doug Schiess, USAF, Commander, 45th Space Wing
The Space Foundation team attended a breakfast to hear Brig. Gen. Doug Schiess, USAF, discuss the launch ranges of the future. Schiess mentioned that in 2020, the range expects 40 launches and he shared prospects of integrating new technologies, updating infrastructure, and publishing a scheduling system for launch providers to work together and optimize the launch rate.
The 45th Space Wing plans to support the polar launch of the SAOCOM-1B satellite on a SpaceX Falcon 9. This would be the first polar launch from Cape Canaveral AFB and will use a "dog-leg maneuver" to reach the proper orbit.
He also mentioned the Autonomous Flight Safety System (AFSS) as a technology upgrade and expressed the importance of launch safety through modernization.
Oct. 10
AFCEA D.C. Panel:  "The Evolution of DOD's Space Components."
The panel featured Stephen Kitay (Deputy Assistant Secretary of Defense for Space Policy, OSD), Paul "Rusty" Thomas (Program Manager for Blackjack, DARPA), and Michael Schlacter (Acting Chief, Integration Cell, Space Development Agency)
Thomas emphasized the need for future space architectures to have "plug and play," Lego-style, modularity. The platforms must be instrument-agnostic and the instruments must be platform-agnostic. Future space architectures will also require a high degree of autonomy, a capability being developed through the "Pit Boss" program.
Schlacter stated that SDA is trying to develop a future threat-based space architecture for the DOD. He said that it was analogous to collecting battleplans from across the military enterprise, collating them, and developing a space architecture that will satisfy these plans on a coordinated manner. SDA, he said, is like an orchestra conductor — it will synchronize other space actors (to include USAF, DARPA, and others), in addition to fielding an organic capability.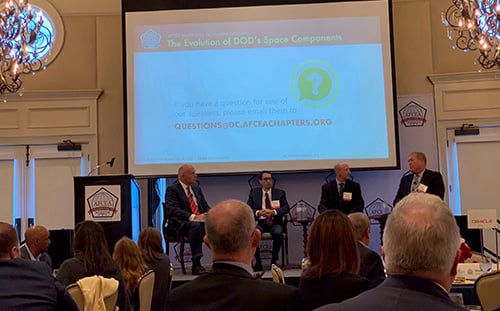 Kitay stated that we need to outthink the adversary and, "keep the oars rowing in the same direction." He stressed that the strategic environment is at an inflection point for the space program. Two trends are driving this. First, our overarching reliance on space, both in our day-to-day lives and in military operations. Second, the dramatic expansion of counterspace threats.
An attendee asked which counterspace capabilities from Russian and China are most concerning. Kitay answered that threats are at an all-time high and expanding. In addition to ground-based threats, like kinetic ASATs, satellites face risks from directed energy weapons, cyberattacks, and on-orbit threats. On a macro level, it is the scope of the threat landscape that is most concerning, instead of any particular threat.
Schlacter emphasized that the average time to design and deploy a satellite is seven years. He said that we have to shorten that timeline in order to turn inside the adversary's OODA loop (observe-orient-decide-act).
An attendee asked about the relationship between the Space Development Agency and a potential U.S. Space Force. Kitay said that SDA will go into Space Force, if one is established, at the proper time. Across the military, major components with a global space function will be moved in Space Force.
Space Force, he continued, will elevate space as a domain. The role of space will no longer be to just support terrestrial forces but will be a domain for competition and crisis unto itself.
Oct. 11
Space Advocates Briefing: NASA's Dragonfly mission to Titan
Shannon MacKenzie, Planetary Scientist, and Kenneth Hibbard, Mission Systems Engineer, briefed a group of House staffers on the upcoming Dragonfly Mission being developed by JHU-APL.
Dragonfly is a rotorcraft lander that was selected in 2019 in response to NASA's fourth New Frontiers call. The mission will investigate the surface of Titan, a moon of Saturn that has previously been visited by the Cassini mission and Huygens Probe.
Despite an average surface temperature of -180 degrees Celsius, Titan is an attractive candidate for life due to a dense nitrogen atmosphere and the presence of complex organic molecules. In this way, it is a close analog to primordial Earth. Dragonfly will probe Titan for signs of life with a sensor suite that includes a mass spectrometer, a gamma-ray and neutron spectrometer, and a seismometer.
Titan's low gravity and dense atmosphere make flight more efficient than roving as a means of transport between sites of scientific interest. Dragonfly will be powered by a radioisotope thermoelectric generator, which in turn will charge large batteries during Titan's night.
Dragonfly will use autonomous flight navigation software and a "leapfrog" strategy to identify safe landing sites before landing. Dragonfly is slated for launch in 2026, and will land on Titan in 2034 after a nine-year journey to the Saturnian system.
STEM Legislation
STEM Opportunities Act of 2019 (H.R. 2528/S.2579)
The bill would direct the Director of the Office of Science and Technology Policy to ensure that federal science agencies and institutions of higher education receiving federal research and development funding are engaging their entire talent pool, and for other purposes.
Read twice and referred to the Committee on Health, Education, Labor, and Pensions.
Sponsored by Sen. Mazie Hirono (D-HI)
SELF Act of 2019 (H.R. 4626)
The bill would establish a grant program to support the development, implementation, and evaluation of successful teacher and school leader training programs.
Referred to House Committee on Education and Labor on 10/08/2019
Sponsored by Rep. Tim Ryan (D-OH-13)
Keep STEM Talent Act of 2019 (H.R. 4623)
The bill would provide lawful permanent resident status for certain advanced STEM degree holders.
Referred to the House Committee on Judiciary on 10/08/2019
Sponsored by Rep. Bill Foster (D-IL-11)
Women and Minorities in STEM Booster Act of 2019 (H.R. 4528/ S.2578)
The bill would increase the participation of historically underrepresented groups in STEM.
Referred to the House Committee on Science, Space and Technology on 09/26/2019
Sponsored by Rep. Carolyn Maloney (D-NY-12)/ Sen. Mazie Hirono (D-HI)
Upcoming Events
Oct. 21–25: Space Foundation at IAC 2019 in Washington, D.C.
There will be a reception with SGAC from 4:00–5:45 p.m. at the SGAC booth.
# # #
Contact the Space Foundation Washington, D.C., office at:
 1700 North Moore Street
Ste. 1105
Arlington, VA 22209
+1.202.618.3060
+1.800.691.4000
---
Posted in Public Policy and Government Affairs