Space Foundation Press Releases
---
Space Foundation Signs MoU with O2K Limited to Explore UAE, MENA Opportunities
Written by: Space Foundation Editorial Team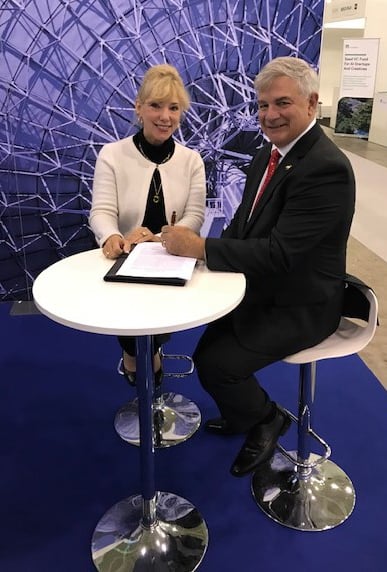 Space Foundation CEO Tom Zelibor and O2K Limited's Managing Partner, Kim Schofeld sign an MOU between their organizations to explore opportunities in the UAE, MENA Region and the global space community.
NewSpace Economy European Expo Forum, Fiera di Roma, Rome, 12 December 2019 — The Space Foundation and O2K Limited signed a Memorandum of Understanding during the NewSpace ExpoForum in Rome, Italy, to jointly promote Space-focused STEM outreach and related B2B opportunities in the United Arab Emirates (UAE); Middle East and North Africa (MENA) region.
O2K Limited is a business development advisory specializing in economic value-added programs (EVAP), including offsets. "There are over 60 Countries with EVAP requirements and developing EVAP programs that further develop the space industry will have an immeasurable impact on our environment and the quality of life of our planet", said Kim Schofied, Managing Partner of O2K Limited. 
After signing the MOU, Space Foundation CEO Tom Zelibor shared, "The Space Foundation is always seeking partners that want to expand access and opportunity in the space community. This first step with O2K Limited starts a path to extending the rewards of space technology, research, technologies, and investments to a region with enormous possibilities."
Zelibor further elaborated, "With the continuing growth of the global space economy and its impact across every infrastructure and career path, there is a need to create a sustainable talent pipeline that is prepared for the future. Our emerging relationship with O2K Limited will allow us to explore those paths and opportunities."
In the ensuing months, the Space Foundation and O2K Limited will initiate a plan of action leveraging their respective networks in the UAE, MENA Region, and the global space community to define programming and investments that address new business opportunities and offset requirements.
About the Space Foundation
Founded in 1983, the Space Foundation is a 501(c)(3) non-profit and the world's premier organization to inspire, educate, connect, and advocate on behalf of the global space community. It is a leader in space awareness activities, educational programs, and major industry events, including the annual Space Symposium. Space Foundation headquarters is in Colorado Springs, Colo., USA, and has a public Discovery Center, including El Pomar Space Gallery, Northrop Grumman Science Center featuring Science On a Sphere®, and the Lockheed Martin Space Education Center. The Space Foundation has a Washington, D.C., office, as well as field representatives in Houston and on the Florida Space Coast. It publishes The Space Report: The Authoritative Guide to Global Space Activity, and through its Space Certification™ and Space Technology Hall of Fame® programs, recognizes space-based innovations that have been adapted to improve life on Earth. Visit both websites — www.SpaceFoundation.org and DiscoverSpace.org — and follow on Facebook, Twitter, Instagram, LinkedIn, and YouTube.
About O2K Limited
O2K Limited is based in the United Arab Emirates, and is a leading business development advisory specializing in economic value-added programs (EVAP). O2K offers a wide range of Industrial Cooperation, Offset and Localization support and business development consultancy services to Public Sector, Obligor / OEM, Academia, and Manufacturing clients. They work with OEMs and prime contractors to develop strategies and programs to assist with meeting their EVAP and offset obligations; Support Government Organizations and Representative Bodies to facilitate engagement and benefit from economic, localization and Industrial Cooperation Activities; and critically, connect obligors and other stakeholders with local manufacturers, to develop the necessary capabilities to integrate them into the global supply chain.
For more information, please visit https://www.o2kltd.com/.
---
Posted in Space Foundation Press Releases