Public Policy and Government Affairs
---
Year-End Newsletter from Washington D.C.
Written by: Hanh Le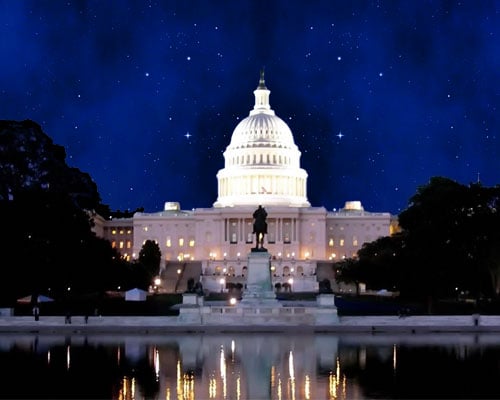 As the holiday season begins, all eyes in D.C. are focused on the House's debate on the Articles of Impeachment. Lawmakers nevertheless made substantial efforts in passing the FY2020 National Defense Authorization Act (NDAA) on Wednesday (Dec. 11) which authorizes a new Space Force and $738 billion for defense.
Upcoming Events
Dec. 17 – Capitol Hill Briefing, Race to the Moon: New Perspectives for the 50th Anniversary
• Space Advocates will host a briefing with NASA Chief Historian Bill Barry to discuss the race to the Moon and raise challenges to the narrative.
• The briefing will be at 10:00 AM, 2325 Rayburn HOB.
Feb. 11 – Space Foundation to host State of Space at the National Press Club
• The Space Foundation will host the "State of Space" event, bringing together senior space community leaders for a robust discussion of how space environment impacts our national and economic security.
• The event will be at the National Press Club, 13th Floor, 529 14th St NW, Washington D.C.
Space Industry Updates
• Doug Loverro, sworn in as Head of NASA's Human Spaceflight Program, emphasized support for SLS as "absolutely mandatory" for Moon missions. (Dec. 3)
• The Air Force awarded L3Harris ($17.9 million) and Northrop Grumman ($9.9 million) contracts under the Defense Experimentation Using the Commercial Space Internet project. (Dec. 6)
• Administrator Jim Bridenstine said the core stage for the first SLS rocket was completed and the rocket will be ready to launch in 2021 during Artemis Day at Michoud Assembly Facility. (Dec. 9)
• ClearSpace, a Swiss start-up, signed a debris-removal contract to deorbit the 2013 Vega rocket piece in orbit. ClearSpace will launch its spacecraft in late 2024/early 2025. (Dec. 9)
• The revised Orbital Debris Mitigation Standard Practices (ODMSP) adds a fifth objective including operations of cubesats, large constellations and satellite servicing. However, many felt the documents fell short and did not reflect changes in debris mitigation. (Dec. 9)
• At the SpaceNews Awards, Gen. John Raymond, Commander of U.S. Space Command and Commander of the Air Force Space Command, took home the "Government Leader (Military) of the Year" Award, while NASA was the "Government Agency of the Year." (Dec. 10)
• Rocket Lab opened Launch Complex 2 at Wallops's Mid-Atlantic Regional Spaceport to perform national security launches for the U.S. Air Force in 2020 (Dec. 12)
Capitol Hill Updates
• NDAA Conference agreement establishes a U.S. Space Force, an Assistant Secretary of Defense for Space Policy and the Chief of Space Operations. The report would designate the Air Force Space Command as the U.S. Space Force. In exchange for Space Force, federal workers would receive 12 weeks of paid parental leave. (Dec. 9)
• The House Science Committee held a hearing titled "Experts Needed: Options for improved Science and Technology Advice for Congress," which addresses current capacity of the GAO and discusses the decision of disbanding OTA in 1995. (Dec. 5)
• The House passed the Minority Serving Institution STEM Achievement Act and the Building Blocks of STEM Act. (Dec. 9)
• Rep. Kendra Horn (D-OK) at the Galloway Space Symposium mentioned the House Space Subcommittee is "close" to its version of a NASA Authorization Bill. (Dec. 11)
Monday, Nov. 18
Conversation with Gen. Raymond at CSIS Aerospace on standup of USSPACECOM
• Gen. Raymond, Commander of U.S. Space Command and Commander of the Air Force Space Command, delivered remarks and future plans for growing and developing the Command.
• In his remarks, Gen. Raymond discussed how Space Command will help the department in global integration and strengthening partnerships with allies through participating in joint wargames and with interagency. From such growth, the Space Command has gone "from preschool to about fifth grade," indicating the progress is commendable, however there is still significant room for growth.
• During the Q&A, Gen. Raymond argues autonomous range in the commercial space industry is a place of great opportunity to maintain assured access to space.
Monday, Nov. 20
Capitol Hill Briefing: Commercial Satellites Supporting National Security
• Planet Federal hosted a morning Capitol Hill briefing with experts on how commercial Earth imaging data is being used to advance national security in Rayburn HOB.
• Rep. Derek Kilmer (D-WA) offered opening remarks followed by a panel of experts including Geoff Brumfiel (Senior Editor and Correspondent at NPR), Chris Biggers (Planet Federal) and Catherine Dill (Middlebury Institute of International Studies). The panelists emphasized satellite imagery as a helpful tool in supporting near-realtime reporting for breaking news and commercial remote sensing in allowing researchers to better understand geopolitical and economic issues between nations around the world.
Tuesday, Dec. 3
U.S. Chamber of Commerce: Launch: The Space Economy Summit
• The Chamber of Commerce hosted the 2nd Annual Summit titled launch: The Space Economy with participation across the D.C. space community. The Summit was sponsored by Boeing, Northrop Grumman, Ascend, Rocket Lab, Hawkeye 360, and OneWeb.
• During a panel discussion, FAA Administrator Stephen Dickson mentioned the FAA's existing commercial licensing approach is impractical as the rate of launches has increased in the past years. He further discussed the formally approved reorganization of the Office of Commercial Space Transportation to create two new operational directorate and the other handling policy, R&D issues.
• During a speech, Undersecretary of Defense for Research and Engineering Mike Griffin expressed concerns regarding Space Development Agency's projected delays due to lack of government funding.
Legislation Corner
FY2020 National Defense Authorization Act
• Action: House and Senate reached agreement for the FY2020 NDAA. The NDAA  passes House (Dec. 11) by a vote of 377-48.
• The final version would create Space Force as part of the U.S. Air Force and as the sixth Armed Service of the United States, according to the Conference Report. The Conference Report also supports a base budget of $658.4 billion. The Conference Agreement also establishes the Chief of Space Operations (CSO) to report to the Air Force Secretary which will be assumed by Gen. John Raymond during the first year.
Resolution to Reinforce U.S. leadership in the Peaceful Use of Space & Technology Innovation
• Senators Tom Udall (D-NM) and Tim Kaine (D-VA) introduced a resolution to maintain U.S. leadership in protecting satellites and spacecraft in Earth's orbit from space debris and ensuring that all nations cooperate to promote the peaceful use of space for research and commercial purposes.
• In his press release, Sen. Udall said: "Peaceful and safe innovation in space is a foundation of today's interconnected world — and necessary for our future security and prosperity."
NASA Authorization Act of 2019
• Announced by Senators Cruz (R-TX), Wicker (R-MS), Sinema (D-AZ), and Cantwell (D-WA)
• Approved by a voice vote in the Senate on Wednesday, Nov. 13.
• The bill would authorize NASA to spend $22.75 billion in FY2020, extend the ISS to 2030 (Sec.209), support STEM education and workforce efforts through the National Space Grant College and NASA National Programs in partnership with other organizations.
• Click here to read Senator Ted Cruz's (R-TX) statement.
Commerce, Justice, Science, Agriculture, Rural Development, Food and Drug Administration, Interior, Environment, Military Construction, Veterans Affairs, Transportation, and Housing and Urban Development Appropriations Act, 2020 (H.R. 3055)
• Science-related agencies including NASA are funded in the minibus.
• On 10/30/2019, Cloture invoked in Senate by Yea – Nay vote. 88-5.
STEM Opportunities Act of 2019 (H.R. 2528/S.2579)
• The bill would direct the Director of the Office of Science and Technology Policy to ensure that Federal science agencies and institutions of higher education receiving Federal research and development funding are engaging their entire talent pool, and for other purposes.
• Read twice and referred to the Committee on Health, Education, Labor, and Pensions.
• Sponsored by Sen. Mazie Hirono (D-HI).
SELF Act of 2019 (H.R. 4626)
• The bill would establish a grant program to support the development, implementation, and evaluation of successful teacher and school leader training programs.
• Referred to House Committee on Education and Labor on 10/08/2019.
• Sponsored by Rep. Tim Ryan (D-OH-13).
Keep STEM Talent Act of 2019 (H.R. 4623)
• The bill would provide lawful permanent resident status for certain advanced STEM degree holders.
• Referred to the House Committee on Judiciary on 10/08/2019.
• Sponsored by Rep. Bill Foster (D-IL-11).
Women and Minorities in STEM Booster Act of 2019 (H.R. 4528/ S.2578)
• The bill would increase the participation of historically underrepresented groups in STEM.
• Referred to the House Committee on Science, Space and Technology on 09/26/2019.
• Sponsored by Rep. Carolyn Maloney (D-NY-12)/ Sen. Mazie Hirono (D-HI).
Hidden Figures Congressional Gold Medal Act (H.R. 1396)
• On 10/29/2019, the bill was presented to the President and signed into law.
• Sponsored by Rep. Eddie Bernice Johnson (D-TX-30).
• The Combined Space Operations Center also features a Commercial Integration Cell (CIC), consisting of eight commercial entities with on-orbit assets to allow for effective coordination with the U.S. government.
STEM to STEAM Act of 2019 (H.R. 3321)
• Latest Action: the bill was referred to the Subcommittee on Research and Technology on 06/18/2019.
•  The bill would amend the STEM Education Act of 2015 to require the NSF to promote the integration of art and design in STEM education.
• Sponsored by Rep. James Langevin (D-RI-02).
Counseling for Career Choice Act (H.R. 5902)
• Latest Action: Referred to the House Committee on Education and Labor (11/14/19).
• The bill would amend the Elementary and Secondary Education Act of 1965 to provide grants to States to establish a comprehensive school career counseling framework.
• Sponsored by Rep. James Langevin (D-RI-02).
Reading Corner
Top picks for your holiday reading.
Op-Ed | Growth is great but Innovation is the real investment
by Shelli Brunswick, Space Foundation Chief Operating Officer
In her Op-Ed, Brunswick expands on the following:
• The Space Foundation's The Space Report Quarter Three finds that revenues from global commercial space activity in 2018 reached their highest levels ever, totaling $328.86 billion, an increase of 6.6% from 2017.
• While opportunity flourishes in the space economy, there is an increasing shortage of qualified talent to fill the workforce pipeline. Without available talent, we will not achieve the innovative breakthroughs that will turn our deeper space aspirations and life-improving applications into reality.
• The future and enduring success of the space economy depends on investments and environments that promote lifelong learning. We must look beyond the traditional K–20 education paradigm where we have long focused our energy and resources. New investments and environments need to include public-private-academic partnerships. The potential of the emerging space economy truly knows no bounds, but it's going to require more creative approaches if we want to secure its future.
My year working on black programs
by Robert E. Andrews
• Robert Andrews is a retired General Electric engineer. In this article, he describes his experience in satellite reconnaissance, working for CORONA (1959), GAMBIT-1 (1963) and the Manned Orbiting Laboratory (MOL) program.
How many spaceports are too many?
By Jeff Foust
• There is a lot of discussion around spaceports and whether the benefits of developing them would outweigh the costs. The article offers current insight on different viewpoints from Wilbur Ross (Commerce), George Nield (former FAA) and many others on how one should view the function of a spaceport (not only as a launch point but also a business technology hub). The article also sheds light on how various local communities are speaking for and against spaceport development, emphasizing on environmental and economic impacts.
Holiday Trivia
What did the astronauts on Skylab 4 make their Christmas tree out of?
• Lab experiment equipment
• Pencils
• Food cans
• Tinsels, candy canes and tape
Want us to include your event in this newsletter? Please contact Hanh at [email protected] if you have any suggestions or feedback.
---
Posted in Public Policy and Government Affairs