Space Foundation News
---
Lockheed Martin-Funded Junior Space Entrepreneur Program Launches Today
Written by: Space Foundation Editorial Team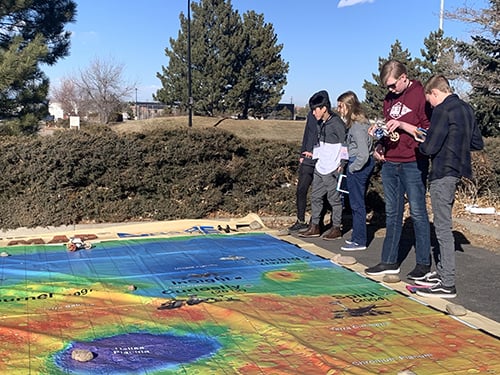 Thanks to funding from Lockheed Martin and support from Junior Achievement-Rocky Mountain, 50 high school students from the STEM School Highlands Ranch are participating in the Space Foundation's new Junior Space Entrepreneur Program (JSEP) this week. This pilot program leads students through a challenging weeklong team exercise of creating a business plan for a mission to Mars, and then pitching it to potential "investors" at the end of the week.
The goal of the Junior Space Entrepreneur Program is to prepare students to obtain and fulfill STEAM (Science, Technology, Engineering, Arts, and Mathematics) positions within aerospace companies by providing a wholly immersive educational experience. JSEP participants are embarking on a complete Mars mission, and tackling all the challenges that come along with sending astronauts to the Red Planet and returning them safely to Earth. Throughout the mission, teams will utilize their newly gained knowledge of Mars and the skills acquired through the Space Foundation's Space Commerce programming to develop their own businesses.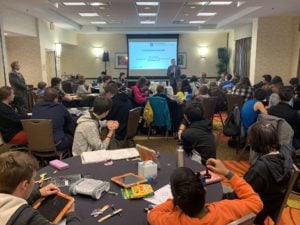 This Denver-area program is being held at the Hilton Garden Inn and will include presentations by Lockheed Martin executives as well as hands-on design challenges for the students.
JSEP creates young entrepreneurs through a series of fun, engaging, and challenging activities that improve and build the skills necessary to manage a newly developed "Space Company." In doing so, teams will create a new enterprise, develop a product prototype, market and pitch their new product (or experience) to a group of prospective investors, construct individual resumes, and receive one-on-one mentoring from real-world practitioners in various STEAM fields in the aerospace community. The Junior Space Entrepreneur Program provides scenarios that teach and connect necessary 21st Century essential skills to real-world environments.
# # #
---
Posted in Space Foundation News