Public Policy and Government Affairs
---
Washington, D.C., February Newsletter
Written by: Hanh Le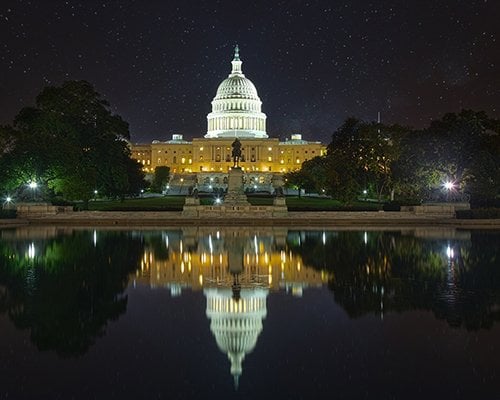 As the impeachment trial in the Senate came to a close, legislative activities in Congress began to pick up. Some highlights coming in the next week include the House Committee on Space, Science and Technology's hearings on space traffic management, planetary defense, and space weather, as well as the release of the President's FY2021 budget.

Feb. 9 – Launch of Solar Orbiter from Cape Canaveral
The Solar Orbiter mission, an international cooperative between the European Space Agency (ESA) and NASA, will launch from Cape Canaveral atop an Atlas V 411.
The spacecraft will take high-resolution images of the Sun's polar regions to study solar winds, which will complement findings from the Parker Solar Probe.
Feb. 10 – President's FY2021 Budget Release
The U.S. Government Publishing Office and the Office of Management and Budget will release President Trump's FY2021 budget at 12:30 p.m.
The budget is highly anticipated, as it will include a comprehensive cost estimate for the Artemis program. Administration officials stated it will seek a 12% increase to NASA's budget.
Following the release, NASA Administrator Jim Bridenstine will deliver remarks at Stennis Space Center in Mississippi, at 1:00 p.m.
Feb. 11 – Space Foundation to Host "State of Space" Event at National Press Club
The Space Foundation will host the "State of Space," bringing together senior space community leaders for a robust discussion about how emerging space activity will impact our national and economic security.
The event will begin at 9:00 a.m., at the National Press Club, 13thFloor, 529 14th St NW, Washington, D.C. RSVP here.
Feb. 11 – House Space and Aeronautics Subcommittee Hearing — "Space Situational Awareness: Key Issues in an Evolving Landscape"
The House Space and Aeronautics Subcommittee will host a Space Situational Awareness hearing at 2:00 p.m., in 2318 Rayburn House Office Building.
Feb. 12 – Senate Commerce Committee Hearing — "Space Missions of Great Importance: Planetary Defense, Space Weather, and Space Situational Awareness"
Participating will be Dr. Thomas Zurbuchen (Science Mission Directorate, NASA), Mr. William Murtagh (Space Weather Prediction Center, NOAA), Mr. Kevin O'Connell (Office of Space Commerce), and Dr. Moriba Jah (University of Texas, Advanced Sciences and Technology Research in Astronautics).
The hearing will be at 10:00 a.m., in 216 Hart Senate Office Building.
Feb. 27 – Space Foundation & American Astronomical Society to Host STEM Workforce Congressional Briefing Lunch
The Space Foundation will host a briefing on Capitol Hill cosponsored by the House Career and Technical & STEAM Caucuses to highlight challenges and solutions relative to the STEM workforce.
The briefing will touch on various topics within the STEM workforce discussion, such as technical education, STEAM inclusion, and access for underrepresented minorities and women.
The event will be held at Room 2325, Rayburn House Office Building from 12:00 – 1:00 p.m. Lunch will be provided. RSVP here.
Space Industry Updates
Skyrora, an Edinburgh, Scotland-based launch startup, tests a new type of fuel called "ecosene" made from plastic waste. (Tech Crunch, Feb. 3)
Astronomers have called for legal action to halt the launch of Starlink satellites until an assessment of their impact on night sky observations can be made. (New Scientist, Feb. 3)
Jan Wörner, Director General of the European Space Agency (ESA), will not seek to extend his term. (Spacenews, Feb. 5)
Satellite communications corporation Intelsat is considering filing for a Chapter 11 bankruptcy and has hired Kirkland & Ellis LLP for a "possible restructuring." (Yahoo Finance, Feb. 5)
The Arianespace Soyuz launch vehicle successfully deployed 34 OneWeb satellites as part of OneWeb's plan to offer global coverage by the end of 2021. (Spacenews, Feb. 6)
NASA and Boeing held a telecon on Boeing Starliner Orbital Flight Test software anomalies (NASA, Feb. 7)
Space Policy Updates
House NASA authorization bill (H.R. 5666) calls for a crewed mission to land on the lunar surface by 2028, and Mars by 2033. (Spacenews, Jan. 24)
Congress received the first comprehensive proposal on the organization of the U.S. Space Force as a separate military branch. (Spacenews, Feb. 3)
President Trump mentioned Space Force, and called on Congress to fully fund the moon-by-2024 Artemis program as a "launching pad" to Mars at the State of Union Address. (Spacepolicyonline, Feb. 4)
Wednesday, Jan. 29
House Space and Aeronautics Subcommittee Holds Markup Hearing on NASA Authorization Act
The House Space Subcommittee held a markup hearing in which the bill was adopted by a voice vote after amendments were introduced and voted on. Five out of the eight amendments passed.
The amendments that passed included Rep. Mo Brooks' (R-AL) amendment to update the language to support "at least two" instead of just "two" Mars lander design concepts for submittal to NASA, and Rep. Bill Posey's (R-FL) amendment changing "EM-1" (as the Artemis program was formerly known) to Artemis so it mirrors the Senate version of the bill. However, the amendments did not address the controversies generated by the bill.
The markup was at the same time as the opening of the Commercial Space Transportation Conference. Previously, the Commercial Spaceflight Federation has sent out a letter asking the subcommittee to reconsider and withdraw the bill.
Wednesday, Jan. 29 – Thursday, Jan. 30
Commercial Space Transportation Conference (CST) 2020
The event saw participation from Transportation Secretary Elaine Chao, Associate Administrator for Science Mission Directorate Dr. Thomas Zurbuchen, and FAA Administrator Steve Dickson.
The Conference was hosted by the Federal Aviation Administrator in partnership with the Commercial Spaceflight Federation.
The conference featured a variety of panels on subjects ranging from nuclear propulsion and spaceports to space investment and small satellites.
Kendra Horn (D-OK) gave a luncheon keynote on the conference's second day where she addressed recently released NASA Authorization.
Legislation Corner
NASA Authorization Act (H.R. 5666)
Action: Forwarded by subcommittee to full committee (amended) by voice vote.
The bill would set a 2028 date for a return to the Moon and call for a crew to orbit Mars in 2033.
Sponsored by Rep. Kendra S. Horn (D-OK).
Reading Corner
Space Review | Assessing China's Commercial Space Industry
by Jeff Foust
The article cites China's entrepreneurial scene as the closest competitor to that of the United States, and discusses whether China is a serious competitor to U.S. companies.
In addition to detailing the Chinese startup scene, the article mentions how and why the Chinese government and Chinese Venture Capitalists are supporting the commercial space sector.
Trivia Corner
Astronaut Christina Koch returned from the ISS on Feb. 6 and broke the record for the longest spaceflight by a woman. How many days did she spend in space?
198 days
289 days
328 days
492 days
---
Posted in Public Policy and Government Affairs