Public Policy and Government Affairs
---
Washington, D.C. Update for the Week Ending Feb. 23, 2020
Written by: Hanh Le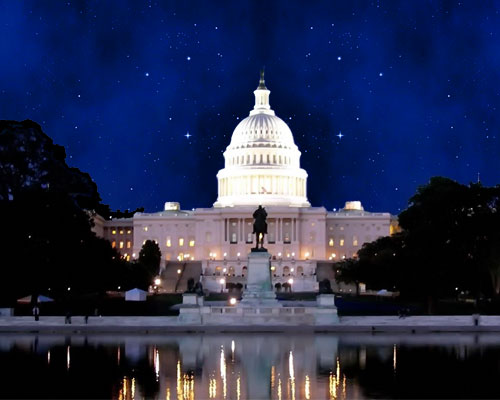 Welcome to another edition of the latest space news from Washington. Although it was a short week for policy makers due to the Presidents' Day holiday, it was still a busy week in the nation's capital. With the release of President Trump's budget last week, there was plenty of discussion on how the numbers would fare, and with House appropriators two months away from FY2021 markups, things are expected to pick up significantly over the next few weeks.
Space Foundation Upcoming Events
Feb. 27 – Space Foundation & American Astronomical Society to host STEM Workforce Congressional Briefing Lunch
The Space Foundation will host a briefing on Capitol Hill cosponsored by the House Career and Technical Caucus and the STEAM Caucus to highlight challenges and solutions relative to the STEM workforce.
The briefing will touch on various topics within the STEM workforce discussion, such as technical education, STEAM inclusion, and access for underrepresented minorities and women.
The event will be held at Room 2325, Rayburn House Office Building, from 12:00 – 1:00 p.m. Lunch will be provided. RSVP here.
Other Upcoming Events
Feb. 25 – SPI/SGAC Event on Emerging Issues in Space Governance
George Washington University and the Space Generation Advisory Council are hosting a panel discussion from 6:30 – 8:45 p.m., in Room 505, 1957 E St NW, Washington, D.C.
There will be a reception before the event starting at 6:30 p.m. The event is sponsored by LMI Advisors and the Commercial Spaceflight Federation.
Feb. 28 – WSBR Luncheon with Rep. Bill Posey (R-FL) and John Stopher
Washington Space Business Roundtable is hosting the event at the City Club of Washington, 555 13th NW, from 11:15 a.m. – 1:15 p.m.
Bill Posey and John Stopher (former Principal Assistant to the Secretary of the Air Force for Space) will be speaking. RSVP here.
Space Industry Updates
Blue Origin opened a new rocket engine facility in Huntsville, AL which will employ 300 workers producing BE-4 and BE-3U engines. (SpaceNews, Feb. 17)
Environmentalists from the Extinction Rebellion group condemned plans to build the Space Hub Sutherland at Melness in the Scottish Highlands, which is planned to be Europe's first vertical launch site. (Scotsman, Feb. 17)
Intelsat has asked to received $1 billion more than initially offered under the U.S. Federal Communications Commission's proposed plan for clearing satellite C-band spectrum for 5G networks. (Spacenews, Feb. 20)
Space Policy Updates
Tuesday, Feb. 11
"State of Space" at the National Press Club, hosted by the Space Foundation
The Space Foundation hosted the "State of Space" event, with attendance from members of Congress Rep. Kendra S. Horn (D-OK) and Rep. Doug Lamborn (R-CO), as well as other emerging space industry leaders.
In his opening remarks, Space Foundation CEO Tom Zelibor shared his vision of a new space ecosystem that encompasses a "diverse, multiracial, all-gender, multigenerational team dedicated to a common mission," and presented a new way to look at the global space economy through the "Space Economy Scorecard."
During a moderated panel discussion, both Congressional members pledged bipartisan support and continuing focus on national security space programs. Rep. Horn noted that Democrats should be more active in advocating for space, and addressed the concerns raised by industry groups on the recent House version of the NASA Authorization Act.
Lamborn shared concerns on the role of adversaries such as Russia in maneuvering satellites to threaten U.S. space assets, and China establishing a lunar exploration base to challenge American dominance in space.
House Space, Science and Technology Committee Hearing: "Space Situational Awareness: Key Issues in an Evolving Landscape"
Attendees were Dr. Brian Weeden (Director of Program, SWF), Mr. Daniel Oltrogge (AIAA STM, founder of Space Safety Coalition), Dr. Joanne Gabrynowicz (U Miss Prof. of Space Law), Prof. Danielle Wood (Director of Space Enabled Research Group, MIT), and Dr. Ruth Stilwell (Adjunct prof, SPI, GWU)
Chairwoman Kendra S. Horn (D-OK) noted the hearing was the first in a series by the Subcommittee on Situational Space Awareness (SSA). Future hearings will focus on technical issues, roles, and responsibilities.
All panelists and members of Congress seem to agree that there is a gap between the U.S. and the international community when it comes to space traffic management policy, a lack of federal agency capabilities, and too many close calls. There needs to be an integrated cross-agency approach to share personnel.
Wood discussed the idea of a space sustainability rating that she is developing.
When Rep. Don Beyer (D-VA) asked why NASA and the Department of Defense are reluctant to adopt active debris removal, Dr. Weeden noted this goal is "unfunded" as is "not a core mission." He added, "In a perfect world, I'd marry a space environmental management mission with

 

SSA."
Many members thought NASA should be more involved with debris removal, especially in creating an international agreement, whereas it has traditionally been the role of the State Department.
Wednesday, Feb. 12
Senate Commerce Committee Hearing: "Space Missions of Great Importance: Planetary Defense, Space Weather, and Space Situational Awareness"
Attendees were Dr. Thomas Zurbuchen (Science Mission Directorate, NASA), Mr. William Murtagh (Space Weather Prediction Center, NOAA), Mr. Kevin O'Connell (Office of Space Commerce), and Dr. Moriba Jah (University of Texas, Advanced Sciences and Technology Research in Astronautics).
The witnesses in the hearing highlighted data sharing as a main concern. Dr. Jah said, "Domain is poorly monitored," while Dr. Zurbuchen stressed the need to "set the rules" and an international standard of behavior.
The panelists agreed that President Trump's FY2021 budget is critical to support NASA Heliophysics and Commerce space situational awareness (SSA) activities.
Sen. Cory Gardner (R-CO) highlighted the space weather prediction bill he introduced with Sen. Gary Peters (D-MI) in 2016, and in this regard, Mr. Murtagh emphasized that we need to raise awareness of the potential impacts to critical infrastructures.
There was a brief mention of China's active role in SSA and space weather, in which Dr. Jah commented, "We can't prevent China, we just have to be better."
Legislation Corner
NASA Authorization Act (H.R. 5666)
Action: Forwarded by subcommittee to full committee (amended) by voice vote.
The bill would set a 2028 date for returning to the Moon and call for a crewed orbiting of Mars in 2033.
Sponsored by Rep. Kendra S. Horn (D-OK)
Reading Corner
SpaceNews Op-Ed | "The Greatest Challenge for the Space Community – Talent" by Tom E. Zelibor
The article provides the Space Economy Scorecard as of January 2020, and also discusses whether we have access to the full potential of space.
The article recommends various strategies for the transfer of knowledge to the future space workforce and explains a "space for all" approach.
Aerospace Defense Review Op-Ed | "Space Technology Is a $400 Billion Workforce Development Opportunity" by Shelli Brunswick
The article discusses how a lack of a skilled, available, and adaptable workforce can drastically harm the space industry, and how the pathways to enter this dynamic workforce are "elusive" to many.
Space Trivia Corner
Washington friends: You've probably seen or taken a ride on a "mobile lounge" — the moving shuttles that transfer passengers between terminals at Dulles International Airport (IAD). But did you know that NASA used a similar mobile lounge design to disembark astronauts from space shuttle missions? In that use, it was called a Crew Transport Vehicle.
---
Posted in Public Policy and Government Affairs