Public Policy and Government Affairs
---
Biweekly Washington, D.C., Update for the Week Ending March 20, 2020
Written by: Hanh Le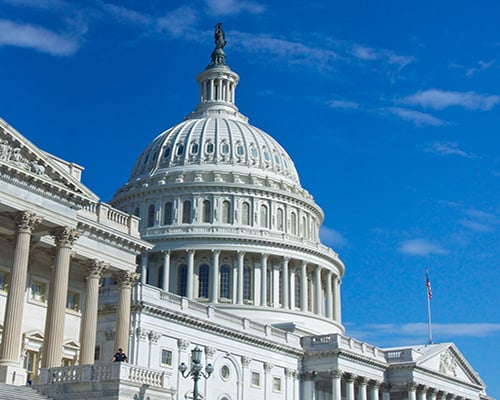 This week, the community in Washington D.C. found itself adjusting to federal agencies' new teleworking policies enacted in an effort to prevent the spread of the COVID-19 novel coronavirus.
Upcoming Space Foundation Events:
Postponed: 36th Space Symposium, Colorado Springs, CO
This year's Space Symposium has been postponed in response to the COVID-19 pandemic.
Tom Zelibor, Space Foundation CEO, spoke about the decision to postpone via a column published in The Gazette (Colorado Springs, CO).
The Space Foundation is working with its partners, The Broadmoor, the City of Colorado Springs, its members, and other key stakeholders to choose a future date.
Postponed: 5th Annual Faga Forum on Space Intelligence, Chantilly, VA
Faga Forum 2020 has been postponed, rescheduled date TBD.
The current plan is to reschedule the forum to be held in July/August.
When rescheduled, it is anticipated that Faga Forum will become a two-day combined space/cyber event that will address the industry's great need for high-quality, in-person classified events.
Space Industry Updates:
Lockheed Martin named James Taiclet as CEO and President, effective June 15. (Lockheed Martin, March 16)
NASA selected four missions for its Small Explorer and Missions of Opportunity programs. (Spacepolicyonline, March 16)
SpaceX claimed DarkSat has achieved a "notable reduction" in brightness. (SpaceNews, March 18)
Space Policy Updates:
Tuesday–Thursday, March 9–12:
Satellite 2020 speakers spotlighted emerging concerns for the satellite industry
In his keynote discussion, Elon Musk (CEO, SpaceX) reassured attendees that Starlink will have no visibility impacts on astronomers, and that SpaceX has "zero" intentions of spinning off Starlink.
At the conference, concerns were raised by satellite manufacturers about cybersecurity threats, and that not all business opportunities have long-term stability.
Dan Jablonsky of Maxar Technologies emphasized that faster built time is a pressing business opportunity for satellites.
At a panel on "Artificial Intelligence + Robotics For In-orbit Satellite Servicing," the panelists provided updates on MEV-1. Jeremy Schiel (Orbit Fab) and Joseph Anderson (Northrop Grumman) spoke on the differences between the geostationary orbit (GEO) and low Earth orbit (LEO) markets in terms of cost effectiveness, and how refueling could enable a new business model for the LEO market. The panelists, including Dr. Clare Martin (Astroscale), discussed goals to transition into autonomy, but also highlighted challenges such as the amount of data required to make it happen.
The conference ended a day early, after the Washington, D.C. Health Department recommended postponement or cancellation of "mass gatherings" exceeding 1,000 people in the Washington D.C. area.
Tuesday, March 10:
House Committee of Commerce, Justice, Science, and Related Agencies Hearing: Department of Commerce FY2021 Budget Request
The witness was Wilbur Ross (Secretary, Department of Commerce).
According to Sec. Ross' testimony, the budget request seeks $15 million for the Office of Space Commerce to implement the transition of public-facing space situational awareness (SSA) responsibilities.
Jose Serrano (D-NY) expressed confusion about conflicting information received as to whom the National Academy of Public Administration (NAPA) should report to, after conducting a study on the Office of Space Commerce being moved under the Secretary level. Sec. Ross reiterated that the Department of Commerce complied with Congressional direction from FY2020, then negotiated the contract with NAPA down to $800,000, and signed it.
Most questions, asked by Reps. Robert Aderholt (R-AL), Nita Lowey (D-NY), and Grace Meng (D-NY) pertained to the census survey, the lack of trust in the administration's ability to handle the coronavirus pandemic, and how weather forecasting would suffer due to cuts to National Oceanic and Atmospheric Administration (NOAA) programs.
Matt Cartwright (D-PA) expressed concerns about personnel and budget cuts to NOAA weather forecasting programs under the budget request. He emphasized that it's important for Congress to trust that NOAA can accurately provide weather forecasting services (referring to the politicization of Hurricane Dorian). Sec. Ross replied that the programs being terminated will not affect weather forecasting capabilities. 
Wednesday, March 11:
Senate Commerce, Science, and Transportation Nominations Hearing to the Department of Commerce, Department of Transportation and Federal Communications Commission  
The witnesses were: Finch Fulton, Assistant Secretary for Transportation Policy, Department of Transportation; Dr. Neil Jacobs, Under Secretary of Commerce for Oceans and Atmosphere, Department of Commerce; and Mr. Chase Johnson, Inspector General, Federal Communications Commission.
Jacobs said he will continue to support space launch operations, the improvement of international leadership on weather forecasting, and the Earth Prediction Innovation Center (EPIC).
Jacobs' nomination was not controversial initially, but he was later embroiled in the Hurricane Dorian scandal by being involved in drafting an unsigned statement that rebuked weather service forecasters. Many in attendance, such as Senator Maria Cantwell (D-WA), raised this issue.
Before the hearing took place, the committee held an executive session in which Sens. Maria Cantwell (D-WA) and Kyrsten Sinema (D-AZ) discussed legislations addressing the broadband act and the need for reliable internet and high-speed internet.
Upcoming Events:
March 24, the National Space Council will meet at the Eisenhower Office Building in Washington D.C.
Reading Corner:
The Space Review | "When Senator Walter Mondale went to the Moon: The Apollo 1 Fire and the Myths We Create" by Dwayne A. Day
The article provides a discussion with former Senator Walter Mondale (D-MN) about the Apollo program.
Space.com | "Astronauts offer advice on keeping calm (and carrying on) amid coronavirus outbreak" by Elizabeth Howell
Social distancing can be difficult in the midst of the COVID-19 pandemic. In this article, astronauts provide some tips and advice on coping and living in isolation.
Space Trivia:
On March 30, 1982, NASA's third space shuttle mission (STS-3) was successfully completed when the Space Shuttle Columbia landed at the White Sands Missile Range in New Mexico.
---
Posted in Public Policy and Government Affairs