Public Policy and Government Affairs
---
Biweekly Washington, D.C., Update for the Week Ending June 26, 2020
Written by: Hanh Le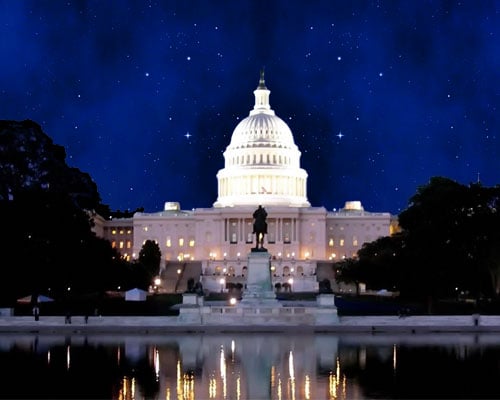 This week, both the House and Senate were in session for committee markups and hearings. A text of the Senate's $740 billion National Defense Authorization Act (NDAA) bill (S. 4049) was released, and the Senate is expected to take procedural votes on the bill with debates to continue through next week, with the goal of passing the bill before July 4. On Thursday, the House took up floor consideration for the Washington, D.C., statehood bill (H.R. 51) and
the Justice in Policing Act (H.R. 7120).
Space Foundation Event Highlights
Government Matters | Top trends in the space industry
Tom Zelibor, Chief Executive Officer of the Space Foundation, highlights some of the major areas of growth in the space industry, as well as potential roadblocks to innovation.
Space Policy Pod: Episode 4 – JP Parker
Our new episode of the Space Policy Pod features senior executive John Paul (JP) Parker.
Parker is a Senior National Intelligence Service officer serving as Intelligence Community Space Executive, a newly formed office designed to increase collaboration, integration, and innovation throughout the intelligence community space enterprise.
This series interviews leaders in the space industry, allowing them to share their perspectives on current events across the space policy landscape.
 Space Industry Updates
 Space Policy Updates
Wednesday, June 24
Hearing – Senate Committee on Commerce, Science, and Transportation: Oversight of the Federal Communications Commission (FCC)
At the hearing several members of the committee were critical of the Ligado decision and stressed the importance of reaching a spectrum resolution through an effective interagency process. FCC Chairman Ajit Pai indicated that the FCC made a decision with federal agencies more than a year ago to receive feedback, and that he will continue to defend the FCC's decision.
Additional Space Foundation Resources
The latest Space4U Podcast episode features Rachel Lyons – Executive Director of Space for Humanity.
Online learning, lesson plans, and video lessons for students grades K–12 are available at the Discovery Center website.
Space Legislation Updates
FY2021 National Defense Authorization Act (NDAA)
The Senate Armed Services Committee (SASC) voted 25–2 to advance the NDAA to the Senate floor, authorizing $740.5 billion for national defense with overseas contingency operations (OCO) spending.
The NDAA summary includes items for the U.S. Space Force and space programs.
The Senate's NDAA directs the establishment of a Space Force reserve component, but delays establishment of a Space National Guard until a study on the issue has been completed.
The SASC NDAA authorizes $250 million for Air Force R&D partnerships with the launch industry to meet the requirements of the National Security Space Launch (NSSL) Phase 3 competition.
Space Trivia
On June 27, 1995, NASA launched the Space Shuttle Atlantis (mission STS-71) to dock with the Russian Mir Space Station. This mission was the 100th U.S. human space launch conducted from Cape Canaveral, and also the first joint space shuttle-Mir Space Station docking and on-orbit operations partnership between the United States and Russia. When linked, Atlantis and Mir together formed the largest spacecraft in orbit. (Source: NASA)
---
Posted in Public Policy and Government Affairs