Space Policy
---
Space Policy Pod – Episode 5: Bhavya Lal
Written by: Space Foundation Editorial Team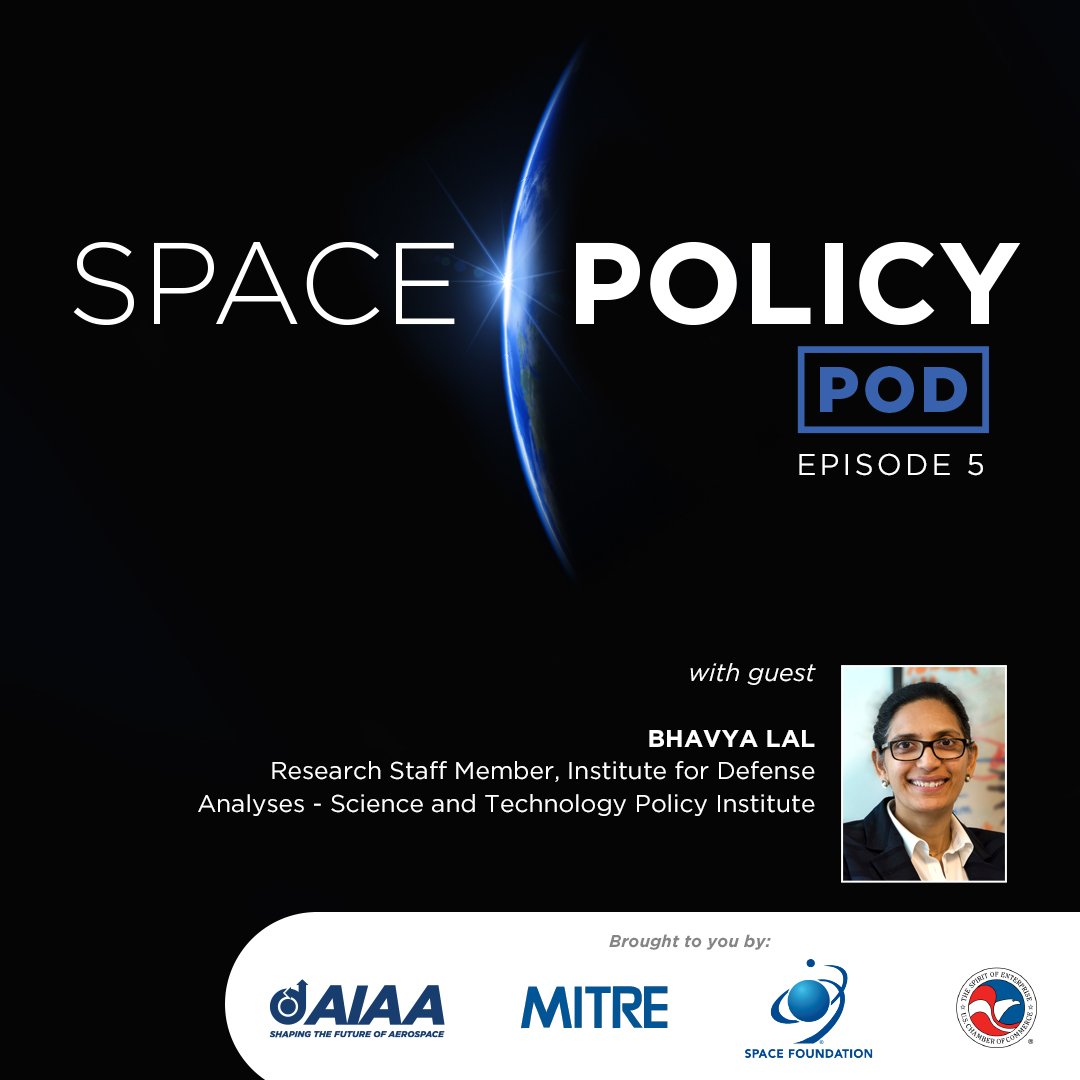 This podcast features an engaging discussion with IDA Science and Technology Policy Institute expert Dr. Bhavya Lal. Dr. Lal leads strategy, technology assessment, and policy studies and analyses at the IDA Science and Technology Policy Institute for the White House Office of Science and Technology Policy, the National Space Council, and federal space-oriented organizations including NASA, the Department of Defense, and the Intelligence Community. Bhavya has published over 50 papers in peer-reviewed journals and conference proceedings. Her work is routinely covered by technical and mainstream press outlets including Space News, The Economist, Science, Chronicle of Higher Education, and National Geographic, among others.
Bhavya holds B.S. and M.S. degrees in nuclear engineering from the Massachusetts Institute of Technology, a second M.S. from MIT's Technology and Policy Program, and a Ph.D. in Public Policy and Public Administration from George Washington University.
---

Episode 5 Bhavya Lal
1 July 2020
Science and Technology Policy Institute
Key Takeaways
Counting the Space Economy
Dr. Lal emphasized that it is important to distinguish between size of the space economy and impact of the space economy. Similarly, to the electrical grid and banking system, investments in space underpin and support our broader society and economy.
The Market for Lunar Goods and Services
In analyzing the market for lunar goods and services, the Science and Technology Policy Institute found that it is unlikely that sufficient demand exists to close lunar business cases without government customers. They estimate that, at least through the 2040 timeframe, government expenditures will likely exceed private expenditures in the lunar market.
The Importance of Nuclear Power in Space
Nuclear power offers great advantages for in-space applications. The primary reason for this is the energy density of nuclear material. For example, a piece of uranium the size of a toy marble contains enough energy for an entire Mars mission. Additionally, nuclear propulsion could cut travel time to Mars by 30% or more, which would greatly reduce crew exposure to cosmic radiation.
The Importance of Investing in Foundational Technologies
The United States needs to focus on developing foundational technologies, also known as "infratechnologies", that can accelerate innovation in other areas. In-space nuclear power is one such technology, another is on-orbit servicing, assembly, and manufacturing (OSAM). OSAM technologies could provide transformative effects on a number of fields, including science, space exploration, commercial missions, and national security.
About the Space Policy Pod
Brought to you by the Space Foundation, American Institute of Aeronautics and Astronautics (AIAA), MITRE, and the U.S. Chamber of Commerce.
Given the current real-world challenges confronting all of us, the Space Foundation has joined the MITRE Corporation, AIAA, and the U.S. Chamber of Commerce to produce this podcast series to examine events and ideas affecting the space sector.
The Space Policy Pod series unites leading organizations in space to share timely thinking in the new environment and upcoming changes to the policy landscape. Each episode will feature an open and candid discussion with a prominent policy leader to bring new insights to the space community.
---
Posted in Space Policy