Public Policy and Government Affairs
---
Biweekly Washington, D.C., Update for the Week Ending September 18, 2020
Written by: Hanh Le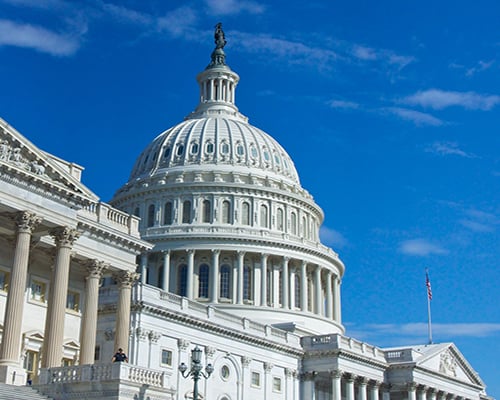 It was a busy week in Washington, D.C., as the House was in session and took up various bills including the "Promoting Research and Observations of Space Weather to Improve the Forecasting of Tomorrow" (PROSWIFT) Act. The space community also had a big week, as it was announced that phosphine gas had been detected in the atmosphere above Venus, which could be indicative of the presence of life on the planet, building enthusiasm around the prospect of future
missions there. Long overlooked due to its dense and harsh environment, Venus now seems poised to become a destination with the potential to yield exciting discoveries for the science community.
Introducing Space Symposium 365
Space Symposium 365 is a new initiative that will premiere in October, offering expanded programming and collaborative opportunities that will continue to bring the global space community together.
The series will: showcase exclusive interviews, panels, discussions, and roundtables with newsmakers, investors, experts, and other space professionals; bridge conversations between Civil, Commercial, Military, and International Space; and, examine emerging priorities, missions, and policies driving the global space economy.
Register here to learn more, and follow all the key events and discussions from industry professionals, 365 days a year.
Other Highlights
Space Policy Pod: Episode 10 – Dr. Douglas Terrier
Our latest episode features Dr. Douglas Terrier, Chief Technologist at NASA.
Terrier was also the deputy director of the Strategic Opportunity and Partnership Development office at NASA's Johnson Space Center. He spent more than 23 years working in the aerospace sector.
Terrier discusses the future of aerospace research and development, interagency cooperation, and the challenges and benefits of investing in emerging technologies.
Space Industry Updates
Space Policy Updates
Additional Space Foundation Resources
The latest Space4U Podcast episode features Rebekah Hyatt and Adlena Jacobs who discuss SystemsGo, an education nonprofit focused on providing STEM curriculum programs to schools.
The Space Report Quarter 2 is available here.
Online learning, lesson plans, and video lessons for students grades K–12 are available at the Discovery Center website.
Further Reading
The Space Review | Making the transition from the ISS by Jeff Foust
The International Space Station's 20th anniversary is approaching. However, there are uncertainties about plans to phase out the ISS after Congress expressed interest in extending operations to 2030.
The article discusses efforts being made with private companies to replace the ISS as part of NASA's low Earth orbit (LEO) commercialization plan, timeline concerns due to an immature commercial LEO ecosystem and related to crew transportation, as well as a lack of markets driving demand for commercial space stations.
Space Trivia
Fifteen years ago, in September 2005, Russia launched the Soyuz-TMA 7 mission carrying a NASA astronaut, a Russian cosmonaut, and an American tourist (Gregory Olsen) to the International Space Station. (Source: NASA)
---
Posted in Public Policy and Government Affairs