Public Policy and Government Affairs
---
Biweekly Washington, D.C., Update for the Week Ending December 4, 2020
Written by: Hanh Le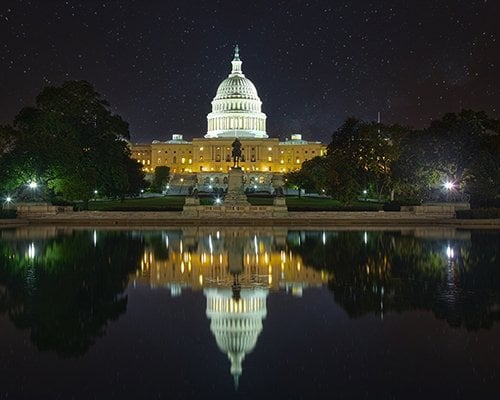 Lawmakers returned to Capitol Hill this week for the last meetings and committee hearings of the year. Senator-elect Mark Kelly (D-AZ) became the fourth astronaut elected to Congress when he was sworn in on Wednesday. There are several items on the Congressional agenda, including the finalizing of FY2021 appropriations and negotiating a stimulus bill. Next week, House members will vote to pass the FY2021 National Defense Authorization Act: Advancing America's Security. The next meeting of the National Space Council will be on Wednesday, Dec. 9, at Kennedy Space Center in Florida.
Sign up for Space Symposium 365, a year-round digital platform for learning, collaborating, and conducting business within the global space community.
More speakers to come:

Tuesday, Dec. 9 – Workforce Perspectives panel: "A View from Industry Leaders and New Generation Professionals"
Friday, Dec. 11 – John L. "Jack" Swigert, Jr. Award presentation featuring JPL Director Dr. Michael Watkins
Tuesday, Dec. 15 – Featured speaker: Update with Federal Aviation Administration (FAA) Associate Administrator for Commercial Space Transportation, Brig. Gen. Wayne R. Monteith, USAF (Ret.)

Register here to learn more, and to follow all the key events and discussions with industry professionals, 365 days a year.
Space Industry Updates
Space Policy Updates
Additional Space Foundation Resources
The latest Space4U Podcast episode features John Olver, founder of Emisshield, Inc., a company that adapted a NASA heat-shield technology to create a protective ceramic coating that makes commercial materials more thermally efficient.
The Space Report Quarter 3 is available here.
Online learning, lesson plans, and video lessons for students grades K–12 are available at the Discovery Center website.
Further Reading
The Space Review | An iconic observatory faces its demise
By Jeff Foust
The article discusses the Arecibo Observatory's history and the recent damage caused by a broken main cable, which led the National Science Foundation to begin decommissioning of the telescope.
Space Trivia
Sixty-six years ago, on Nov. 30, 1954, Elizabeth Hodges became the only human known to have been injured by the direct impact of a meteorite when one crashed into her house in Sylacauga, Alabama. (Source: smithsonianmag.com)
---
Posted in Public Policy and Government Affairs