Uncategorized
---
Volunteer Spotlight: Lola Feilke
Written by: Space Foundation Editorial Team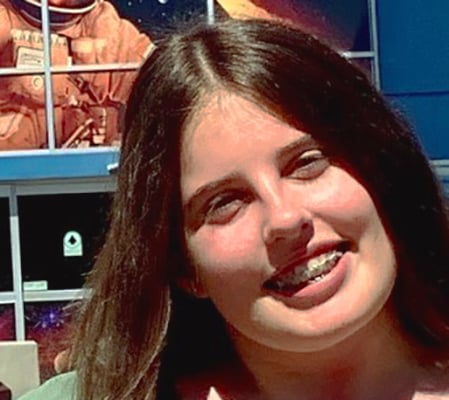 These Volunteer Spotlight articles profile some of the interesting and dedicated people who make Space Foundation programs possible. We could not do the work that we do without the generous and tireless support of our volunteers. This week, we are featuring Space Foundation Discovery Center volunteer Lola Feilke.
Lola is currently a sophomore at Air Academy High School. Looking ahead to her future career aspirations, Lola's goal is to become an aerospace engineer because she is fascinated by everything related to space, and she's also interested in math and science. In her free time, she participates in Capoeira (a Brazilian martial art), runs hurdles, and also loves going hiking with her family and her dog.
She enjoys volunteering at the Discovery Center because there are so many amazing exhibits that she can show guests, and that she can also enjoy herself. She usually volunteers in the Mars Robotics Laboratory, which she feels is an incredible experience because it's an entertaining and engaging way to learn about the landscape on Mars. It's her favorite exhibit at the Discovery Center because she enjoys seeing museum guests have fun driving the rovers, and then she gets to drive those rovers herself sometimes.
Lola is a new junior docent with us and so far she has done a great job! We are always on the lookout for more junior docents like her. If you are interested in becoming a Space Foundation/Space Foundation Discovery Center volunteer, please reach out to Jennifer Walters, Volunteer Program Manager, at [email protected]
---
Posted in Uncategorized