Public Policy and Government Affairs
---
Biweekly Washington, D.C., Update for the Week Ending February 26, 2021
Written by: Hanh Le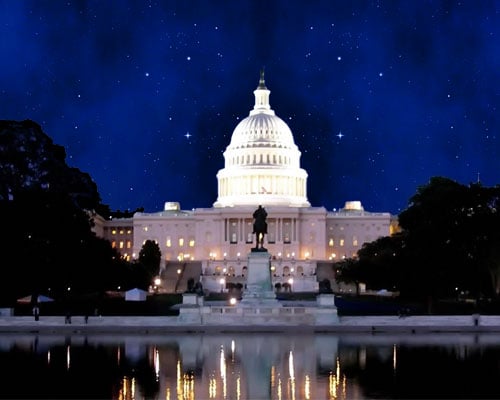 New images emerged this week, following last week's successful landing of the Mars Perseverance rover in the Jezero Crater on Mars, including this panorama of the landing site assembled from 142 images. Closer to home, the House Armed Services Committee's Strategic Forces Subcommittee held the first space hearings on Near-Peer Advancements in Space and Nuclear Weapons.
Sign Up for Space Symposium 365
Register here to access key events and discussion with industry professionals, 365 days a year.
Upcoming panels and speakers:

March 10 – Panel: Sizing New Technology Impact on SATCOM Markets
March 24 – New Generation Space Leaders Panel: Engineering a Launch: The STEAM That Drives it All
April 22 – Brig. Gen. Heather L. Pringle, USAF, Commanding General of the Air Force Research Laboratory
Subcommittee on Strategic Forces Hearing: "Near-Peer Advancements in Space and Nuclear Weapons"
February 23, 2021
Witnesses: Madelyn Creedon (Brookings Institute), Todd Harrison (CSIS), Tim Morrison (Hudson Institute)
Rep. Doug Lamborn (R-CO) discussed the decision to relocate the U.S. Space Force. Witnesses present cited the need for "stability and continuity for the workforce and the contractors that support the Space Command."
Todd Harrison (CSIS) noted that China and Russia are "closing the gap" with the U.S. in terms of space capabilities due to vulnerabilities the U.S. is not addressing. He recommended that the U.S. develop a more diverse and resilient space architecture of satellites in multiple orbits, and technologies to defend satellites from jammers and kinetic attacks.

Rep. Jim Cooper (D-TN) raised the issue of the Global Positioning System (GPS) as an example of a space asset that is under threat.
Space Policy Updates
Space Industry Updates
Additional Space Foundation Resources
The latest Space4U Podcast episode features Joe Urso, Founder of ActivePure Technologies.
The Space Report Quarter 4, 2020 is available here.
Online learning, lesson plans, and video lessons for students grades K–12 are available at the Discovery Center website.
Further Reading
The Space Review | NASA tests the perseverance of some space enthusiasts
By Svetoslav Alexandrov
The article outlines the frustrations of many within the space community regarding the limited images and data shared by NASA following the landing of the Perseverance rover, and also offers explanations as to what could have caused the delays in sharing them with the public.
Space Trivia
Thirty-one years ago, on Feb. 23, 1990, NASA's Pioneer 11 became the second spacecraft to leave our Solar System. (Space.com)
Contributor: Katie Nelson, Intern, Space Foundation
Editor: Andrew de Naray, Multimedia Content Writer & Editor, Space Foundation
---
Posted in Public Policy and Government Affairs