Uncategorized
---
Volunteer Spotlight: Khylin Verplank
Written by: Space Foundation Editorial Team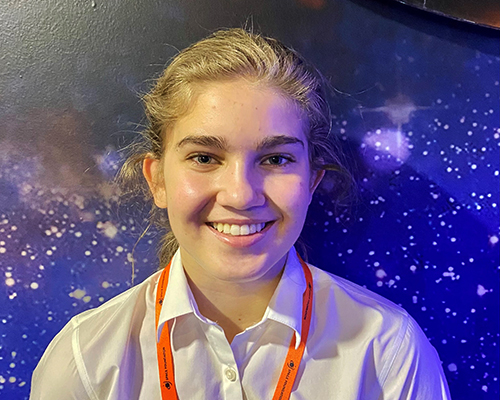 These Volunteer Spotlight articles profile some of the interesting and dedicated people who make Space Foundation programs possible. We could not do the work that we do without the generous and tireless support of our volunteers. This week, we are featuring Space Foundation Discovery Center volunteer Khylin Verplank.
Khylin is currently a sophomore at Air Academy High School in Colorado Springs where some of her favorite subjects are science and math. For as long as she can remember, she has loved everything to do with science, technology, engineering, and math (STEM), and she has attended many science-based education camps that have further fueled her interest, including NASA's Space Camp. It's her dream to work in a scientific field, although she has not yet decided which area she would like focus on. However, she does know that whatever job or field she enters, she would like for it to be tied to space exploration in some way.
Verplank has lived her entire life in Colorado, where her family has lived for several generations. She is also a competitive athlete in trampoline and tumbling, and in her free time she enjoys rock climbing, skiing, and singing in various choirs.
Khylin's favorite exhibit in the Discovery Center is the hydroponic farming system, because she's fascinated by the idea of what extended residence in space settlements would look like. She's also interested in how future systems like farming may function and develop in space.
Verplank has been visiting the Discovery Center since she was very young, and she was always driven to become a volunteer here as soon as she possibly could. Her favorite part of volunteering at the Discovery Center is seeing the imaginations of young visitors light up as they form an interest in space, the same way hers did when she was younger.
If you are interested in becoming a Space Foundation/Space Foundation Discovery Center volunteer, please reach out to Jennifer Walters, Volunteer Program Manager, at [email protected]
---
Posted in Uncategorized