Space Foundation News
---
Space Foundation Selects Aerospace Pioneer Patti Grace Smith To Receive the 2021 General James E. Hill Lifetime Space Achievement Award
Written by: Space Foundation Editorial Team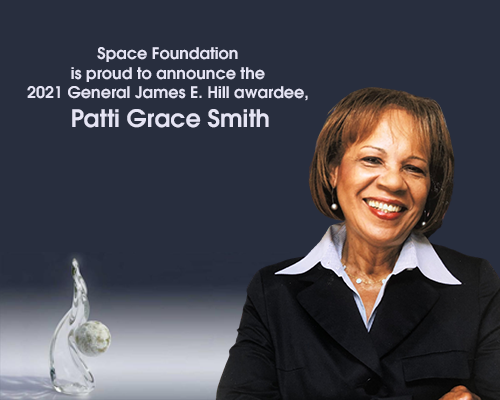 Recipient Overcame Racial Barriers To Develop Model for Private Human Spaceflight and Space Regulation Used by Nations Around the World Today
COLORADO SPRINGS, Colo. — June 2, 2021 — Space Foundation, a nonprofit advocate organization founded in 1983 for the global space ecosystem, today announced that Patti Grace Smith has been selected as the recipient of the 2021 General James E. Hill Lifetime Space Achievement Award — the highest honor bestowed by the organization. As a public servant, Ms. Smith was a champion of private space travel whose regulatory work, leadership and advocacy helped open new worlds of opportunity for the exploration and development of space.
In announcing this year's recipient, Space Foundation CEO Tom Zelibor shared, "Patti Grace Smith's lifetime of service to the space community can be seen with the array of new launch vehicles, capabilities and approaches that are pioneering new access, enterprises and opportunities in the global space ecosystem. The fruits of her incredible labors are before us in today's unfolding space renaissance, and her vision for this community and what it can become are being fulfilled in inspiring ways around the country. Her life and career embody the excellence of character and leadership that are the standards of the Hill Award, and Space Foundation is proud to herald her example and legacy."
The award will be presented Aug. 23, 2021, during the 36th Space Symposium's opening ceremony to be held at The Broadmoor in Colorado Springs. The ceremony will also be simulcast online as part of Space Symposium's all-new virtual experience. Ms. Smith passed away in 2016, so members of her family will be present at the opening ceremony to accept the posthumous award.
Space Foundation also announced the first in its lineup of distinguished speakers for the 36th Space Symposium. Newly announced speakers include:
Space Symposium's website contains the latest speaker and agenda updates. This year will mark the debut of the event's first hybrid — in-person and virtual — format, providing greater opportunities for members of the global space community to engage, learn, share knowledge and network. Tickets are available here.
About Patti Grace Smith
Patti Grace Smith played many pivotal roles in both her life and career. Beginning in high school, she was part of the integration of public schools in the Jim Crow South. Throughout her adulthood, she played an integral role in the development of commercial spaceflight.
Ms. Smith attended the Tuskegee Institute — now known as Tuskegee University — majoring in English. After earning her degree, she moved to the East Coast to begin a career in radio and broadcasting. That path took her into governmental entities such as the U.S. Senate Commerce Committee, U.S. Department of Defense, and Federal Communications Commission (FCC), where she began working in aerospace with an increasing interest in the field of satellite communications.
She eventually moved to the U.S. Department of Transportation (DoT) and joined the Office of Commercial Space Transportation, rising to the position of chief of staff. With a move from the DoT into the U.S. Federal Aviation Administration (FAA) in 1995, she was soon named the head of that office and an associate administrator of the FAA.
Ms. Smith's role for 11 years included licensing, regulating and promoting the entire U.S. commercial space transportation industry. During her tenure, she oversaw the licensing of the first inland spaceport, the first private human spaceflight, and the first launches of Elon Musk's privately developed rocket, the SpaceX Falcon 1.
She also oversaw the development of rules for human spaceflight. The model she developed at the FAA for private human spaceflight and space regulation is followed by nations around the world. Through her leadership, the FAA's Office of Commercial Space Transportation and other key stakeholders in government began working with the U.S. Air Force on common launch safety standards and coordinating with the other parts of the FAA to address the impact of space flight on the National Airspace System.
Ms. Smith continued her service to the industry even after retirement by serving as a consultant to many of the industry's leading firms and by dedicating her time to a number of nonprofits and charitable causes. She served on the board of Space Foundation, the American Astronautical Society, and the Conrad Foundation and was an advisor to many other groups such as the XPRIZE Foundation. She was appointed by President Obama to serve on the Advisory Board of the National Air and Space Museum. She was also appointed by both President Obama and NASA Administrator Charlie Bolden to serve as chair of the Commercial Space Committee of the NASA Advisory Council (NAC).
Ms. Smith passed away on June 5, 2016. In October 2020, the Patti Grace Smith Fellowship was established to provide jobs, mentorship and community for black undergraduates seeking aerospace careers. The goal of the fellowship is to "drive meaningful change in the aerospace industry itself in terms of how it acknowledges and addresses matters of racial and ethnic equity and inclusion." Learn more at www.pgsfellowship.org/
About Space Symposium
Space Symposium is in its 36th year of gathering a global audience of commercial and government professionals, entrepreneurs, educators and students at the premier conference for space exploration and space-inspired industries held in Colorado Springs, Colorado. Space Foundation is committed to adapting a hybrid live and online event scheduled for August 2021 to enable its 15,000 loyal attendees to seamlessly engage and conduct business with the global space ecosystem.
About Space Foundation
Space Foundation is a nonprofit advocate organization founded in 1983, offering a gateway to education, information and collaboration for space exploration and space-inspired industries that define the global space ecosystem. Driven by a partnership model, Space Foundation operates three divisions that unite the entire spectrum of stakeholders — business, government, education and local communities — through corporate membership, sponsorship, fundraising and grants: Center for Innovation and Education is a lifelong learning platform. Symposium 365 is the premier source for media and events, including the world-renowned Space Symposium. Global Alliance facilitates collaboration around the world. Visit Space Foundation at www.SpaceFoundation.org, and follow us on Facebook, Twitter, Instagram, LinkedIn and YouTube.
###
All brand names and product names are trademarks or registered trademarks of their respective companies.
Tags: Space Foundation, Space Symposium, Patti Grace Smith, space award, space economy, space commerce, space technology, space innovation, space programs, space community, space ecosystem, private space travel
Media Contacts:
Rich Cooper
Vice President, Strategic Communications & Outreach
Space Foundation
(202) 596-0714
[email protected]
Dottie O'Rourke
TECHMarket Communications
(650) 344-1620
[email protected]
---
Posted in Space Foundation News