Public Policy and Government Affairs
---
Biweekly Washington, D.C., Update for the Week Ending June 4, 2021
Written by: Hanh Le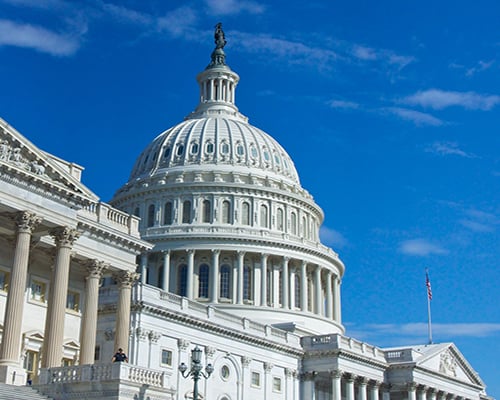 This week, Eric Lander was sworn in as director of the White House Office of Science and Technology Policy (OSTP). NASA announced two new exciting missions, DAVINCI+ and VERITAS, to Venus at the State of NASA event.
Register for the 36th Space Symposium in Colorado Springs this August
Confirmed Speakers for Space Symposium include:

Senator Jerry Moran (R-KS)
Josef Aschbacher, Director General, European Space Agency
James H. Dickinson, Commander, U.S. Space Command
Daniel Jablonsky, President and CEO, Maxar Technologies
Gwynne Shotwell, President and COO, SpaceX

Visit the site to see the full agenda as well as an updated speakers list, and sign up for virtual options.
Sign Up for Space Symposium 365
Register here to access key events and discussion with industry professionals, 365 days a year.
Upcoming panels and speakers:

June 9: Women in Space Series – The Future of Space Architecture
June 30: New Generation Space Leaders – Space and Systems Change
Space Policy Updates
Space Industry Updates
House Armed Services Committee
Subcommittee on Strategic Forces Hearing on 
FY2022 National Security Space Program Funding
May 24, 2021
The witnesses were Mr. John Hill, Department of Defense, General David Thompson, United States Space Force, Dr. Christopher Scolese, National Reconnaissance Office (NRO), Major General Charles Cleveland, National Geospatial Intelligence Agency (NGA), and Mr. Jon Ludwigson, Government Accountability Office
Many questions focused on space acquisitions, competing with adversaries such as China and Russia, and working with the commercial sector.
Ludwigson expressed that some programs are overbudget and delayed. Despite having satellites capable of broadcasting GPS signals, DOD remains years away from widespread use of it, this issue happens for other systems as well. There are important questions about how to mitigate the risks and recapitalize capabilities.
The witnesses discussed that space has recently become a war fighting domain, the U.S. does not have a truly operational intelligence enterprise for space and only has done foundation work. It is also important to test our systems to operate effectively in space against natural hazards and that we do not cannibalize our existing system.
Chairman Jim Cooper (D-TN) noted that all the growing pains of the Space Force were requirements the Air Force did not do when they oversaw the domain. "I am thankful the Space Force is doing it, but I am sorry we are having to rebuild something that should have been built before."
 Senate Armed Services Committee
Nomination Hearing for Frank Kendall to be Secretary of the Air Force
Heidi Shyu to be Under Secretary of Defense for R&E
May 25, 2021
The Nominees were the Honorable Frank Kendall III, Honorable Heidi Shyu and Ms. Susanna Blume.
Many questions centered on competing with Russia and China, and how to increase the pace of technology development.
Shyu's reception was positive with a focus on working with small businesses.
Most questions posed to Mr. Kendall were on updating current capabilities for the KC-146 and F-35s.
There were few space-related questions. Of those, the questions raised were about the U.S. Space Command basing by Sen. Shaheen (D-NH) and commercial space partnerships.
Tuberville (R-AL) stated that relocating Space Command to be in Alabama makes strategic sense and discussed the retirement of Atlas V. He further asked how the US can secure access to space. Mr. Kendall indicated his work on reintroducing competition to space launch saved cost and modernized US capabilities. "I think we should take advantage of the synergy with space launch commercial market."
Maria Cantwell profile
Senator Maria Cantwell (D-WA) currently chairs the Committee on Commerce, Science and Transportation. She also is on the Energy and Natural Resources, Finance, Indian Affairs and Small Business and Entrepreneurship Committees.
About three dozen space companies operate in Washington state including Blue Origin, Aerojet Rocketdyne, Boeing, and SpaceX. Last month, Senator Cantwell introduced an amendment that would authorize an additional $10 billion to the Artemis program through FY2026 and expressed her concern about having only a single provider for the HLS program. Sen. Cantwell has previously stated her support and enthusiasm for the Artemis program, but also expressed concerns with the 2024 timeframe.
Before serving as Washington state's senator, Cantwell served on the Washington State House of Representatives and became the first Democrat elected to the U.S. House of Representatives from Washington's first district in 40 years in 1992. She also worked in the private sector as a businesswoman and VP of Marketing for RealNetworks.
Further Reading
FY2022 President's Budget Request (PBR) for NASA Summary
The PBR proposed $24.8 billion for NASA, which is a 6.6% increase from FY2021 levels. This amount is slightly higher than the April 9th $24.7 billion request.
An important change was the increase in Science programs from $7.3 to $7.9 billion, which includes a $250 million increase for Earth Sciences.
The budget for Planetary Sciences also increased to $3.2 billion, of which $653.2 million would go to the Mars Sample Return program.
The budget would also continue the Nancy Grace Roman Space Telescope program but would cancel the Stratospheric Observatory for Infrared Astronomy (SOFIA) mission, due to SOFIA's high operation costs.
The Atlantic | If Aliens are Out There, They're Way Out There
By Marina Koren
The writer discusses UFOs and historical events surrounding findings of extraterrestrial existence.
Additional Space Foundation Resources
Space Trivia
On June 2nd, 2003, the European Space Agency's Mars Express mission was launched from Baikonur Cosmodrome. (ESA)
---
Posted in Public Policy and Government Affairs