Public Policy and Government Affairs
---
Biweekly Washington, D.C., Update for the Week Ending July 2, 2021
Written by: Space Foundation Editorial Team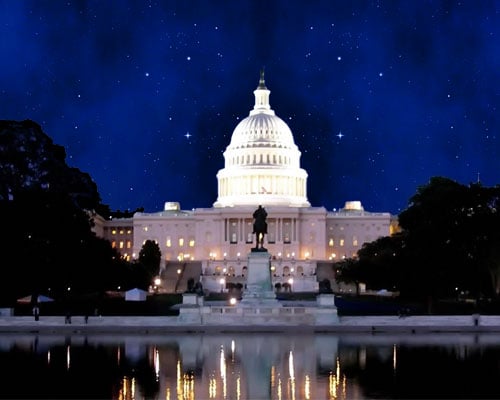 The week the Senate is out of session while the House Appropriations Defense Committee held closed markup sessions. Over 50 years in the making, Mary Wallace "Wally" Funk will fly to space.  Richard Branson announced July 11 as the new spaceflight date. Additionally, the space community remembers the Soyuz 11 crew, the only spacefarers to have died outside earth's atmosphere.
Announcing the Start Here for Space series
Space Foundation's Start Here for Space is a free series on our virtual platform. With an aim towards the new space professional across industry and government; the series will consist of 20 minutes videos that aim to provide a foundation on emerging space issues and current space events. Our first season will feature six episodes from Space Debris to Space Law.
Register here to access the series, free 365 days a year, on Symposium 365 website.
Tune in every Tuesday at 1pm EDT for new episodes.
Watch the first episode on the Use of Space in Everyday Life here
Space Policy Updates
Space Industry Updates
Richard Branson sets July 11th as flight date. (Twitter, July 1)
Mercury 13 member Wally Funk to fly to space on the anniversary of the Apollo 11th moon landing. (The Verge, July 1)
Korean Air says it will develop common bulkhead propellant tanks for small satellite launch vehicles as part of the "Space Pioneer" project. (SpaceNews, June 28)
California startup, Umbra, prepares to launch its first synthetic aperture radar (SAR) satellite (Breaking Defense, June 24)
Space Perspective is selling $125,000 tickets for balloon rides to space in 2024 (Click Orlando, June 24)
Strong interest in the astronaut selection campaign may translate to opportunities in human spaceflight for Europe. (SpaceNews, June 28)
Iridium Communications received a U.S. Army contract to develop a payload for an unspecified constellation in low Earth orbit (Space News, June 25)
Australian small launch vehicle company Gilmour Space raises nearly $46 million. (SpaceNews, June 30)
The amount of water in the atmosphere of Venus is so low that the most drought-tolerant microbes would not be able to survive. (Space.com, June 28)
In a revised agreement of a merge, Momentus will be valued at $566.6 million, half the original value. (SpaceNews, June 30)
Inmarsat named Fredrik Gustavsson as chief strategy officer. (Inmarsat, June 28)
NASA named best place to work in the federal government. (NASA, June 29)
Voyager Space Holdings appointed former Department of Air Force general counsel Tom Ayres as chief legal officer and general counsel. (SpaceNews, June 29)
The space community reflects on the memory of the Soyuz 11 crew. (NASASpaceflight, June 30)
Pam Melroy profile
Colonel Pam Melroy was sworn in as NASA Deputy Administrator on June 21st, 2021. As Deputy, her duties will include overall leadership, planning, and policy direction for NASA. She is also responsible for representing NASA to the Executive Office of the President, Congress, and international organizations.
Melroy served in the Air Force and is a former NASA Astronaut. She piloted two space shuttle flights, the STS-92 (2000) and STS-112 (2002). She served as the mission commander on STS-120 (2007). Before becoming NASA Deputy Administrator, Melroy worked in the space sector, as Deputy Program Manager at Lockheed Martin, as Deputy Director of the Tactical Technology Office at the Defense Advanced Research Project Agency and as senior technical advisor for the FAA's Office of Commercial Space Transportation. Melroy was also a member of the National Space Council's Users Advisory Group and an advisor to the Australian Space Agency.
Melroy is a graduate of the United States Air Force Test Pilot School, where she logged 6,000 flight hours and flew more than 50 different aircraft. She was selected as an astronaut candidate in December 1994. She also studied physics and astronomy at Wellesley College and received a master's in Earth and Planetary Sciences from the Massachusetts Institute of Technology.
Further Reading
War on the Rocks | Physics gets a vote: No Starcruisers for Space Force
By Rebecca Reesman and James Wilson
There are constraints of what can be developed as spacecraft and spaceweapons cannot defy physics. Due to satellites' slow maneuver, adopting a mindset of slow and deliberate movement is needed.
Additional Space Foundation Resources
Space Trivia
The Apollo-Soyuz mission was the first manned international space mission carried out by the Soviet Union and the United States in July 1975. (Source NASA)
---
Posted in Public Policy and Government Affairs