Uncategorized
---
Volunteer Spotlight: Joseph "JJ" Dubose
Written by: Space Foundation Editorial Team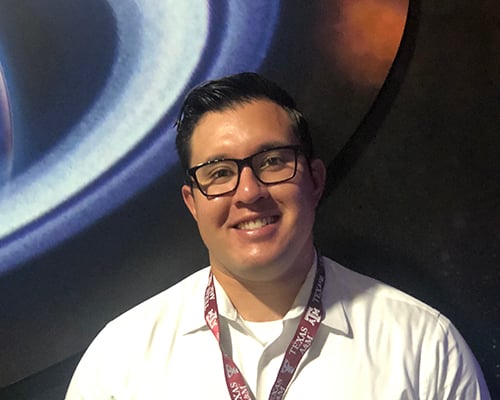 These Volunteer Spotlight articles profile some of the interesting and dedicated people who make Space Foundation programs possible. We could not do the work that we do without the generous and tireless support of our volunteers. This week, we are featuring Space Foundation Discovery Center volunteer Joseph "JJ" Dubose.
Originally from Orange, Texas, JJ has been a Field Artillery Officer in the Army for the past seven years and is currently stationed at Fort Carson in Colorado Springs, which brought him to the area about two years ago. He has a Bachelor of Science degree in Food Science and Technology from Texas A&M University, and a Master of Science degree in Space Systems Operations Management from Webster University — which he hopes to eventually use to improve sustainment processes for astronauts in space.
Outside of work and volunteering, Dubose enjoys playing tennis, cooking, reading, traveling with his family, and playing guitar.
JJ's favorite exhibit in Space Foundation Discovery Center is the Space Food because he did his graduate school thesis on the future of food in space, which required taking a deep dive into the history of astronaut food. Aside from the importance of nutrition, there are also key morale and cultural aspects associated with food, and it's very interesting to him that different nations' space programs use food to introduce their cultural identities and facilitate intercultural relationships.
Dubose shared that, "Volunteering at the Discovery Center is an excellent opportunity to pass on the things that we've learned to younger generations, which hopefully they'll take that knowledge and someday build upon it." He also added that he has learned a great deal himself just from talking to some of the veteran Discovery Center docents.
If you are interested in becoming a Space Foundation/Space Foundation Discovery Center volunteer, please reach out to Jennifer Walters, Volunteer Program Manager, at [email protected]
---
Posted in Uncategorized