Public Policy and Government Affairs
---
Biweekly Washington, D.C., Update for the Week Ending September 24, 2021
Written by: Elizabeth Anderson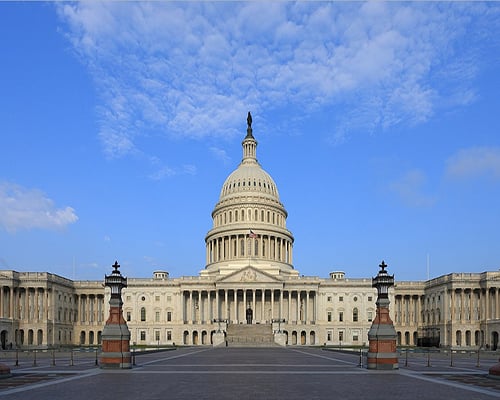 This week in Washington, the House passed the 61st consecutive National Defense Authorization Act, General Jay Raymond revealed the new Space Force Uniforms as well as the "Guardian Ideal," and NASA Administrator Bill Nelson announced Jim Free as the first lead of a new Mission Directorate overseeing the Artemis Mission.
Symposium 365 Upcoming Event
World Space Week 2021 – Women in Space panel – Tomorrow's Space Jobs Are Here Today
Tune in to our panel of Women Space Leaders discussing their unique space jobs, and how space is better when it represents a diverse background of thought
If you would like to revisit any of our content; panels and speaker sessions are available year-round on Symposium 365.
Hearing Summary
House Science, Space, and Technology Subcommittee Hearing: NASA's Future in Low-Earth Orbit and Considerations for ISS Extension and Transition
September 21, 2021
Witnesses include Robyn Gatens, Director of International Space Station, NASA, Dr. Kate Rubins, Astronaut, NASA, Mr. Jeffrey Manber, CEO, Nanoracks, Mr. Todd Harrison, Senior Fellow and Director of the Aerospace Security Project, CSIS, Captain William Shepherd (USN, Retired), former Navy Seal and Astronaut, NASA
Members highlighted with the witnesses that the 2017 NASA Authorization Bill requires a transition plan for the International Space Station, and further requirements should be brought to Congress
NASA stated there was no engineering issues that would impede access to ISS through 2030
All witnesses agreed and highlighted the importance of the work done on the ISS, both with scientific advances, as well as international partnerships.
Hearing Summary
House Committee on Science, Space, and Technology
Subcommittee on Environment Hearing: Advancing Earth System Science and Stewardship at NOAA
September 23, 2021
The witness was Richard W. Spinrad, PhD., Under Secretary of Commerce for Oceans and Atmosphere, and Administrator, National Oceanic and Atmospheric Administration
Members highlighted that NOAA is a unique agency that provides essential services and products and that NOAA's observations, predictions, and warnings are becoming increasingly important to the safety of the American people
The Administrator mentioned NOAA is looking at the expanded capabilities for satellite-based backup for weather radio
Dr. Spinrad was asked about commitment to space situational awareness to which he confirmed the agency was preparing for a demonstration in the near term.
Space Policy Updates
Space Industry Updates
Space Leader Spotlight
Heidi Robinson serves as the Director of Engagement in the Office of the Secretary of Defense for Space Policy at the US Department of Defense. In this position, she leads worldwide DOD engagement efforts to build common understanding of the space environment and identifies opportunities to create partnerships.
Before joining the Office of the Secretary of Defense for Space Policy, she served as Deputy Director of the Secretary of Defense Policy Resource Management Office. In this role, she was responsible for managing a $2.1 billion annual budget as well as fifteen support contracts.
Prior to entering the world of space policy, Ms. Robinson taught English for two years in rural Japan and served in the Peace Corps in West Africa. She has an MBA from St. Ambrose University, certificate in international management, and a BA from the University of Iowa in Global Studies and Political Science.
Reading Corner
SpaceNews | Space Force looking for 'unity' in acquisitions despite a medley of agencies. 
Innovation in space is pushing the Space Force and the National Reconnaissance Office into collaborative efforts to bridge efforts by multiple acquisition agencies.
Additional Space Foundation Resources
The Space Report Quarter 2, 2021 is available here.
Get a free White Paper from The Space Report on President Biden's FY22 Space Budget.
Online learning, lesson plans, and video lessons for students grades K–12 are available at the Discovery Center website.
Space History Trivia
Each Apollo mission required fifteen space suits. Each of the three prime crew members had one for flight, one for training, and one as a flight backup. The three backup crew members had one for flight and one for training for fifteen total space suits.
(NASA)
---
Posted in Public Policy and Government Affairs