Public Policy and Government Affairs
---
Biweekly Washington, D.C., Update for the Week Ending October 8, 2021
Written by: Elizabeth Anderson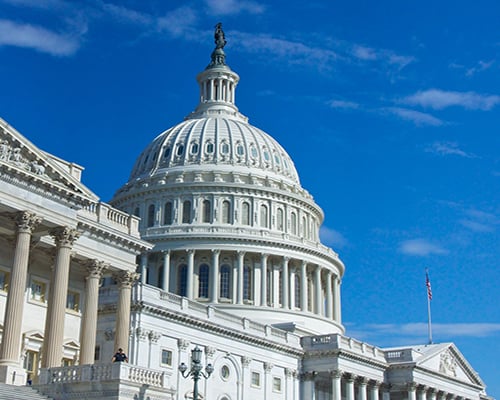 This week in Washington, the Senate voted to extend the debt ceiling, NASA reassigned Astronauts Nicole Mann and John Cassada from Boeing's Starliner flight to the SpaceX Crew-5 mission, and the HPSCI approved the creation of a separate National Space Intelligence Center.
Space Foundation Online Content
Women in Space: The Dr. Sally Ride Quarter Story
Space Foundation's Manager of DC Operation Megan Wenrich spoke with two representatives from the US mint – April Stafford, Chief of the Office of Design Management, and Elana Hagler, Artistic Infusion Program Designer, who both worked on the quarters honoring Ride and the other celebrated women. (LINK)
Space is Better Together: Tomorrow's Space Jobs are Here Today
Join Dr. Dorit Donoviel, Jessica Deihl, Meredith Garofalo, and Erin McLean for a discussion about unconventional fields in the space industry. (LINK) 
Space Policy Updates
Space Industry Updates
Featured Profile
Jared Isaacman is the CEO and founder of Shift4 Payments, founder of Draken International, civilian pilot, and commander of the Inspiration4 flight. As an entrepreneur in the aerospace industry, Isaacman has been a space leader long before the Inspiration4 flight.
When Isaacman was 16 years old, he started Shift4 Payments out of his parent's basement. The company underwent massive expansions and today handles nearly 40% of the restaurant and hotel industry's payments. In 2011, Isaacman founded Draken International, a firm that trains pilots for the United States Armed Forces and houses the world's largest private fleet of military fighter jets. Isaacman is a trained pilot, set a record for circumnavigating the globe in a light jet in 2009, and has more than 6,000 of flight hours logged. Despite having never graduated from high school, he received his undergraduate degree from Embry Riddle Aeronautical University in 2011.
On September 14, 2021, Isaacman and three other civilians lifted off in a SpaceX Crew Dragon capsule from Kennedy Space Centers' Pad 39A and spent the next three days orbiting the Earth. The Inspiration4 mission was designed by Isaacman in tandem with SpaceX leadership, funded by Isaacman, and raised over $200 million for St. Jude's Children's Research Hospital. This mission marked the first all-civilian crewed flight in history.
Reading Corner
Popular Science | Scientists have discovered new moon rocks for the first time in fifty years
Leto Sapunar provides insight into the Chinese National Space Administration's Chang'e 5 Lander, which has been collecting rocks on the far side of the Moon since its landing on December 1st, 2020. These are the first moon rock samples collected in 45 years since the final Apollo mission in 1976.
Additional Space Foundation Resources
The Space Report (TSR) Q2 2021 is now available
Get a free White Paper from The Space Report on President Biden's FY2022 Space Budget
Online learning, lesson plans, and video lessons for students grades K–12 are available at the Discovery Center website.
Space Trivia
On Tuesday, October 5th, Roscosmos launched three crewmates from the Baikonur Cosmodrome in Kazakhstan. These three crewmates include Russian actress Yulia Peresild, film producer Klim Shipenko, and veteran cosmonaut Anton Shkaplerov. They docked with the ISS on Tuesday afternoon and will be filming onboard for twelve days. (SPACE.COM)
---
Posted in Public Policy and Government Affairs