Partner News
---
Ball Aerospace Celebrates First Images from NASA's James Webb Space Telescope
Written by: Space Foundation Editorial Team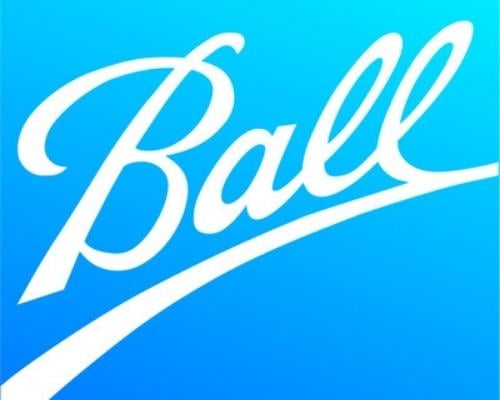 BROOMFIELD, Colo. — Jul. 12, 2022 — Ball Aerospace, a business of Ball Corporation (NYSE: BALL), is celebrating with NASA and all of the mission partners, as NASA's James Webb Space Telescope shares its first images with the world. The Colorado-based company designed and built the advanced optical technology and lightweight mirror system that make these unprecedented images possible.
"It is awe-inspiring to see these images, which are the culmination of more than 20 years of really hard work by thousands of people across multiple companies, government agencies and academic institutions," said Dr. Makenzie Lystrup, vice president and general manager, Civil Space, BallAerospace. "These are just the first of what will be exquisitely-rendered and detailed images that will shed new light on the formation of the universe as well as the galaxies and stars within it."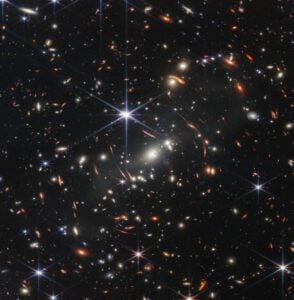 Known as Webb's First Deep Field, this image of galaxy cluster SMACS 0723 is overflowing with detail. (Credits: NASA, ESA, CSA, and STScI) See more images here.
Launched in December 2021, the James Webb Space Telescope (Webb) took approximately 30 days to reach its orbit near the second Lagrange point (L2) where it captured these images. During its month-long journey it went through the careful processes of deploying the sunshield and mirrors. Once Webb's main camera cooled-off enough to start supporting telescope alignment activities, Webb's optics team began meticulously moving the 18 primary mirror segments to form a single mirror surface that can capture extremely sharp and detailed images, like those just released.
Ball Aerospace worked with NASA's Goddard Space Flight Center and Northrop Grumman, the prime industry contractor, to innovate the 25 square-meter (~269 square feet) system consisting of 18 beryllium mirror segments working together as one unit. Ball also developed the cryogenic actuators and electronic flight control boxes used to keep the mirror segments properly aligned on orbit.
In addition to its work on Webb, Ball is playing critical roles in other upcoming space observation missions. It is partnering with NASA's Goddard Space Flight Center to develop the Wide Field Instrument for the Nancy Grace Roman Space Telescope and NASA/JPL by providing the spacecraft bus and telescope for the Spectro-Photometer for the History of the Universe, Epoch of Reionization and Ices Explorer (SPHEREx). The Ball-built Imaging X-Ray Polarimetry Explorer (IXPE) launched last December to study exotic astronomical objects such as neutron stars and black holes. IXPE's first science image of Cassiopeia A, an object consisting of the remains of a star that exploded in the 17th century, was released on February 14.
Powered by endlessly curious people with an unwavering mission focus, Ball Aerospace pioneers discoveries that enable our customers to perform beyond expectation and protect what matters most. We create innovative space solutions, enable more accurate weather forecasts, drive insightful observations of our planet, deliver actionable data and intelligence, and ensure those who defend our freedom go forward bravely and return home safely. Go Beyond with Ball.® For more information, visit www.ball.com/aerospace or connect with us on Facebook or Twitter.
About Ball Corporation
Ball Corporation (NYSE: BALL) supplies innovative, sustainable aluminum packaging solutions for beverage, personal care and household products customers, as well as aerospace and other technologies and services primarily for the U.S. government. Ball Corporation and its subsidiaries employ 24,300 people worldwide and reported 2021 net sales of $13.8 billion. For more information, visit www.ball.com, or connect with us on Facebook or Twitter.
---
Posted in Partner News