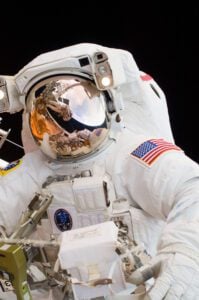 Inducted individuals:
Larry Milov
Dr. Christine Stine
Dr. Theodore Wydeven
Inducted organizations:
FosterGrant Corporation
NASA Ames Research Center
For decades, ground and polished glass had been the preferred lens in the eyeglass industry. That changed in 1972 when the Food and Drug Administration issued a regulation that all sunglasses and prescription lenses must be shatter-resistant. The main disadvantage to glass is its brittleness, so eyeglass manufacturers turned to plastics. Plastic lenses had many advantages (lower manufacturing costs, excellent optics, far better absorption of ultraviolet radiation, lightweight), but although they were resistant to shattering, they were highly susceptible to scratching.
NASA's Dr. Ted Wydeven of the Ames Research Center generated the technological seeds for the first scratch-resistant plastic lenses while working on a spacecraft water purification system. To alter a membrane in the purification process, Dr. Wydeven coated a filter with a thin plastic film using an electric discharge of an organic vapor. The research continued as NASA developed an abrasion-resistant coating for the astronaut space helmet visors and other plastic surfaces of aerospace equipment. Foster-Grant invested over 10 years of research trying to find a coating for lenses that could give glass-like scratch-resistance while keeping all the benefits of plastic. In 1983, Foster-Grant obtained a license from NASA for the scratch-resistant coating technology.
The company combined its own technology with NASA's and produced a superior lens. Their scratch-resistant lenses lasted, with normal wear, ten times longer than the most widely used plastic optical lenses, surpassing even glass. Today, the majority of sunglasses, corrective, and safety lenses sold in the United States are made of plastic.
Related Technologies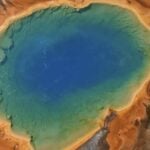 Inducted In: Consumer
 Nature's Fynd is a food company currently producing commercial meat and dairy substitute products. The protein-rich food is produced from a microbe originally discovered in geothermal springs in Yellowstone National Park. Researcher Dr. Mark Kozubal discovered this fungal microbe…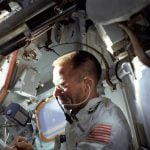 Inducted In: Consumer, Featured, Home, Recreation
If there is one model of space pens that single-handedly launched Fisher Space Pen into space, that would be the AG7 – Original Astronaut Space Pen. The creation of this pen took thousands of failed experiments, personal investment of hard-earned…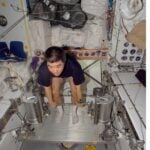 Inducted In: Consumer, Featured, Home, Recreation
Long stays in space, such as on the ISS, take a toll on the human body, as muscles atrophy and bones weaken and lose minerals. Astronauts have long used exercise equipment to help mitigate the effects of microgravity on their…