Spotlight
---
Symposium Has International Flavor
Written by: developer
The National Space Symposium is growing in international influence, this year with 20 nations represented, participation in four agenda presentations, and three major delegations in attendance.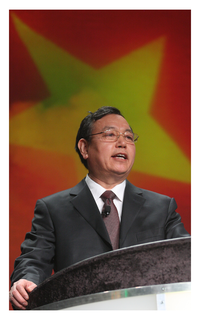 Paul Weissenberg, Ph.D., director for aerospace, GMES, security, and defence for the European Commission, spoke about Europe's Ambition in Space and Wang Wenbao, director of the China Manned Space Engineering Office (CMSEO) spoke about China's human spaceflight program.
This year, two separate delegations from China – one from CMSEO and one comprising representatives from the Chinese Society of Astronautics (CSA) and China Aerospace Science and Industry Corporation (CASIC) – attended at the invitation of the Space Foundation and a X-member Polish trade delegation visited the Symposium, marking the first major participation from Poland. China's first astronaut, Major General Yáng Lìwěi, was a member of the CMSEO delegation and participated in the Why We Fly panel. Air Commodore Mark Ashwell, UKRAF (Retired), vice president for international business development for DigitalGlobe, participated in the Commercial Solutions to Government Needs – A Paradigm Shift? panel.
Weissenberg Discusses EU Capabilities
Saying that the European Union is a relative newcomer in space, Weissenberg said the EU's achievements, such as Galileo and GMES, speak for themselves.
Weissenberg cited similarities between the EU and the U.S. "The European Union is the first commercial power in the world," he said. "It generates almost 22 percent of the world's wealth; the U.S. generates 21 percent.
"EU and US have common interests and common values," he said. "Ours remains the strongest relationship in international affairs."
Weissenberg said the new treaty of Lisbon introduces a clear mandate for EU in space matters, obliging the EU to act. "Without space," he explained. "EU is not able to fulfill its objectives; space has now become an EU policy on its own."
Saying that the EU is working on changed space fundamentals – just like the U.S. – and charting the course for future action, Weissenberg laid out objectives:
First, EU must ensure the success of flagship programs – Galileo, which is now well on course, and GMES, which is moving from research to an operational stage
Second, EU must develop a strong space-based capability to monitor climate change, building on GMES
Third, EU needs more security of space and for space because space assets are important for security and economy
Weissenberg said that, although Europe has decided to develop an autonomous SSA capability, it does not exclude cooperation with the U.S. He also said that military assets in Europe are still in the hands of member states, but the next generation of European military satellites will be under the European Defense Agency. "We are at a crossroads in human exploration; it is important to political identity, not just science, he said. "We are working on strengths -independent access to space, human space flight capability, how to participate in global space endeavors such as the ISS."
Weissenberg stressed that international partnerships are increasingly important in any new engagement in space. "I believe we have an advantage, and we can build on it," he said. "We should not lower our ambitions, but rather give ourselves the means to realize them."
Wang Outlines China's Space Program
Wang gave a brief overview of China's human spaceflight program:
Space technology development and manned space program began in 1986
The Chinese government came up with three strategies in 1992
The first step of the development strategy was to achieve manned space launch
The second step is to master EVA technologies and docking of spacecraft in orbit, and to launch a space laboratory
The third step is to complete a large space station, with long-term human presence
According to Wang, China's manned space program is made up of eight systems, the country has over 100 academies, institutes that undertake research, development, and testing, and, since the implementation of the human space program, China has had four unmanned missions and three manned missions.
"We've mastered the basic technologies of manned space – access to space, EVA technology," said Wang. "According to our schedule, we will launch Shenzhou 8 in the second half of 2011.
"After that, we will launch Shenzhou 9 and 10 in 2012 for docking and rendezvous in space. After the three docking and rendezvous missions, we will launch in 2013, allowing astronaut on-orbit experiments," he said.
Wang said the spacecraft weighs 8.8 tons, with a design lifetime of three years and capability for in-orbit fueling. He said the Chinese cargo spacecraft will be developed based on the manned space craft, weighing no more than 13 tons, with a cargo capability no less than 5.5 tons.
From 2016-2022, China is planning to construct a space station, Wang said, with a core module and two space modules that can accommodate a crew of three for long-term space experiments on a large scale. The planned design life will be about 10 years
Wang said that China will continue to use Shenzhou and Long March launch vehicles for human space flight. He also said that China has selected the second batch of Chinese astronauts, which includes two women.
From a strategic point of view, Wang said, "The purpose of China's manned space program is peaceful exploration and utilization of space resources."
Pointing out that China has established good working relationships with Russia, France, Germany, and other countries, he said, "We would like to have mutual exchange and mutual business with the space agencies of the world. We would like to carry out discussion on cooperation based on mutual respect, equality, and openness."
In November 2009, President Barack Obama visited China, and signed the US-Sino communiqué with Chinese President Hu Jintao. The document stated that the U.S. and China look forward to starting a dialogue on human space flight on the basis of transparency, reciprocity, and mutual benefit.
Wang said, "We welcome all of the space agencies and organizations in the world to visit China and discuss cooperation with our experts. Together to promote the development and progress of the space technology of the world; to benefit all mankind."
Pictured: Wang Wenbao, director of the China Manned Space Engineering Office (CMSEO)
This article is part of Space Watch: May 2010 (Volume: 9, Issue: 5).
---
Posted in Spotlight