Space Foundation News
---
Teachers Study the Geology of Colorado Springs
Written by: developer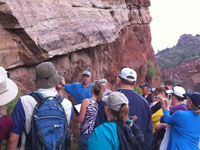 COLORADO SPRINGS, Colo. (Jul. 22, 2010) -- The fascinating geology of the Colorado Springs region serves as an ideal field lab for this week's Space Across the Curriculum class, "Earth Systems Science: Our Earth Revealed." Classroom work at the Space Foundation Discovery Institute is combined with field trips to nearby Manitou Springs at the foot of Pikes Peak, and to Garden of the Gods, known for its extraordinary rock formations.
The 16 teachers enrolled in the professional development class, include 10 from Colorado, one from Wisconsin, and five from Omaha Public Schools. They are studying weathering, erosion, natural disasters, and global climate change, and gaining a variety of lessons, activities, and experiences to share in their classrooms. They are also doing a survey and creating a historical geologic map of Garden of the Gods.
This week-long, full-day, graduate-level course allows the teachers to earn continuing education credits, graduate credits, or work toward a master's degree in multiple related disciplines. They also gain access to Space Foundation-provided teaching aids and additional lesson plans. The standards-based curriculum is designed to improve students' skills in science, technology, engineering, and mathematics (STEM) and to motivate them to continue to study STEM topics.
For more about Space Foundation education programs, click here.
Pictured: Teachers in the Space Foundation professional development, "Earth Systems Science: Our Earth Revealed," examine the Ute Pass fault line on a geology trip through Manitou Springs.
---
Posted in Space Foundation News